By Terry Tan
The long-running trial of the six City Harvest Church leaders came to a sombre conclusion in November 2015: CHC founder Pastor Kong Hee and his five subordinates were found guilty of serious charges as the former was slapped with an eight-year imprisonment.
This was of course not delightful news for the congregation, but I feel many of my City Harvest friends actually have been able to accept the troubling circumstances that followed Kong's fall from grace and his eventual conviction.
The plain and simple truth is that he allowed the misuse of church funds. Thus, a jail term is an appropriate penalty.
What's happened on the inside
In the one-and-a-half years that have since passed, churchgoers have started to ease themselves from political correctness, especially as facts relating to Pastor Kong's misdeeds became clear.
See, divisive talk was always frowned upon by church leadership, and traditionally, members have been careful not to rock the proverbial boat.
Things have gradually changed, though.
During a cell group meeting in the weeks that followed the November 2015 verdict, a friend of mine challenged the credibility of the church's executive members' support for the Crossover Project — which everyone now knows as CHC's outreach effort to the unchurched through the secular music career of Kong's wife, co-founder Sun Ho — and which had been secretly bankrolled with the church's Building Fund monies.
At an annual general meeting in April last year, executive members probed the way the church's operations and business interests are managed, with one — in the presence of now-executive director Sun — expressing concern over CHC's involvement in encouraging her singing ambitions.
This happened after the church recalibrated its top leadership structure (CHC 2.0), in addition to taking steps to be in compliance with the standards of governance required by the Commissioner of Charities.
I knew about these things happening because it was at that particular meeting that for the first time, ordinary members of the church were invited to attend as "observers" — there, we could be present at the meeting, but not join the Q&A session or cast votes to elect board members.
Other members are more candid.
An unnamed City Harvester told Channel NewsAsia two Fridays ago, "If (the six CHC leaders') appeal for zero jail time went through, what kind of message would it send? That the courts of Singapore condone such behaviour?"
Amanda, another CHC churchgoer, is even blunter. In a Facebook post, she wrote straight up: "…he (Pastor Kong) f****d up."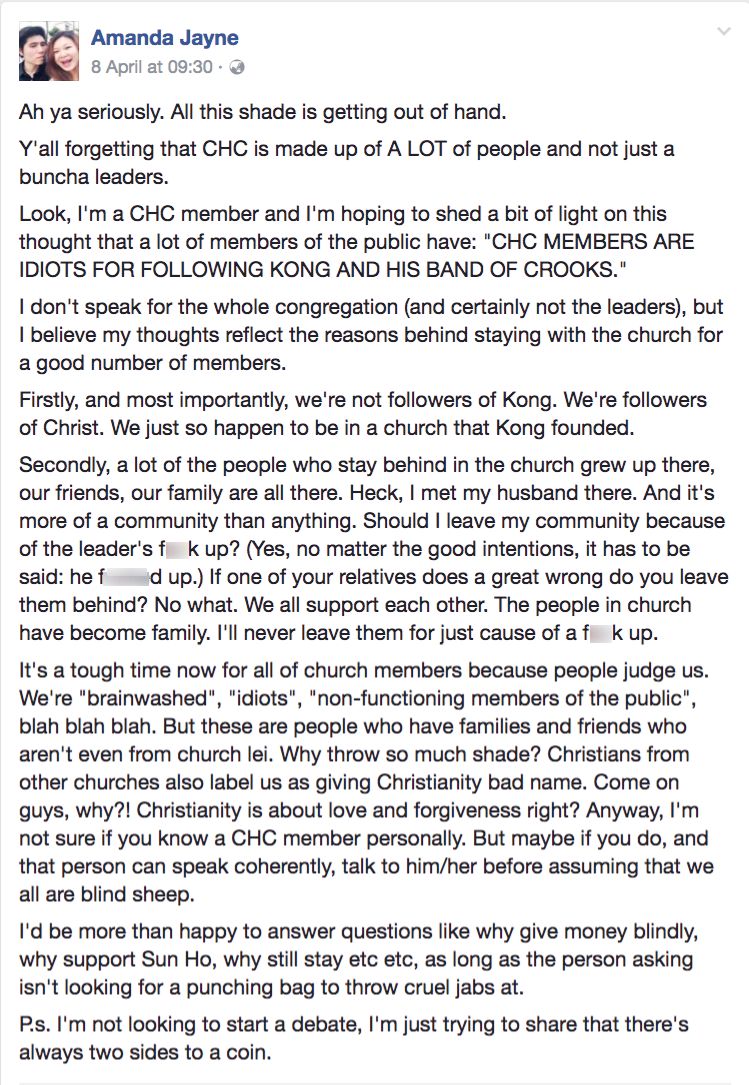 The view from outside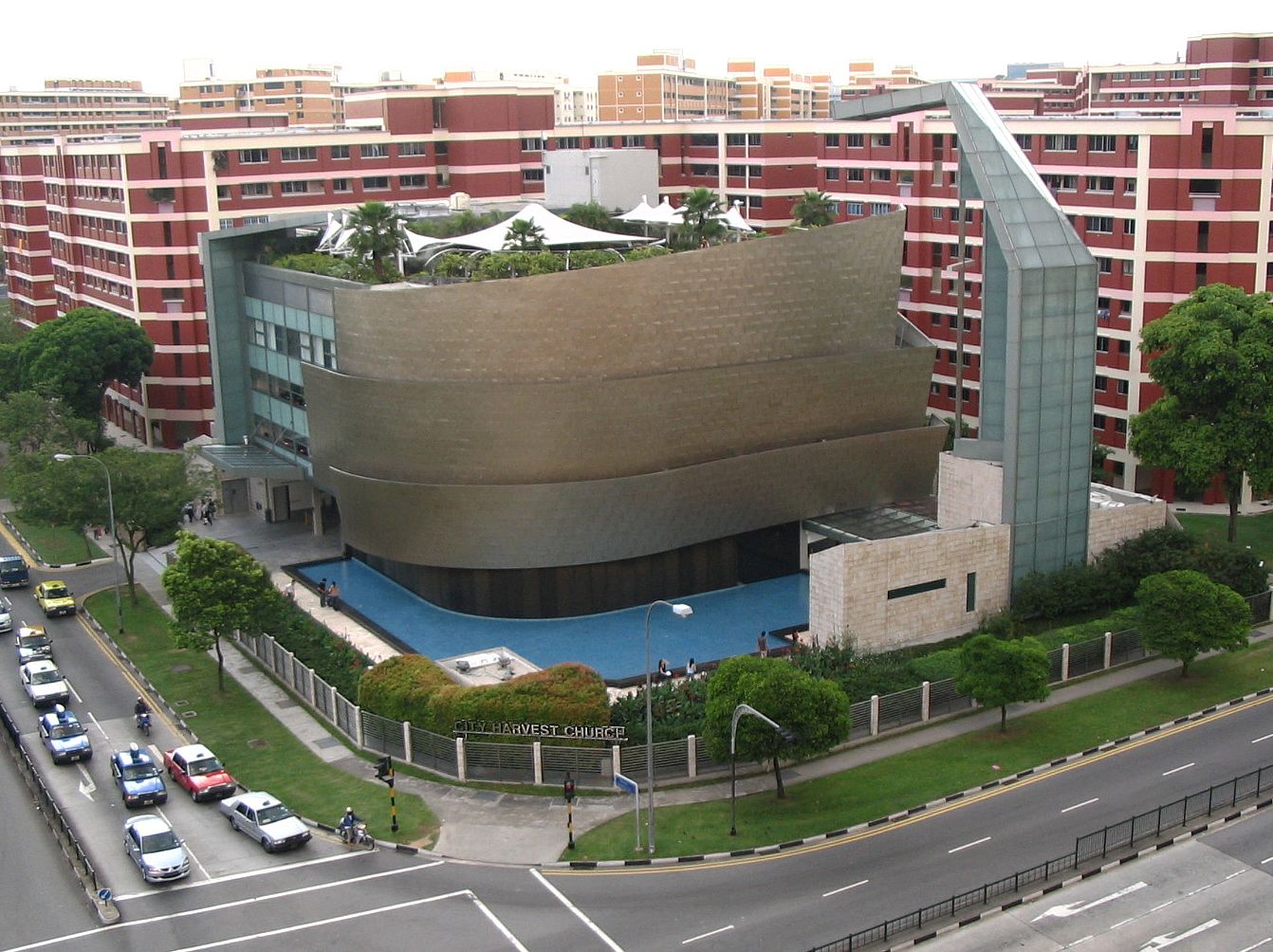 Despite reservations from long-time members over Pastor Kong's actions, what many in the public sphere see us as contrasts significantly to this reality.
I can't blame the mainstream media for reporting the things they usually do about City Harvesters. But a culmination of relevant news seems to give people an idea that our members are delusional fanatics backing a bunch of undeserving folks, who continue to stay in CHC out of a sense of denial.
Even Mothership can't help but look at CHC members with suspicion — one of its articles on a recent weekend service we had, for instance, even asked (in a probably tongue-in-cheek dig I don't entirely appreciate) if the congregants have "difficulty in accepting that their church leaders really have to go to jail".
Yes, I have encountered a few overly ardent members in church. But I still think certain views about City Harvesters are general misconceptions.
Even setting these "extreme supporters" and what they say to the media or in public, as well as what City News reports, aside, these impressions (which are in my view, mistaken) may have been formed after seeing our support of Pastor Kong and the convicted leaders, especially after their guilt was declared in both the State and High Courts.
Kong Hee before, during and after the Crossover
For me, though, it's really a matter of perspective.
In the eyes of the public, Kong is nothing more than a conman who uses religion to manipulate his followers and illegally benefit his wife's musical ambitions and high life.
What people don't realise, though, is that City Harvesters' perceptions of Pastor Kong, especially those of long-time members like me, are multi-layered: we see the man as who he is before, during and after the Crossover project.
In a way, we are now better-informed on how we should consider his character.
Although Kong did wrong in funding Sun's venture into the U.S. music scene through wrongful means, there is no doubt that he has done a lot of good for CHC in the past and present.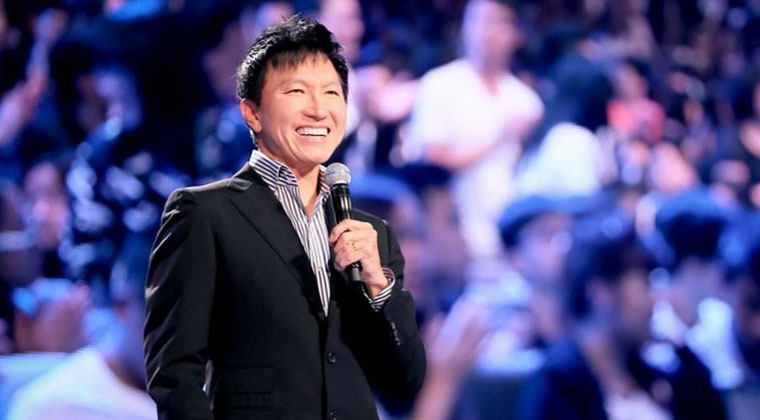 As a passionate leader, Pastor Kong constantly exhorted Christians to be at their best for the Lord and to lead selfless lives as a testimony of God's love to a broken world. We would probably not have been serious believers if he did not fervently commit to ensuring the spiritual growth of every member.
All that said, I know that no amount of good work is going to absolve Kong Hee of his crime. For even the biblical King David, a man after God's own heart, was punished for his adulterous affair with Bathsheba.
Nevertheless, here's why we forgive Pastor Kong: the Bible encourages forgiveness. He is already facing a very difficult time, so why should the public get irritated that the church provides moral support to him?
Giving moral support is not synonymous with belittling the offender's errors.
Giving moral support does not equate to us turning a blind eye to his personal flaws.
After all, moral support is given — whether the person is right or wrong — when he is mired in a challenging situation.
Yes, Pastor Kong violated the church's trust. We do not deny this. Is slamming him further going to make him guiltier than he already is?
We may disapprove of Kong's misuse of church funds, but we still respect his dedication to care for us, his flock.
CHC ≠ Kong Hee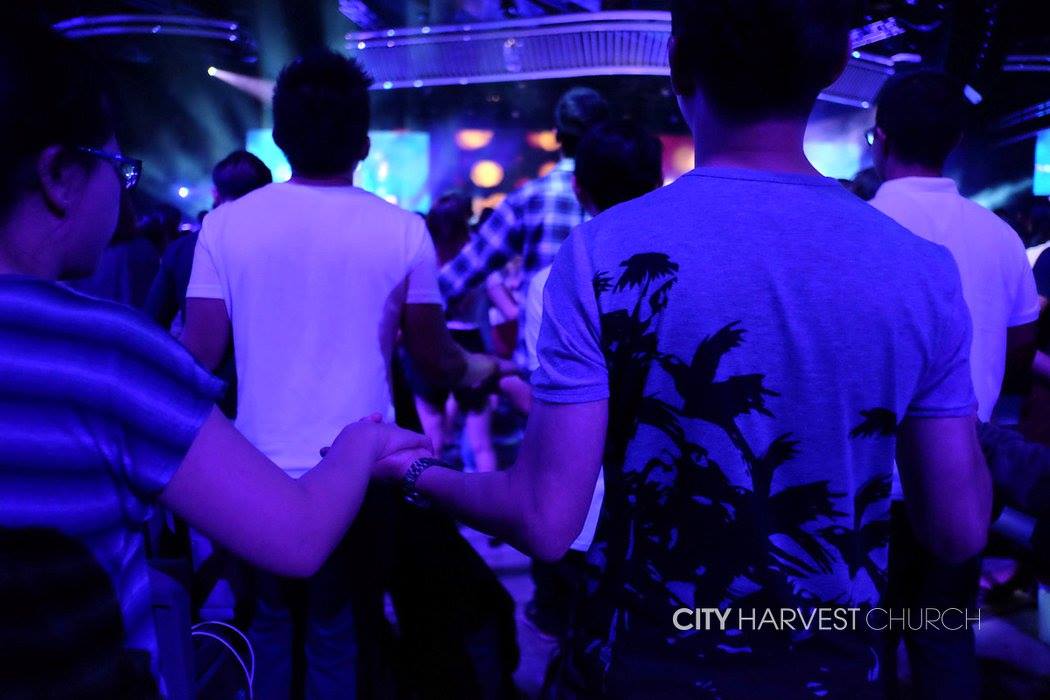 And here's another thing: this church is not solely about him.
The CHC I know is where people found their peace with God, where meaningful friendships are forged, and where many even found the life partner they had been looking for.
So we will move on in this house even as Kong serves his sentence. We are not the so-called "blind believers" orbiting our purposes around a charismatic figure, and who aren't aware of what we are doing with our lives.
Indeed, there is good that can be done in, and by, CHC, as well as the good people we keep wholesome relations with.
Meaningful lessons to learn
Still, I hope these past seven years of the CHC saga have delivered some meaningful lessons for our church.
Perhaps the CHC leadership can be more forthcoming in addressing the things it said and did in the past. This could pave the way for healing by addressing the hurts and confusion both current and former members have suffered, especially during the fast-moving days of the Crossover.
It is something Pastor Kong seemed to have hinted at in one of his final addresses to the church, when he spoke about not slowing down and praying more when he ended up making "unwise decisions".
I believe we will only become a stronger and more credible church when we can come to terms with our own missteps.
But no, Mr. Loo.
I don't think everyone is on board with you for Crossover II.
Terry has been a City Harvest Church member for nearly 20 years. He serves in CHC's photography unit during the weekends and formerly wrote for City News, the church's news media.
Now that you've filed your taxes, time to go on a holiday with what little you have left:
One of these destinations is the perfect post-tax filing vacay because 99% off
Top photo from City Harvest Church's Facebook page.
If you like what you read, follow us on Facebook and Twitter to get the latest updates.
If you like what you read, follow us on Facebook, Instagram, Twitter and Telegram to get the latest updates.