Pretty much everyone knows about the tonnes of terrible press Korean mobile giant Samsung has gotten in recent months.
Check out some of the news stories that turned up in a Google search we just did of the brand:
In particular, its Galaxy Note 7, known for spontaneously overheating and catching fire, was last year famously banned by a host of airlines.
And just when the embattled electronics manufacturer decided to announce its plans to sell refurbished recalled Note 7s, a storeroom in a Samsung experience store at Ang Mo Kio Hub caught fire, in the wee hours of Tuesday morning.
In fairness, firefighters are still investigating its cause, but the fact remains that the fire happened... in a Samsung store.
Overheating Galaxy S7 Edge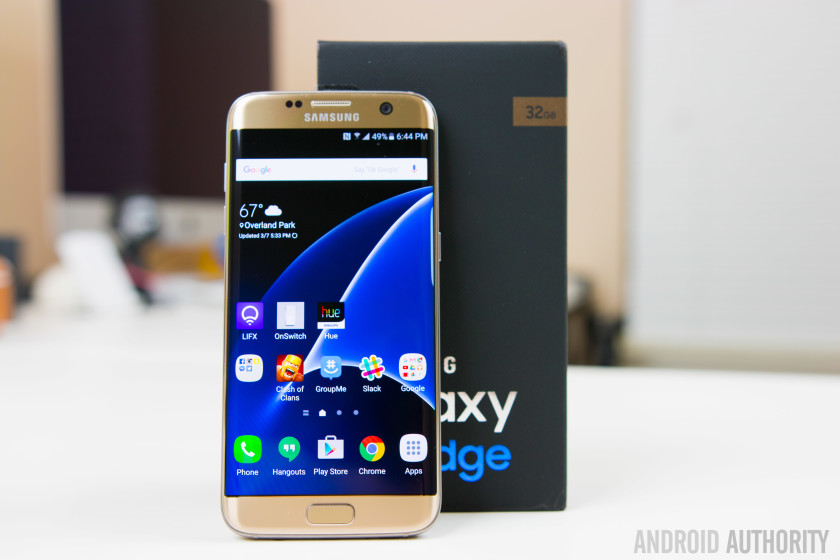 And the Note 7 isn't the only one to be showing this problem — it seems to have happened to at least one S7 Edge.
Samsung customer Brian Lim is an ill-fated owner of this phone, and told us it lasted him all of a week before it overheated and blacked out, never to be turned on again:
'>
So like any other customer, Lim took his brick dead handset to Samsung to exchange his device, as the week-old phone was, of course, still under warranty.
Before he could pick up his new phone, though, Samsung's staff handed him this: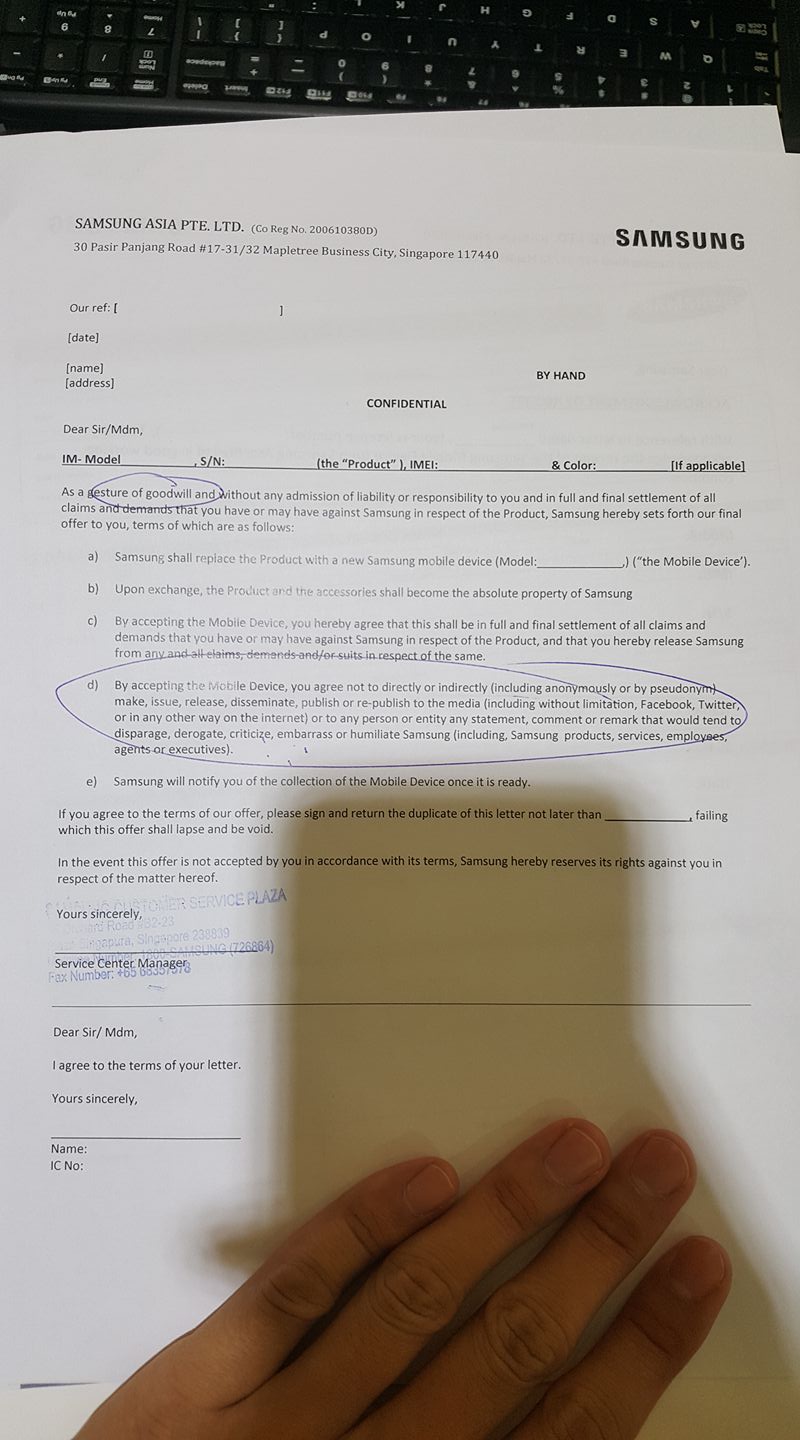 Just in case you can't read that, here's a marked-up version of it: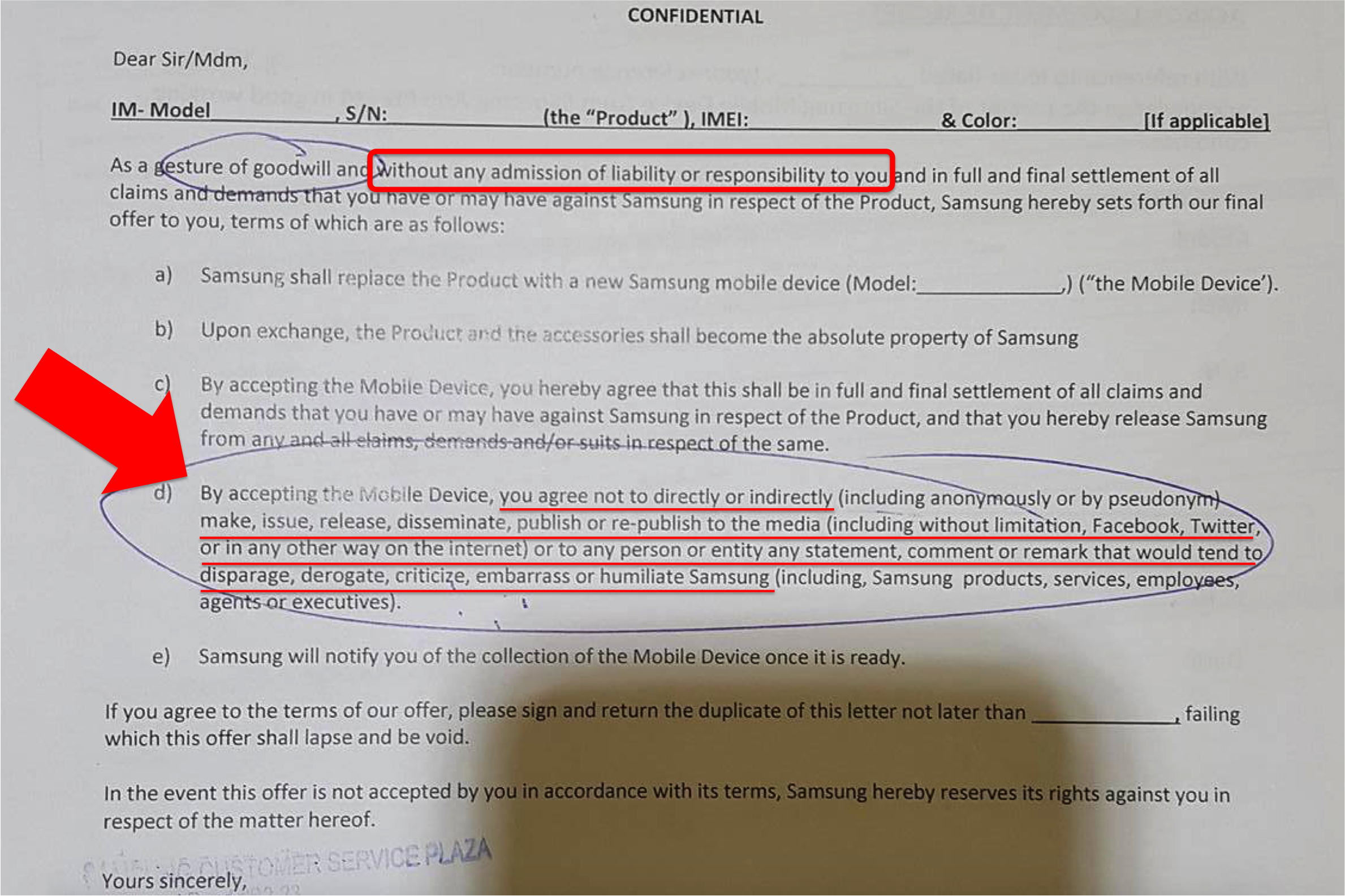 So, two problems with this:
1) the boxed area reads — as a gesture of goodwill and "without any admission of liability or responsibility to you".
2) the paragraph Lim circled reads:
"By accepting the Mobile Device, you agree not to directly or indirectly (including anonymously or by pseudonym) make, issue, release, disseminate, publish or re-publish to the media (including without limitation, Facebook, Twitter, or in any other way on the internet) or to any person or entity any statement, comment or remark that would tend to disparage, derogate, criticise, embarrass or humiliate Samsung (including, Samsung products, services, employees, agents or executives)."
Now, all this happened in February. Lim bought the phone on Feb. 17, and it died on Feb. 23.
What to do? Object and kaopei, of course
Thankfully, being a discerning and careful consumer as Lim is, he refused to blindly sign the ridiculous contract. Like a guai follow-protocol Singaporean, he initially raised his concerns with the terms of the agreement to Samsung's Customer Care.
He sent them an email on the issue, whereupon he was assured someone was looking at it. A month passed, though, and here we are at March 28.
A few days ago, shortly after hitting the one-month mark, Lim took to Samsung's Facebook page in desperation: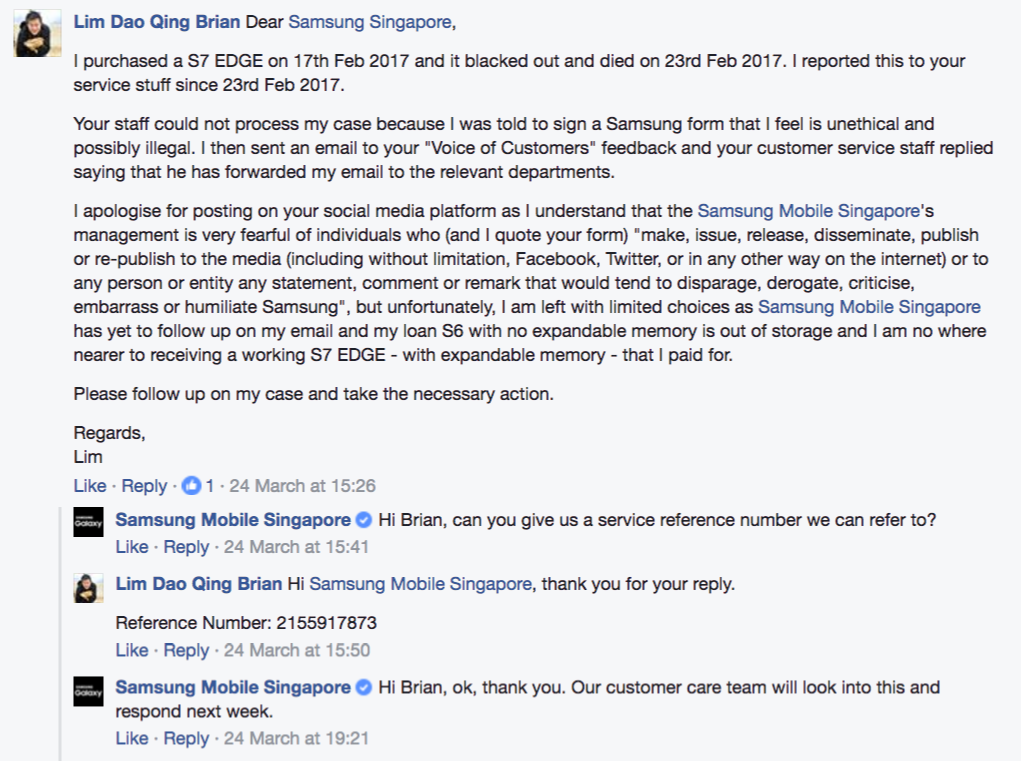 As you can see from the screenshot, Samsung's Facebook page admins responded, assuring him that their customer care team would "respond next week". This was on Friday evening; Lim initially posted his comment in the afternoon.
On Monday evening, Lim decided to send a chaser, and that's where he finally got a response from Samsung: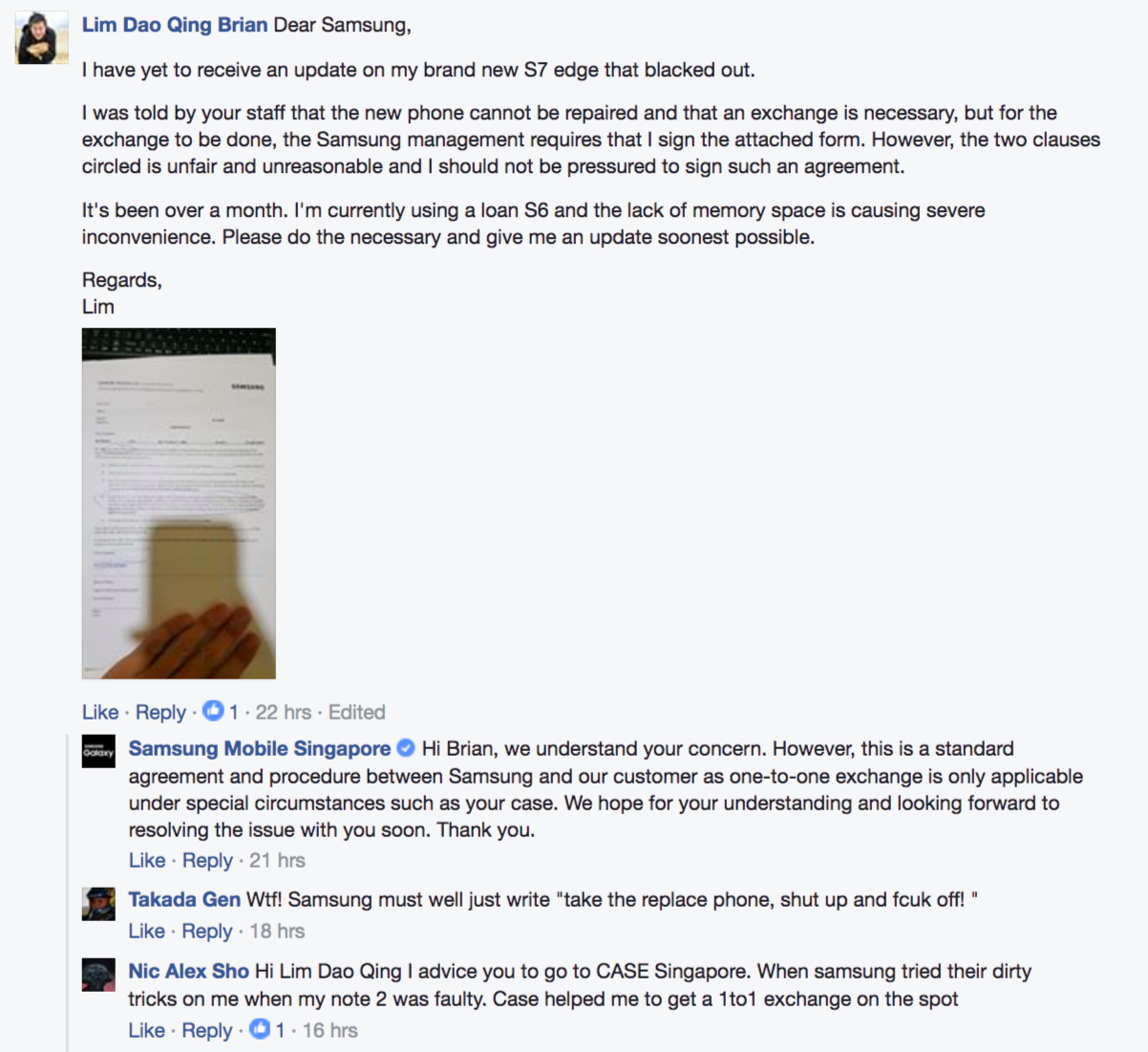 "Hi Brian, we understand your concern. However, this is a standard agreement and procedure between Samsung and our customer as one-to-one exchange is only applicable under special circumstances such as your case. We hope for your understanding and looking forward to resolving the issue with you soon. Thank you."
Separately, Lim, who thankfully still hasn't signed the agreement, took his story to a Channel NewsAsia Facebook post — incidentally a story about Samsung wanting to sell its recalled Note 7s:

We've contacted Samsung to find out if this really is the case for all their one-for-one exchange agreements, and how long they have been forcing non-disclosure agreements (NDAs) down their consumers' throats.
Since you are here, why not read these too?
S'poreans are generally helpful but sometimes too paiseh to help in everyday situations
This uncle is rated 4.98 out of 5 on Grab. What the what?
Top photo adapted from Android Authority / photo courtesy of Brian Lim
If you like what you read, follow us on Facebook and Twitter to get the latest updates.