Gardens By The Bay is the symbol of Singapore's vision as a City in a Garden.
The most prominent feature of the gardens are the Supertrees.
Touted as vertical gardens that are between 25 and 50 metres tall, they incorporate nature into its design as they biomimic real trees.
The futuristic and innovative design of Supertrees has won over the hearts of many visitors who have seen it, as well as the team behind Planet Earth II.
This breathtaking BBC nature documentary narrated by Sir David Attenborough, was released in Singapore in 2016 and is making the rounds in America only recently -- with Supertrees once again the talk of the town.
width="500">
However, conservationists have been pointing out that as impressive as Supertrees look and feel to humans, they are not good substitutes for nature.
They are, according to Eco-Business, a consequence of the encroachment of humans on nature.
To set the context and for your convenience, here's what Sir Attenborough narrated about our Supertrees in the documentary:
One city where that idea is being applied on a major scale -- Singapore. Two million trees have been planted here in the last 45 years. This city is now richer in species than any other in the world and this practice extends to all parts of the city. The waterways have been cleaned up and smooth coated otters are coming back.

But perhaps the most spectacular example of city greening is this growth of super trees. These 150-feet (50 metres) high macro structures are now full of life. Creepers have been planted to grow over the outermost branches.

This is a new urban world that we have now designed and built with others in mind. Create the space and the animals will come.

Is this a vision of our cities of the future? It could be possible to see wildlife thriving within our cities across the planet.
What conservationists object to
Even with Sir Attenborough lending his indelible voice to the BBC documentary, naysayers have come out to point out that all is not well on Earth.
This is so as Planet Earth II has been accused of glossing over the true extent of threats to wildlife and bordering on the fantastical that lulls viewers into a false sense of security even as the present epoch is in the midst of The Sixth Extinction.
Here, in more detail, is what conservationists have previously opposed to about Gardens By The Bay:
1. There were already significant populations of native or migratory wildlife before Gardens By The Bay was built, which were possibly affected by the development.
Non-governmental organisation Nature Society of Singapore raised in their feedback report to the Gardens By The Bay Designs that they observed an impressive variety and numbers of wildlife in Marina South and East before Gardens By The Bay was built:
To date, 67 species of birds have been recorded at Marina South and 92 species in Marina East, both resident and migrant, some of them nationally endangered, such as the Lesser Whistling Duck, Red-legged Crake, Ruddy-breasted Crake, Magpie Robin, etc. As to the Dragonflies, 20 species have been recorded at Marina South and 18 in Marina East.
Dr Ho Hua Chew, the vice-chairman of the conservation committee at NSS also pointed out a decline in Lesser Whistling Ducks after the Gardens By The Bay was built.
2. The return of smooth coated otters do not necessary mean other species will be back too.
Dr Ho also explained that only animals that can adapt to man-made structures and are not wary of people, such as otters and sea eagles, will visit the area again.
One classic example is this annoying bird, the mynah, that we are very familiar with too: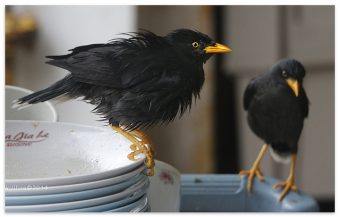 Migratory birds might visit Gardens By The Bay during the winter season but only because they do not have better choices on their way south with wild areas disappearing in Singapore.
3. Supertrees pretty much not likely to attract native wildlife.
Hundreds of non-native plant species growing on the Supertrees are exotic so they are unlikely to bring back native wildlife.
Supertrees also light up at night and the entire Gardens By The Bay is often bustling with events and loud music which are not very welcoming for wildlife either.
Furthermore, the creepers planted around the Supertrees require high maintenance such as regular pruning to keep it aesthetically neat and appealing.
Granted, Gardens By The Bay might be a better alternative than adding more concrete skyscrapers on the reclaimed land. Prioritising greening and building Gardens By The Bay before expanding the Central Business District is also a laudable move towards sustainable living.
However, suggestions to make Gardens By The Bay more ecologically friendly was proposed by NSS before.
One of the suggestions was for the preservation of matured woodland that runs from Marina East area to East Coast Park which provided:
1. Crucial buffer, habitats and connectivity to wildlife
2. Cooling influence to the surroundings
3. Natural green backdrop to soften the artificial gardens
NSS's proposal back then also suggested alternative solutions which render the current 18 Supertrees kind of excessive:
This cluster of artificial structures are obtrusive, if not eye-sores, equivalent to the "Durians". If you need a structure to capture solar power, one would be sufficient. If you need water-storage, creating more ponds will be better as they can be also ideal for freshwater wildlife habitats. These waterbodies will also be visible and if designed nicely will also have scenic value. We understand that creepers will be planted to creep up the wire scaffolding and network on top to give a "tree" look to them, but this will only lead to an untidy look to the structures unless they are pruned regularly, which will be a high maintenance affair.
While Supertrees definitely play a role to make international community remember us better as an unique national icon, but is that the future to city greening... really? ¯\_( ಠωಠ)_/¯
Nonetheless, if not for Gardens By The Bay, Planet Earth II would not have featured Singapore in its finale episode.
Fredi Devas, the producer of that episode, shared with Today previously:
"What really attracted me to Singapore was the ethos of building a city within a garden — the idea that Gardens By The Bay, for example, has been built before the skyscrapers that are going to be built around it ... I think we're really championing city greening in a futuristic way."
It is perhaps an attempt at making the best of a situation.
You can watch the part when Singapore was featured here:
Top photo from Flickr user Peter Lee
If you like what you read, follow us on Facebook and Twitter to get the latest updates.