Singaporeans and Malaysians travelling between Woodlands Checkpoint and JB Sentral in Johor Bahru (JB) will be glad to know that online booking of train tickets for Shuttle Tebrau has resumed.
Shuttle Tebrau is the dedicated train service that runs 22 trips a day between Singapore and JB.
The train tickets are available for sale 30 days in advance, both online and at ticket counters.
This was after Malaysian train operator KTM Berhad announced last year that online ticketing for Shuttle Tebrau would cease from Dec. 1, 2016.
However, the online booking system was apparently back in operation on Dec. 5, 2016 -- after a two-day delay from the expected re-opening of sales on Dec. 3.
In addition to halting online sales, KTM Berhad's earlier announcement in November also mentioned that passengers could only purchase tickets directly from KTM Intercity counters, and that train tickets would only be made available one day before departure.
Many passengers, notably those who travel between Singapore and JB for work on a daily basis, were enraged.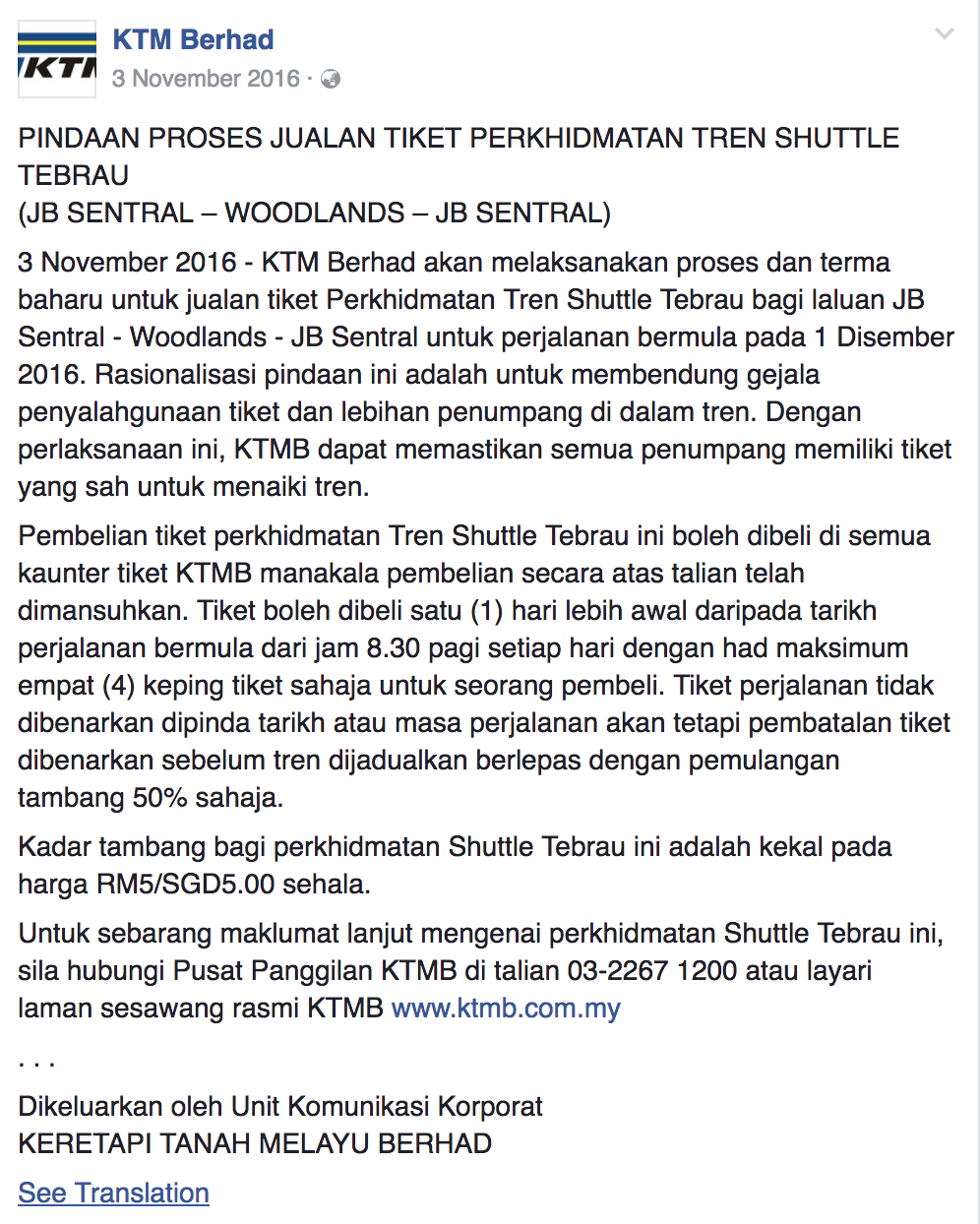 The train ride from Woodlands to JB Sentral takes just five minutes in total and costs S$5 from Woodlands to Johor and RM5 vice versa.
Other than offering passengers greater convenience, Shuttle Tebrau is also an effort aimed at reducing massive traffic congestion at the Johor Causeway.
The Shuttle Tebrau train service started running in July 2015.
Top image via YouTube
If you like what you read, follow us on Facebook and Twitter to get the latest updates.
If you like what you read, follow us on Facebook, Instagram, Twitter and Telegram to get the latest updates.