In 2013, junior college economics teacher Bryan Lee was volunteering with migrant worker organisation Healthserve when he first discovered that Bangladeshi workers were living in the bin centres they worked at illegally, so their employers could save on their accommodation costs.
In a reflection, he wrote:
"I thought that was unbelievable in a first world country like Singapore, but we assembled a team anyway to visit one of the bin centres in the north. Lo and behold, the very first bin centre had every trace of people living inside. I spotted a mattress big enough for a small child, cooking utensils and the hanging of clothes. And then suddenly, I spotted a boy who looked my age staring straight at us, looking really scared."
Since then, Lee has been on a mission to spread awareness about the heinous practice that still exists here, while also raising funds to facilitate research, advocacy and direct assistance efforts by HOME, another organisation that serves migrant workers.
This year, he ran a half-marathon at the Standard Chartered Singapore marathon event raising funds for HOME, and as a treat, HOME sponsored the additional participation of two of his bin centre worker friends, Lipon Sarker and Mia Mohammad, for the 10km race.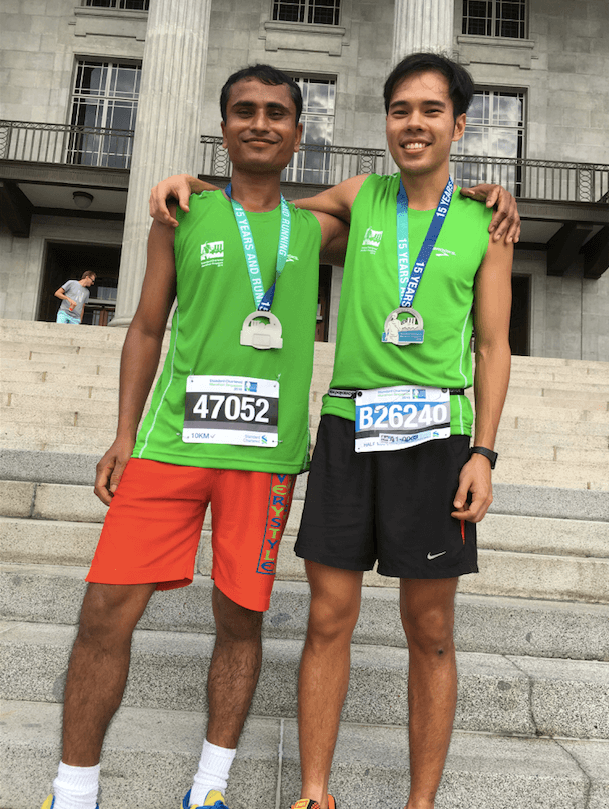 Mia has been working in Singapore for the past four years, Lee says, and enjoys running, but was only able to train twice for the race, which he nonetheless clocked a very respectable 58:19 timing for. He also told Lee how happy he was to be able to participate in this first-ever race of his life.
Lipon has been here for three years and four months, says Lee, and completed his race in just over an hour and five minutes. Lee tells us Lipon was happy, and that the distance was easy for him to complete. "21km or 42km next time no problem!" he joked.
Getting the time off to participate wasn't as straightforward though — both, naturally, had to seek permission from their bosses to be away from work for about three hours, and had to return promptly to the bin centres they worked at as soon as they were done.
Here's Lee, Lipon, Mia and HOME social worker Jevon Ng, who visits them often and signed them up for the race, in a group photo: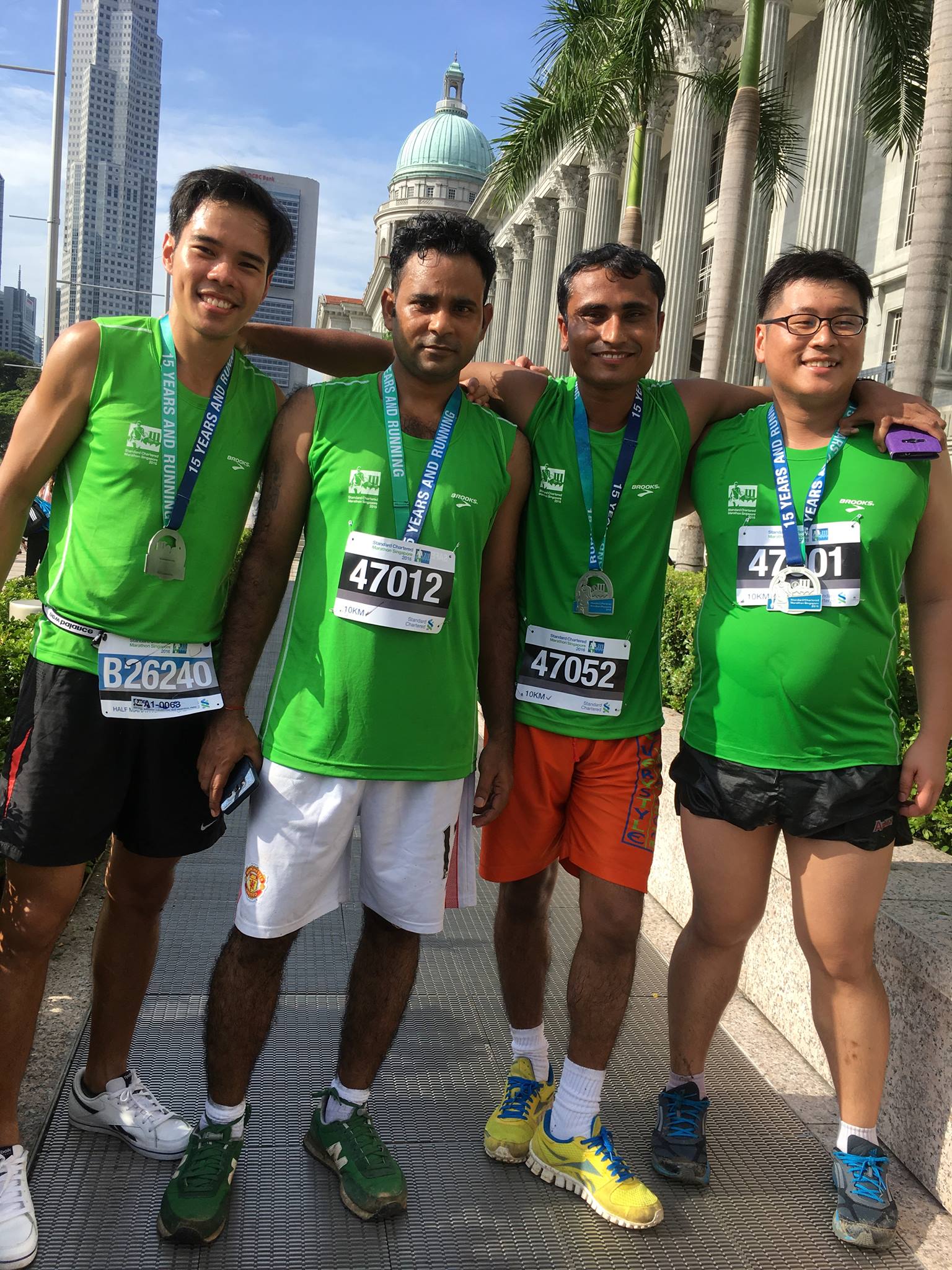 Regrettably, though, the pair can't be sure they will get to participate in next year's edition.
Said Mia, when asked: "Next year already I go back, contract maybe ending, hope can stay if boss allow."
Nonetheless, this was quite a nice Sunday morning for them, and indeed, they were grateful: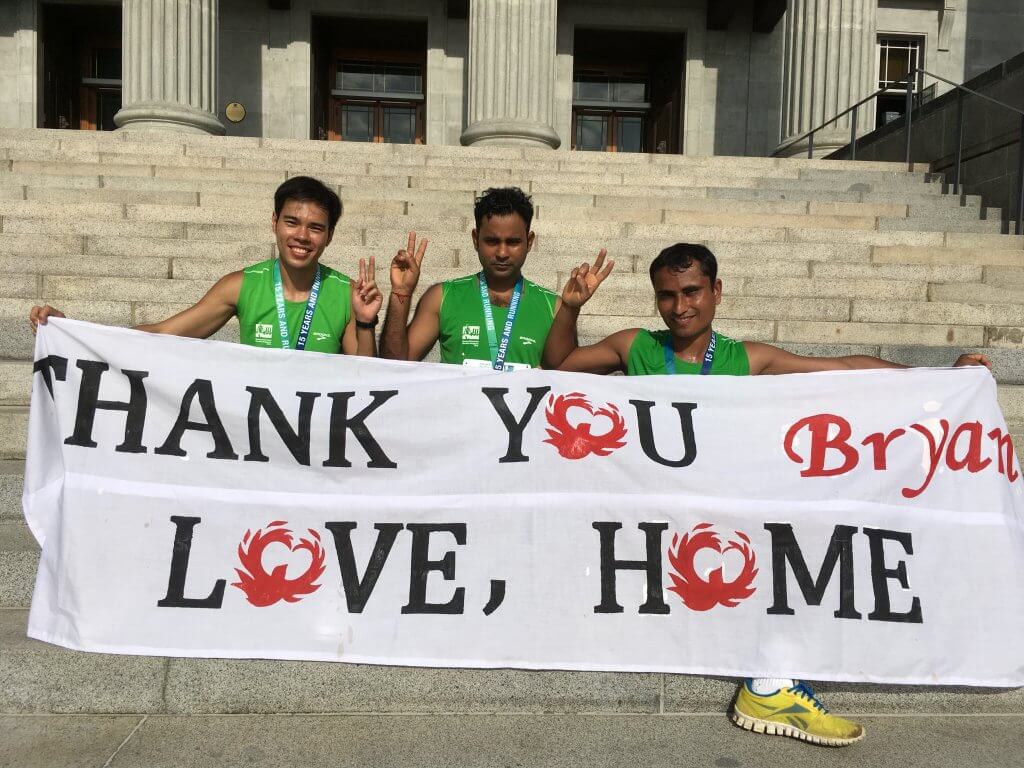 If you'd like to donate to HOME's efforts in bettering the welfare of our migrant workers, you can go to Lee's fundraising page here.
Here's a domestic helper who is doing great things back home, and also for HOME:
These two domestic helpers are running a marathon to raise funds for migrant worker NGO
Top photo courtesy of Bryan Lee
If you like what you read, follow us on Facebook and Twitter to get the latest updates.
If you like what you read, follow us on Facebook, Instagram, Twitter and Telegram to get the latest updates.