If there's one negative thing about living in a fast-paced, competitive society, it's that the phrase "Mind your own business" is sort of a mantra that many people naturally live by.
We hesitate to help people for even the smallest things. Things like sticking your hand out to stop a bus you see someone running for.
Worse still, sometimes it doesn't even occur to us to offer our help.
Either way, this lack of propensity towards kindness can be painful if you're on the receiving end of the stick.
Which was what happened to cyclist Firdhaus Rasol on Saturday (Dec. 3) when his bicycle chain suddenly snapped, causing him to fall on his face.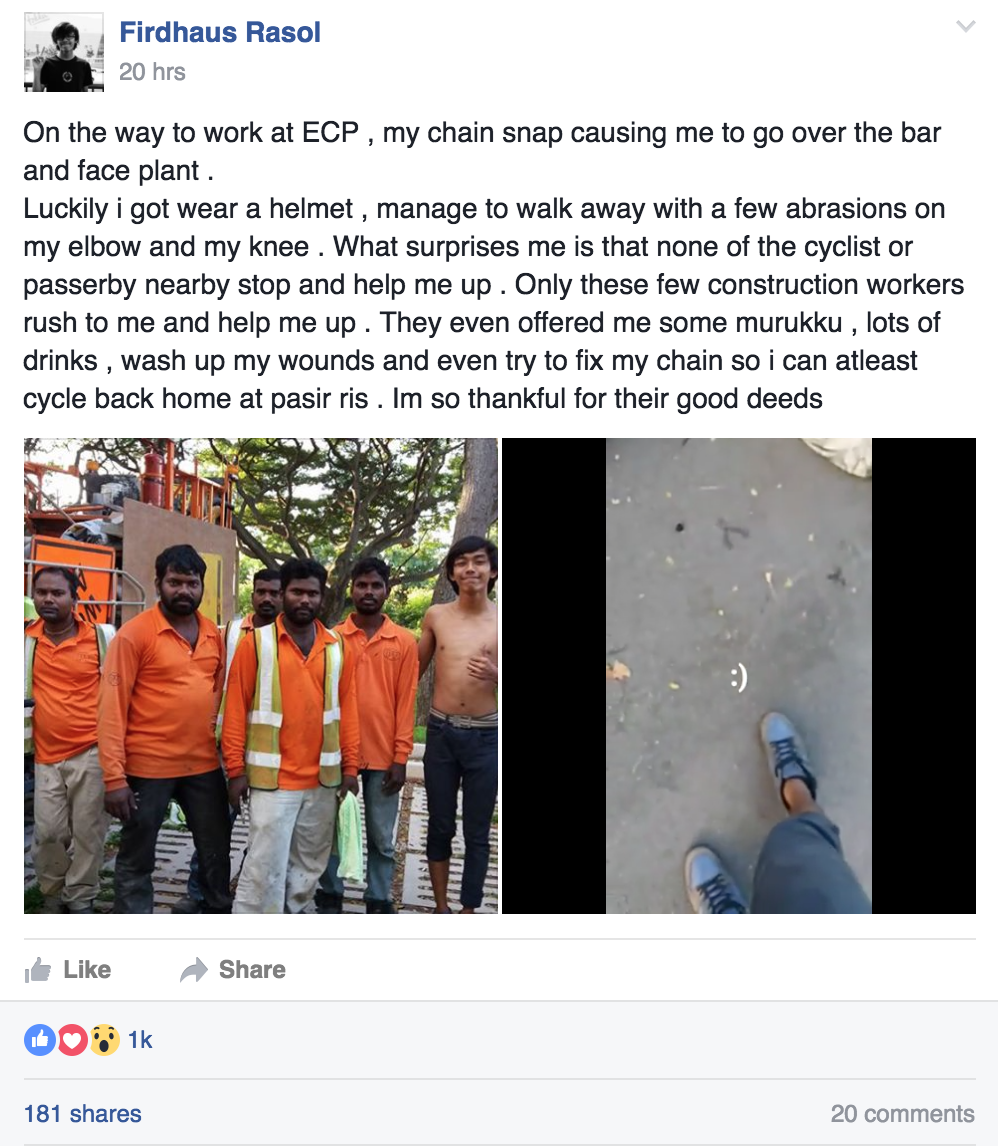 To his surprise, his ghastly fall at East Coast Park was ignored by the weekend crowd of cyclists and park-users, who just went about minding their own business.
Instead, he was hurriedly helped up by a group of construction workers who were certainly not at the park for leisure, as they were still in their safety helmets and vests.
The workers did not hesitate to shower Firdhaus with some TLC -- they offered him their food, lots of drinks, washed his wounds and even attempted to fix his bike chain so that he could cycle home.
[video width="224" height="400" mp4="https://static.mothership.sg/1/2016/12/15354951_1357163647628391_6548842029860782080_n.mp4"][/video]
Thankfully, Firdhaus was wearing a helmet (which is what all cyclists should be doing) and managed to walk away with just abrasions on his elbow and knee.
No doubt, his wounds must have hurt a little less after all the help he received from these workers.
We'll leave you with some food for thought, courtesy of a Facebook user who commented on Firdhaus's post:

Top image via
If you like what you read, follow us on Facebook and Twitter to get the latest updates.
If you like what you read, follow us on Facebook, Instagram, Twitter and Telegram to get the latest updates.