The M1 Fringe Festival will be removing two of its slated performances planned for the event in January 2017.
They are:
1. Naked Ladies, by Canadian performer Thea Fitz-James: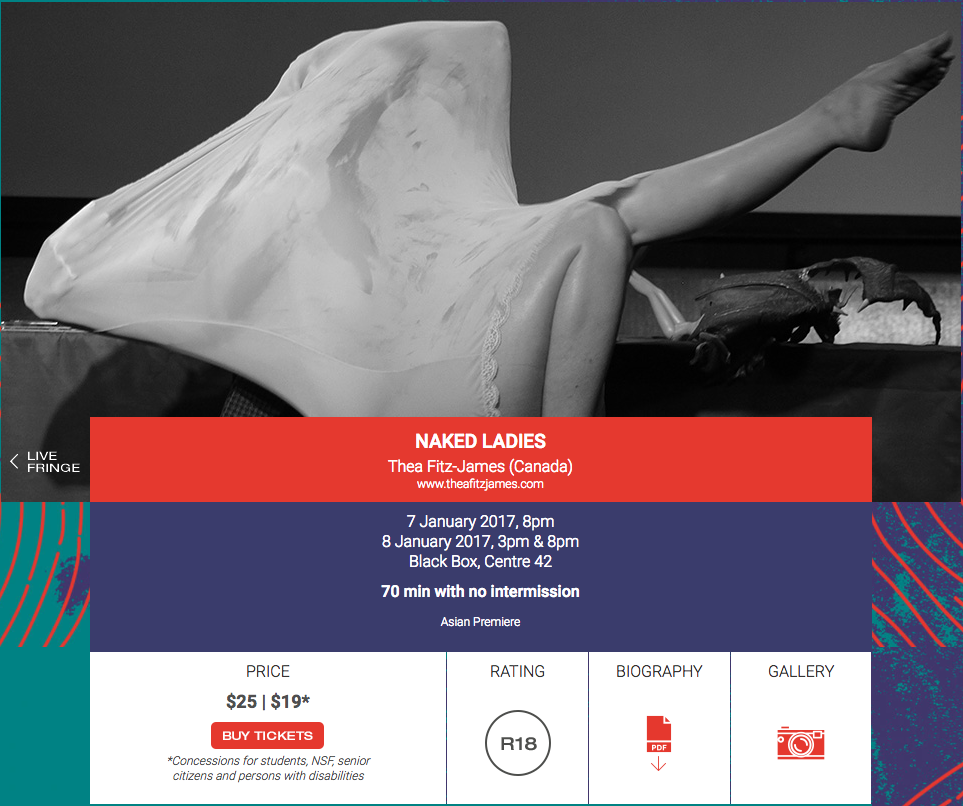 Here, Fitz-James gives a talk about her experiences with nudity, while undressing herself at the same time. An IMDA statement said it "includes a scene where the performer inserts her finger into her vagina and then into her mouth".
2. Undressing Room, by Singaporean movement artist Ming Poon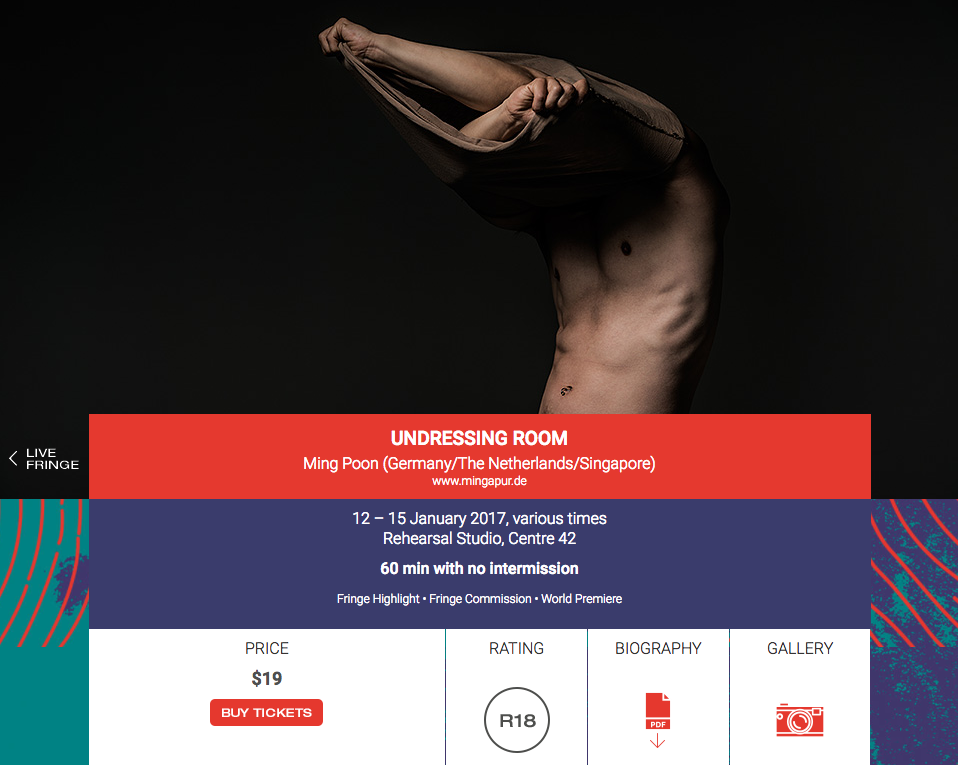 In this work, ticket holders enter one by one, and Ming and the attendee undress each other in silence, with the intention of exploring vulnerability in nakedness.
The irony: reinforcement of the idea that nudity = pornography
[quip float="pqright"]When you choose to be offended: Some S'poreans getting worked up over M1 Fringe Festival 2017 that features stripping[/quip]
The emphasis for these two works, says M1 and The Necessary Stage, has been on exploring the issues of vulnerability and identity, and both "make deliberate attempts to distinguish nudity from sexualised connotations", hence the unfortunate irony of them banned from being run as-is, i.e. in their current form.
The IMDA said its decision on both works was an "objective application of existing guidelines", after judging that they carried "excessive nudity".
They also said they were willing to consider amended versions of the piece, and the artists themselves were also willing to modify their works, but festival organisers said they did not want to compromise the artistic integrity of the two works, and decided to remove them from the line-up instead.
From the Fringe Festival statement:
"We want to reiterate our stance that we do not believe the works to be "lewd" — to use the term bandied around by some complainants — nor was there any artistic intent to titillate. Both pieces are thoughtful and sensitive; they advocate body positive messages as well as a sense of personal candour and community trust."
The festival organisers also pointed out their observation that the works have been "judged based on the preconception that nudity equates pornography".
They added this pretty strongly-worded line:
"Ultimately, the licensing process — along with the online furore surrounding these works — deems that society at present is not ready for these cutting-edge, intelligent works."
Responding to people calling their pieces "lewd" and "pornography disguised as art"
The Festival's statement also carries a response to conservative activists, several of whom wrote anonymous letters in protest against multiple works they will be presenting:
"We believe in having constant dialogues and mediation. As a responsible festival — and one run by concerned members of the public as well — we want to engage in discussions with detractors. While we do not agree with their strategy of writing anonymous letters, we would like to understand their concerns better, and come to a better understanding — if not acceptance — of each other.

As such, we would like to invite anyone who has queries or comments pertaining to the Festival's works to approach us. We want to get to know you better in person, in a safe, private space, where we can mutually share our concerns. We also believe that the discussions generated from all this have been fruitful, clearly demonstrating a deep interest in society to debate and grapple with difficult issues such as censorship."
We'll be watching to see if this discussion materialises.
For additional context:
Some S'poreans getting worked up over M1 Fringe Festival 2017 that features stripping
Top photo from M1 Fringe Festival website.
If you like what you read, follow us on Facebook and Twitter to get the latest updates.
If you like what you read, follow us on Facebook, Instagram, Twitter and Telegram to get the latest updates.