Voting for the Nanyang Technological University matriculation card design competition has officially ended on Nov. 7.
The competition had managed to bring out even worse designs from the student body in retaliation to the three shortlisted designs picked out of a possible 500 submissions.
Here is what NTU had to say upon the conclusion of the voting and after taking into account students' feedback:
This is what the embedded post said (emphasis ours):
Thank you for your strong interest in the NTU card design competition and for the many passionate comments that show so many care about how our university may be visually represented.

This is reflected in the 500 over entries received from participants from almost every school, the thousands who supported the shortlisted entries and those who posted their comments – both positive and negative – here and on other platforms. We have read all the comments and understand the range of sentiments expressed.

The University organised this competition to generate design ideas from students, drawing from their own experiences. Each participant – not necessarily trained in art and design – made a sincere effort to interpret what they think NTU stands for. The goal of the competition was to seek design ideas, not to present final, finished artwork. The intention was to incorporate elements of the winning design into the final card in line with some technical requirements of the card.

The judging panel, comprising the university's faculty, student and staff representatives, had shortlisted three entries that presented very distinctive interpretations of NTU – a freehand drawing of everyday campus life, an appropriation of Piet Mondrian's pathbreaking line compositions, and a conceptual representation of science meeting art, which alludes to interdisciplinary exchange at our university.

The Mondrian-inspired design, as the student indicated in his entry, paid homage to the modernist icon rather than, as a few comments suggested, plagiarised his work. The student who visualised "crystal growth" has also declared that it is her original creation.

This contest has provided a platform for students to share their aesthetic ideas. It also turned out to be an opportunity to learn to respect one another when expressing our views. As we all learn in a university, critical judgement – intellectual or aesthetic – is developed through a collective process of informed deliberation.

Voting is now closed. Congratulations to Tan Zhi Xuan of HSS for her winning design and to the runners-up Leong Jun Yi Fernandez and Wang Kaicheng, both from ADM.

You can still have your say in your preferred design idea. We are pleased that with the University's support, NTU Students' Union (NTUSU) will hold a poll for the Union prize with a different voting mechanism. Please look for details on the NTUSU Facebook Page.

Elements of the two winning designs will be incorporated into two new designs. When making their new card, students can choose one of the two designs.

The new card will be progressively rolled out for use by students, faculty and staff from early next year. It comes with additional features such as improved security and the convenience of smart card payment for retail and public transport.
So this is the chosen design -- not too shabby actually. It has gotten over 1.1k positive reactions on Facebook.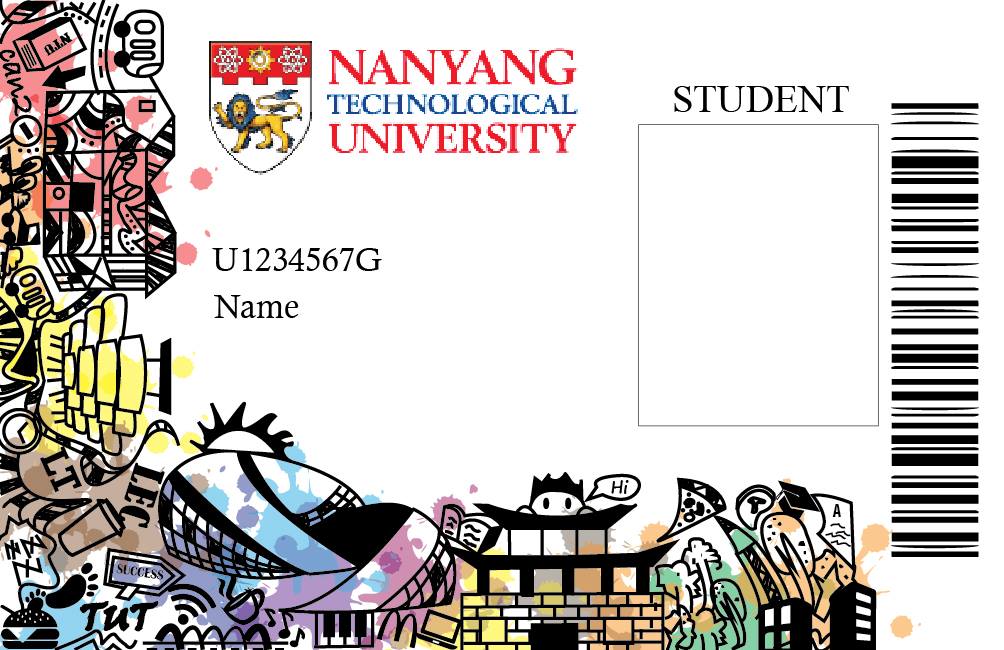 Apparently, the chosen designs might not be what you see on the final student card -- designs have to be adjusted to fit the technical requirements of the card.
Also, it seems like NTU students will be able to choose from two student card designs next year.
And where is this second design coming from? According to the NTU Students' Union (NTUSU), they will review the rest of the 500 designs and shortlist 50 designs.
Students will be able to cast one vote each at https://bit.do/unionprizecontest.
The shortlisted design with the most votes will become the second design.
Well, at least students will get two options out of this whole debacle. Yay.
Related articles:
NTU shortlists 3 entries for matric card design competition. Students say 'Nope'
NTU students react to poorly designed matriculation cards by coming up with worse ones
Top photo from NTU
If you like what you read, follow us on Facebook and Twitter to get the latest updates.
If you like what you read, follow us on Facebook, Instagram, Twitter and Telegram to get the latest updates.