The M1 Fringe Festival is an arts event that's been held in Singapore since 2004.
Next year's edition, themed "Art & Skin", is slated to be held between Jan. 4 and 15, and a few of its planned programmes, albeit rated R18, have gotten the attention, and under the skin, of some conservative lobby groups here.
In particular, an anonymously-written blog post accused the programmes of being "pornography disguised as art", explaining its need to "highlight our concerns" (apparently, the anonymous blogger appears to represent a group of people).
Here's a selection of a few that were highlighted: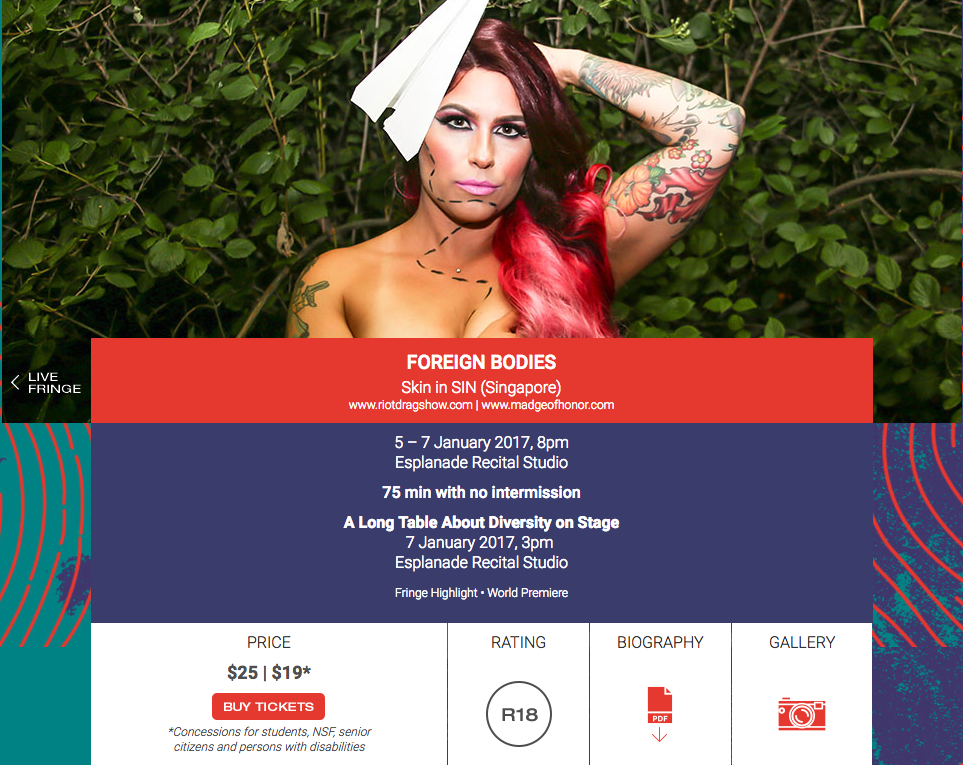 What the blogger said about it:
"Performers Eugene Tan and Madge of Honor assemble a brand-new burlesque troupe, picking fresh talents from various sexual and social minority groups to create a rude, risque, boundary-bashing revue that examines discrimination and other topical issues."
The post then went on to highlight a clip of "Reveal", a piece by Madge of Honor, where "she bounces her titties inside a 66 inch x 31 in x 21 inch display box for approximately 100 minutes."
Never mind that the above performance won't necessarily include this work, but hey, since it's by her, everything else she does must be dangerous, right?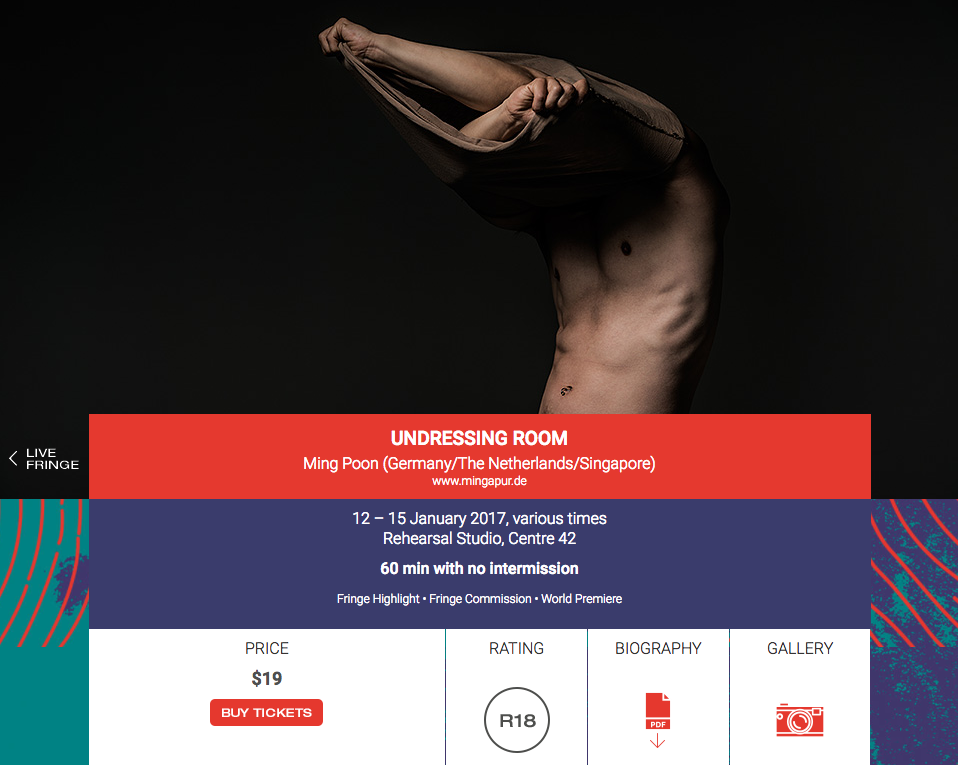 What the blogger said about this:
"Singapore openly homosexual dancer Ming Poon will perform his show in private with anyone where they will disrobe each other in the silent "act" of undressing. The participant can be either a man or a woman and the "act" can last up to an hour, depending on how long he or she wish to be in the room with him."
Not sure why it's necessary to say he is "openly homosexual", but the rest is factual.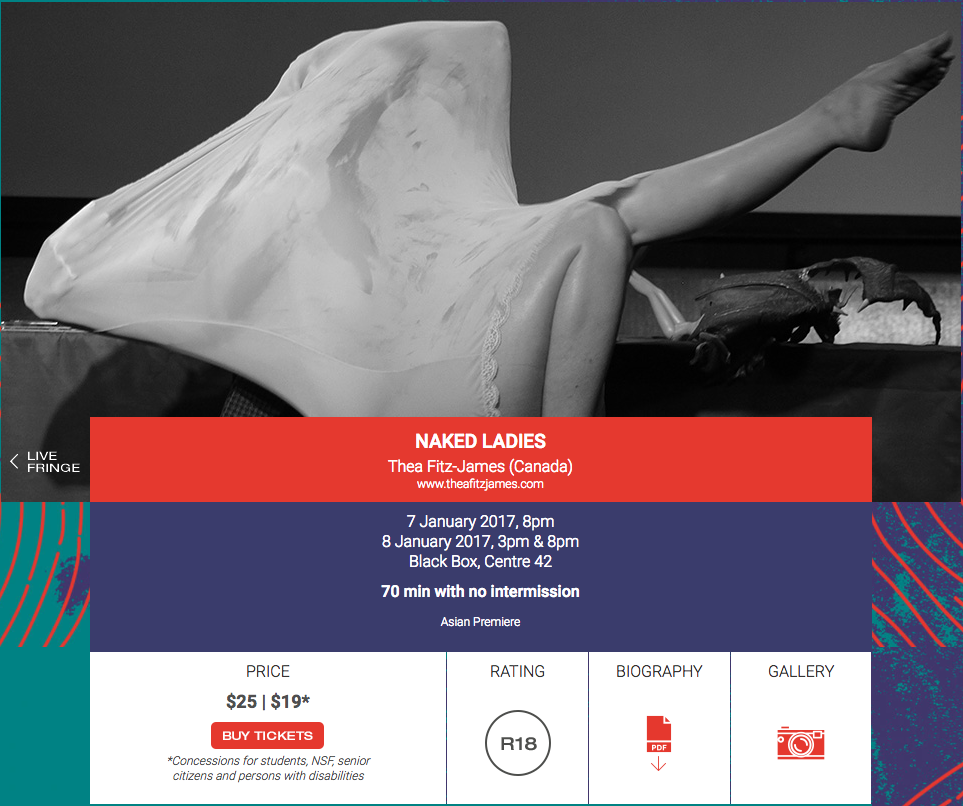 What the blogger said about this:
"Canadian performance artist Thea Fitz-James will undress herself gradually while providing a "lecture", narrating the history of female nudity in "art" and further the discussion on gender and sexuality."
This anonymous blog post also calls festival director Sean Tobin "a foreigner who has no vested interest in Singapore's well-being", asking "why is he allowed to meddle in such divisive issues".
In the timeliest of fashions, this link was shared by a Facebook page called "Singaporeans Defending Marriage and Family", which adds a rallying call to "Write to the Ministers to STOP this!":
Also helpfully adding in a comment on its own post:

The group also followed up with a Boycott-M1 message:
This, naturally, caught the attention of the arts community, with prominent figures including Tobin himself responding to it:
1. Lim Yu-Beng, theatre actor: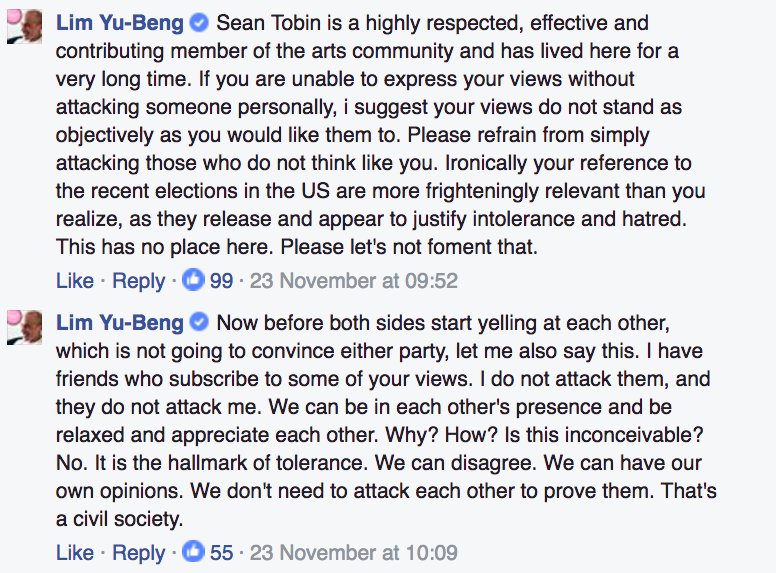 2. Sean Tobin, artistic director of the Fringe Festival: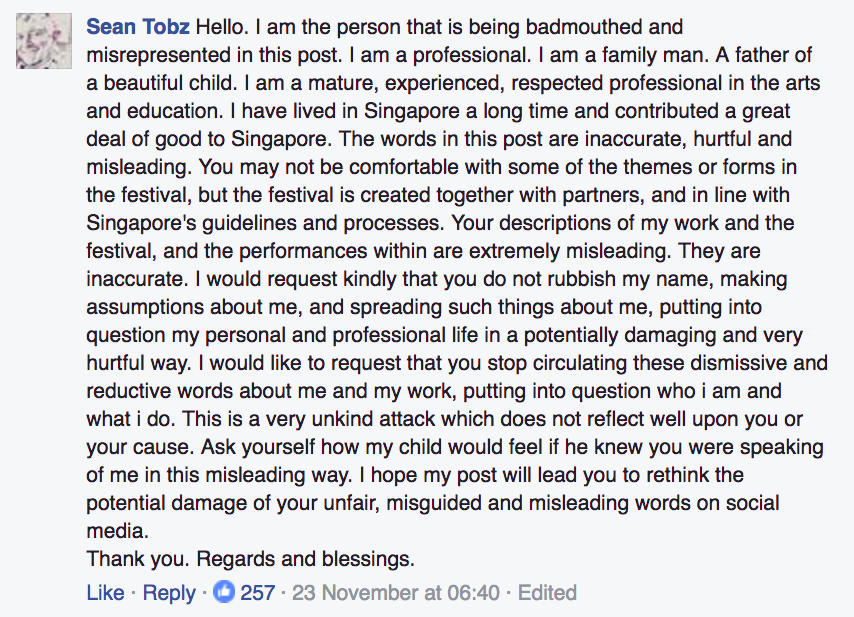 3. Alfian Sa'at, playwright: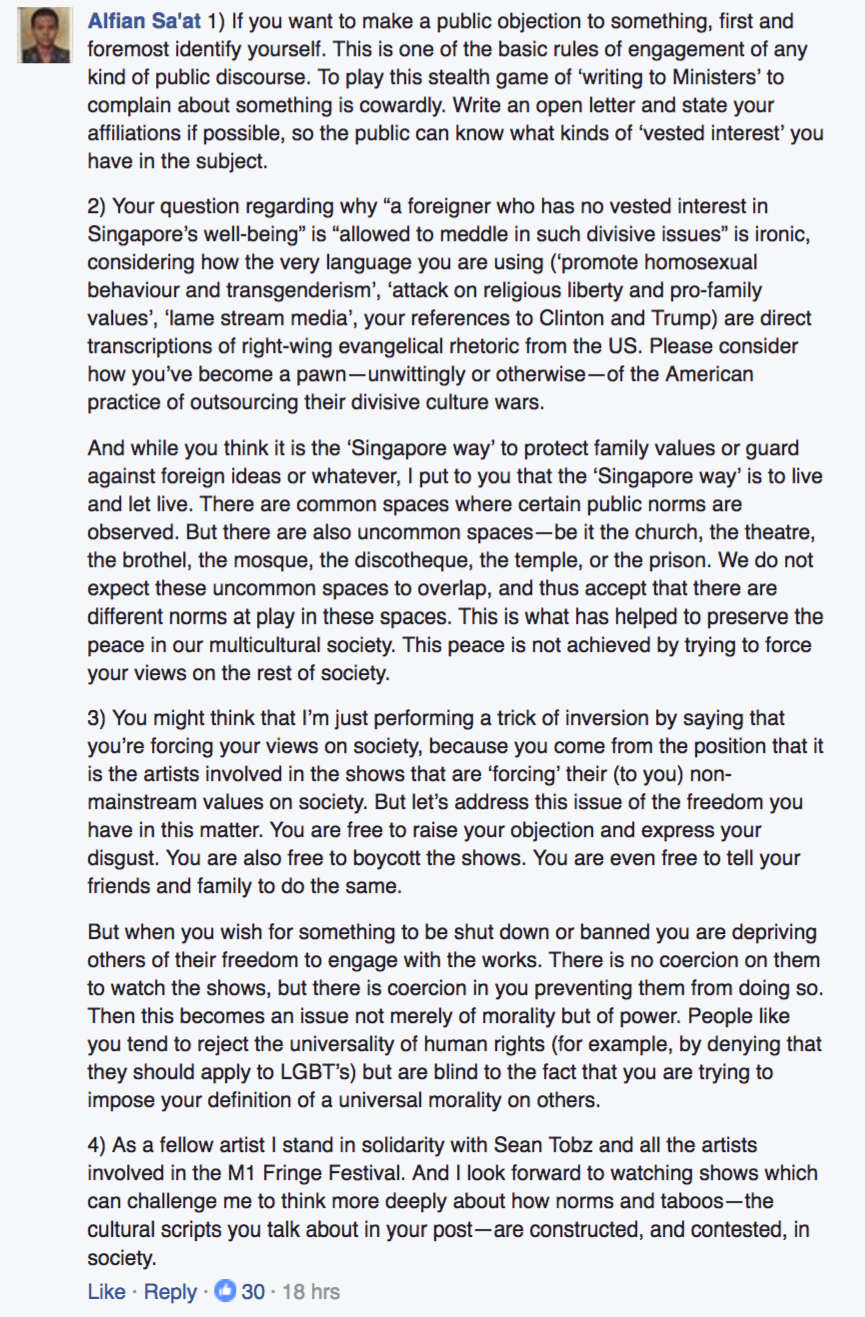 4. Ong Keng Sen, director, TheatreWorks:

And the Festival team published a statement responding to these calls to ban their programmes, which you can read here.
In it, the team highlighted that while IMDA is still reviewing their programmes for ratings, they have as a precautionary measure rated their own events R18, to limit ticketing to audiences above that age.
The bottom line is: You don't have to go see it if you don't want to.
Top photo: Screenshot from Fringe Festival website
If you like what you read, follow us on Facebook and Twitter to get the latest updates.
If you like what you read, follow us on Facebook, Instagram, Twitter and Telegram to get the latest updates.