Animal lovers and keyboard warriors all around Singapore were p*** off at a woman who supposedly said "F*** you. It's only a dog" after hitting a dog and driving off. The dog was being taken care of by the Animal Lovers League (ALL).
Some even went to check the car's registration plate and traced the name of the owner of the car.
After the name of the car owner was splashed across the Internet, other Internet vigilantes pointed out that the car owner supposedly works for Huttons Asia, a real estate agency.
This led to viral articles painting the car owner as the one who hit the dog, such as this article with over 4,000 shares: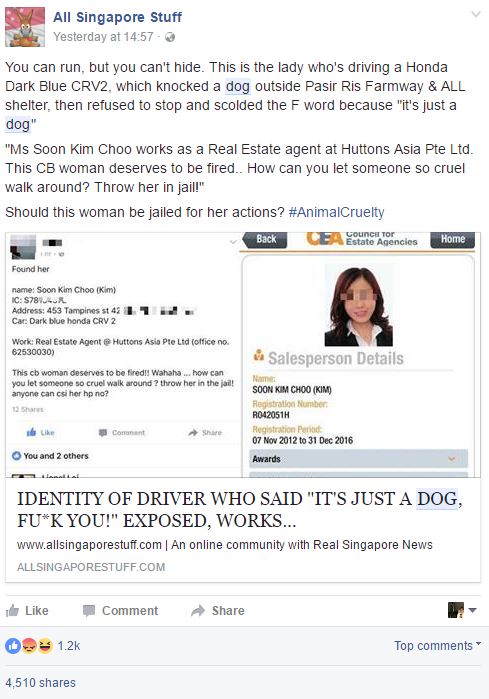 Swarms of one-star reviews hit Huttons Asia's Facebook page shortly after.
All this while, nobody stopped to wonder if someone else could have been driving the car at the time instead.
The Animal Lovers League, after meeting with the management of Huttons Asia, said in a Facebook update that there were two police reports lodged in relation to this case.
The first report was by the vehicle owner stating to the police that she was not the driver at the material time. The second report was lodged by another lady, admitting to being the driver of the said vehicle at the material time.
They also shared that the driver who hit the dog "is not an agent or employee of Huttons."
It is not known whether Huttons Asia or the car owner is considering legal action against those who erroneously pinned blame.
TLDR: Car hits dog. Internet finds identity of car owner. Internet plasters car owner's face online. Internet swarm car owner's employer's Facebook page with negative reviews. Turns out car owner lodged police report to say she did not hit a dog. Another unidentified woman admitted to the police to be the one hitting the dog.
The end.
Here's ALL's full post:
Top image from Animal Lover League
If you like what you read, follow us on Facebook and Twitter to get the latest updates.
If you like what you read, follow us on Facebook, Instagram, Twitter and Telegram to get the latest updates.