As it turns out, supermarketing Singaporeans really love and treasure their plastic bags.
How do we know this?
A Channel NewsAsia article on a local environmental group calling for major supermarkets and retailers to start charging customers for plastic bags, of course.
The gist: the group, Zero Waste SG, is asking the government to impose a charge for plastic bags — 10 cents for larger ones and 5 cents for smaller ones. They're talking to the National Environment Agency and propose to start with supermarkets and major retailers, followed by smaller ones, hawkers and SMEs.
This charge would apply to all except for bags used to contain food without packaging, frozen/chilled food and prescription medication, they added.
Here's how people responded to this proposal:
1. Call for a ban on other things, because a charge somehow means a ban:




2. Argue on scale — what's the point of using fewer plastic bags, right? What difference would it make?


3. Blame the media for calling attention to this:

4. Accuse the corporations of trying to make extra profits from charging for plastic bags:

5. Cook up stories about the environmental impact of using or not using plastic bags:


While some combine all the above approaches:

Thankfully, though, comments like the ones above were countered by others: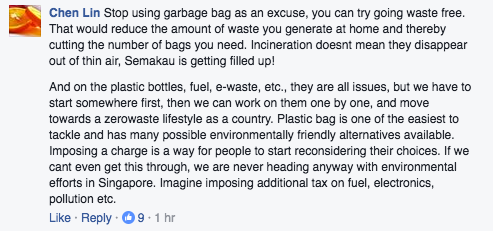 Some even volunteered concrete suggestions on how to survive with fewer plastic bags:

Now, what have we learned from this entire affair?
Simply that when it things that are precious to us (and also free) come under threat or might potentially be taken away, many of us will fight tooth and nail to defend them.
Even... the right to take as many free plastic bags from the supermarket as we want.
Top photo from Flickr user velkr0
If you like what you read, follow us on Facebook and Twitter to get the latest updates.
If you like what you read, follow us on Facebook, Instagram, Twitter and Telegram to get the latest updates.