Men's Health recently published an article calling out Joseph Schooling for giving a 'douchey' sounding answer after his race.
The article also insinuated that Schooling had to apologise for remarks made in the post race interview, which they claim showcased complacency.
There was instant backlash against the article, but the editor, Kelvin, stood by it.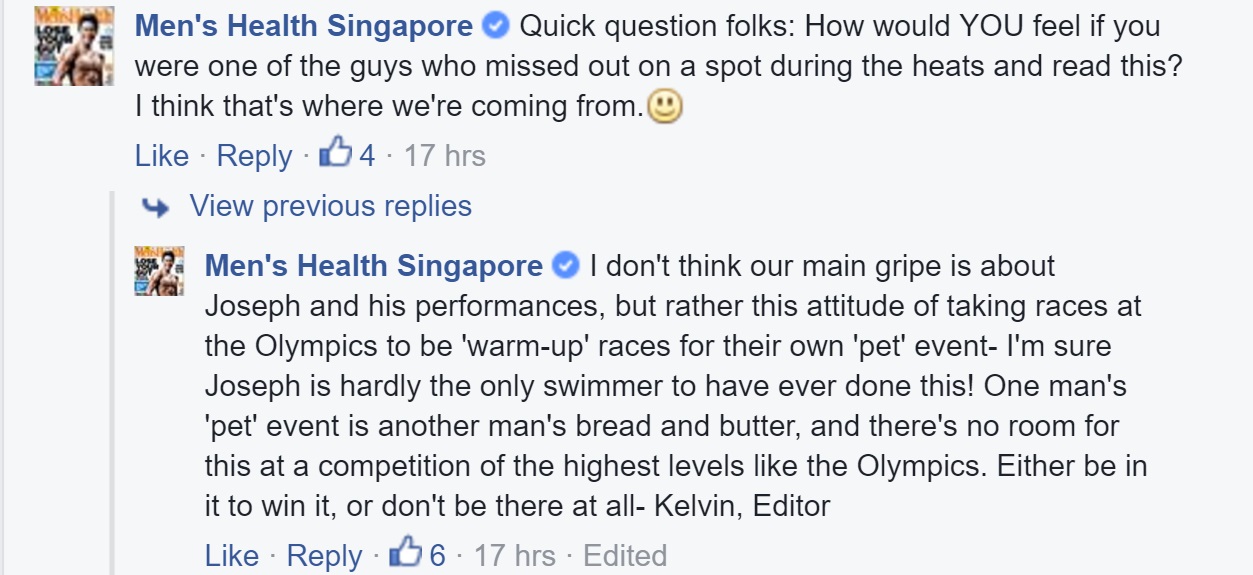 It seemed the editor was unlikely to apologise for the article.
Apologise
The editor apologised for the article on August 12, at 4.56pm.
Here is the apology.
In case you cannot read their Facebook post.
To our readers and followers of Men's Health Singapore: We're sorry.

We recently put up a blog on our website regarding post-race comments made by Joseph Schooling at the Olympics. The feedback we've received from sport supporters, rallying behind our national swimmer has been tremendous. But more important than that, you guys were absolutely right – we never should have suggested that Schooling's race preparation methods, nor his attitude towards the contest, were anything but indicative of the highest sporting standards. And yes, our choice of words in that blog were also completely uncalled for.

For all that, we apologise. To our readers, supporters of our national Olympians, all Singaporeans, and of course, Schooling himself – we are very sorry. As Editor of the magazine, I also humbly take responsibility for the publishing of the blog in the first place and offer my personal apologies to all.

We will endeavour to maintain higher editorial standards, standards befitting the Men's Health brand. -Kelvin, Editor
Hopefully now, we can focus on the race tomorrow.
Related articles
Sports mag criticises Joseph Schooling's soundbites as 'douchey-sounding', wants him to apologise
Sorry Schooling, but there's too much glory in this
Top photo from Getty Images
If you like what you read, follow us on Facebook and Twitter to get the latest updates.
If you like what you read, follow us on Facebook, Instagram, Twitter and Telegram to get the latest updates.