The New Paper did an amazing report on the decade long struggle NUS have had with sexualised camp games. The report concluded that a decade on, nothing much had changed, if anything, things had gotten worse.
Some of the activities include re-enacting rape scenes and coming up with cheers that insinuated rape.
There have been fingers pointed at the administration for not enacting change, but as it turns out, the propensity for structural inertia is reflected in some students as well, who not only resists reforms but often put down those who complain about the situation
Here are some of the responses that were posted on NUS Whispers, a confession site for NUS students to post anonymously.
Relax
Chill out, it's just chanting about rape.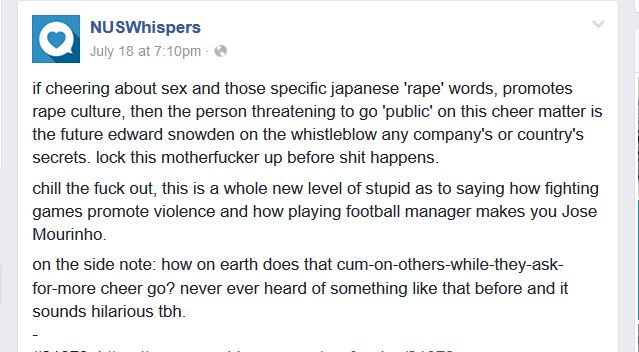 Bullying is just a fact of life
One post suggests that those who feel uncomfortable only have themselves to blame.

Those who complain are narrow-minded.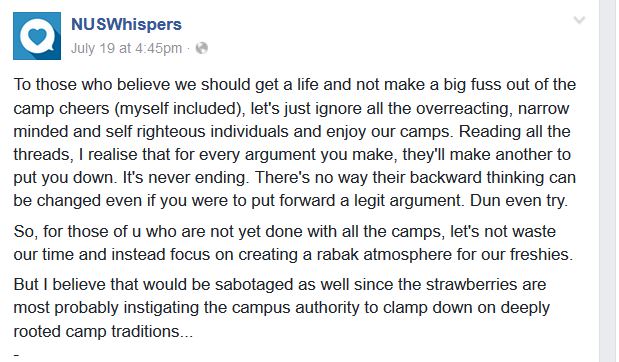 The post also brought up tradition, and the need to adhere to it as a reason not to enact changes, an attitude some might call narrow-minded.
Here, take this incredibly weird analogy
Not satisfied with confronting the complainers on a literal level, some resorted to making up perplexing analogies to put their point across.

Now there are a lot of things wrong with this analogy, so we've come up with a better one.
"You go to a hawker center and there's a stall selling chicken rice. You don't like to eat chicken rice so you don't buy it.
The stall proceeds to mock you for being too traditional  - 'What? You too conservative to try chicken rice ah?'
You then have to hang around the stall for 4 to 5 years, all the while knowing that just because you didn't like chicken rice, they are going to treat you somewhat differently for the duration of your studies hawker centre stay.
So, in a bid to escape the fate, you have to eat chicken rice from the incredibly outgoing chicken rice stall, even if it makes you feel horrible afterwards."
I hope this little analogy can help my less-sensitive friends understand the situation better. Peace.
Why the need for all these rape innuendos
One post perfectly sums up the problem with this apparent need for rape jokes, scenes and suggestive cheers.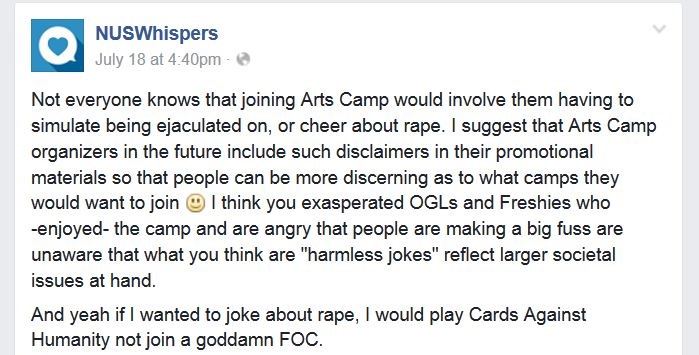 Top photo from here
If you like what you read, follow us on Facebook and Twitter to get the latest updates.
If you like what you read, follow us on Facebook, Instagram, Twitter and Telegram to get the latest updates.