If you're a business owner, chances are you deal with money.
And instead of taking all your payments (which sometimes would add up to the thousands) in cash and stashing them inside your pillow or below your mattress or inside multiple piggy banks, most of the time, you would put it into a bank account.
Quite a few people have done this — creating corporate accounts with banks such as OCBC's Business First account: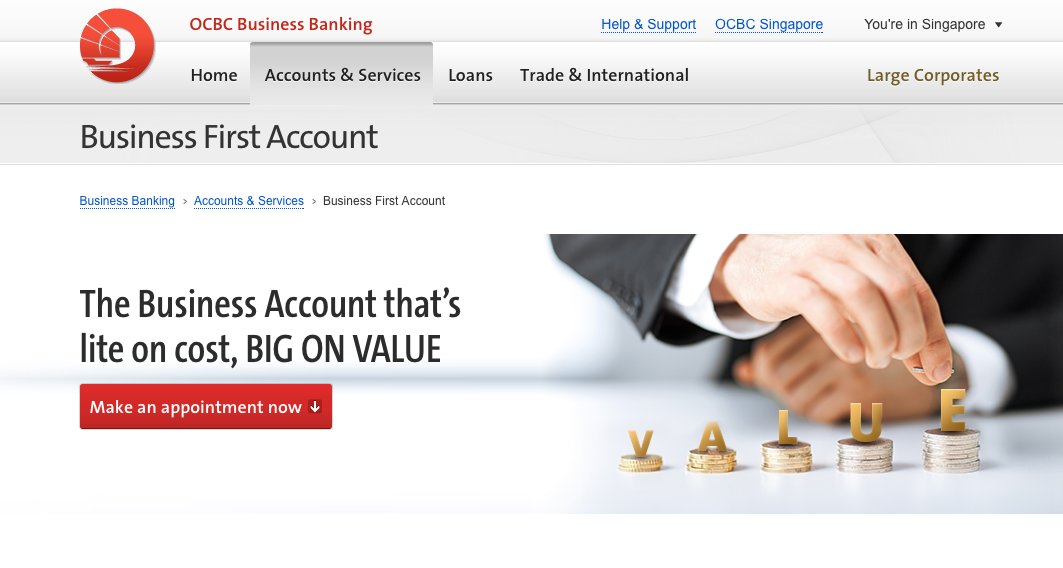 Now, imagine how you would feel if after a year or so, OCBC sends you a letter saying they are closing your account, and you have 14 days to transfer all your money out of it and shift all your transactions, banking instructions and other automatic payments to another bank.
A few Small and Medium-sized Enterprise (SME) owners have in recent days received letters that unceremoniously informed them of the above: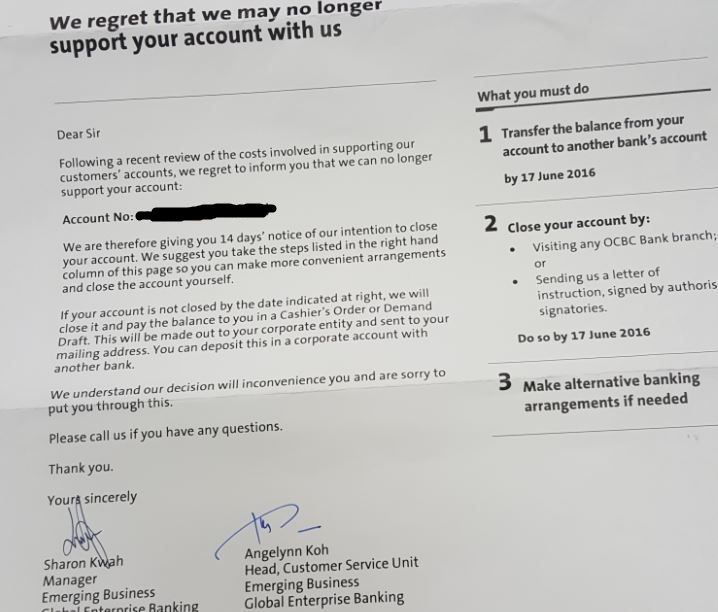 This first happened to DUO, a small creative agency run by two business partners, one of whom took to Facebook to find out if there were other entrepreneurs facing the same situation:
Recounting his experience of what happened to Mothership.sg, agency co-founder Jonathan Lee said he received the letter on June 7.
"I called the service hotline immediately wanting to find out exactly what's happening and what is the reason that they want to close down our business account as there isn't a legitimate or clear explanation stated on the letter, but unfortunately the answer I got from the service manager was she won't be able to assist me on this and there won't be any reason disclosed."
Lee said he immediately travelled to the OCBC branch at Chulia Street — where he and his business partner, Stephanie Phua, first set up their corporate account — hoping that a face-to-face meeting would shed more light on the situation.
"Unfortunately, the service manager wasn't able to give me an answer or clear explanation either; he mentioned even if we got to talk to the upper management, we will be getting the same response from them as they won't be able to disclose any reason at all."
We realised Lee and Phua were not alone. We found a few other posts to OCBC's Facebook page mentioning the same thing:
And we found another comment thread on a regular post by the bank on its page by another business owner: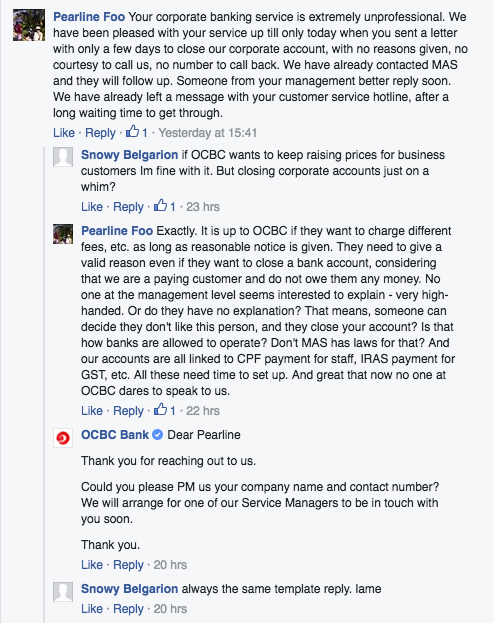 For Lee and Phua, bank staff whom they liaised with eventually informed them (after Lee contacted them via Facebook message, it seems) over the phone the next day that the forced closure was due to their apparent failure to install a specific security app.
That, it turns out, was the only thing they needed to do in order to save their account. Two days later, the two got confirmation that their account would be safe.
So what's the story? 
OCBC essentially confirmed what Lee and Phua told us — that for all these business owners, it was as simple as installing the security app to their devices.
Here's their statement shared with us:
"With cybercrime growing as a threat in recent years, we have been encouraging customers to install IBM Security Trusteer Rapport, which is a security software that will protect their computers from cybercrime and financial malware.

We recently wrote to a small group of customers who had not installed this software despite our asking them to do so several times. Without the software being installed, we would have to review these customers' online transactions more closely to protect their accounts. Last month, after reviewing the risk and added handling that may be required for these accounts, we wrote to the customers to tell them that we would regretfully have to close their accounts.

We are really sorry that the above has caused inconvenience and anxiety. We have therefore decided that we will not close the customers' accounts if the software is installed. We have already called the customers and are now working closely with them to ensure this is done."
So if you're a young entrepreneur using an OCBC corporate account, be sure you've got that security app downloaded — if not, you'll likely hear from them about closing your account soon too.
Top photo from OCBC Bank's Facebook page.
If you like what you read, follow us on Facebook and Twitter to get the latest updates.
If you like what you read, follow us on Facebook, Instagram, Twitter and Telegram to get the latest updates.