Union leaders, key representatives from the Labour Movement and tripartite partners gathered at Downtown East D-Marquee to celebrate this year's May Day.
The highlights of the May Day Rally were the speeches made by Prime Minister Lee Hsien Loong and Chan Chun Sing, who gave his maiden May Day Rally address as Labour Chief.
Below are the seven key points:
1. $200 million to be pumped into the NTUC-Education and Training Fund (NETF)
Upgrading seems to be the buzzword these days.
And it comes at no surprise that the government will match $3 for every dollar with NTUC's targeted injection of $50 million into NETF (grant to be capped at $150 million).
The $200 million will provide subsidies for union members to upgrade their skills at suitable Institutes of Higher Learning.
2. NTU X NTUC
U. That is the logo of NTUC, where the heart of the logo is made up of the working people, labour movement, and their families.
It is no surprise that one of the first experiments will be a U, a university.
One such Institute of Higher Learning is the Nanyang Technological University (NTU).
PM Lee announced a collaboration, a first, between NTUC and the NTU.
The university will set up the College of Professional and Continuing Education, which will – for a start – feature 28 Technology Enabled Learning courses for working adults to choose from. Jointly identified by NTUC and NTU, courses include Biomedical Instrumentation, Data Analytics and advanced Molecular Genetics.
Union members can enjoy a subsidy under the Union Training Assistance Programme, subject to a maximum sum of $250 per year. This is on top of the $500 SkillsFuture Credit.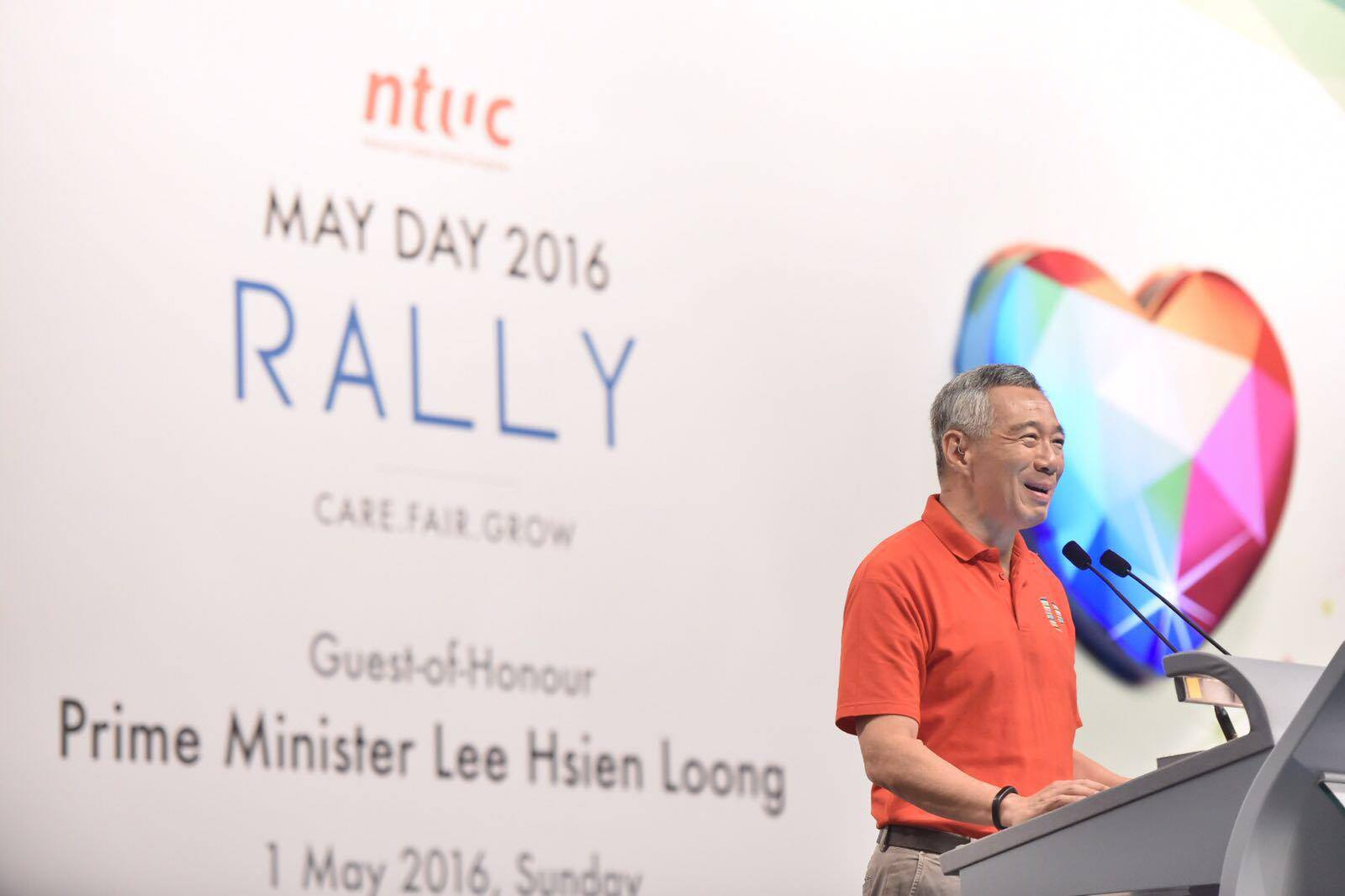 3. Uncertain year ahead
PM Lee touched on the slowing economy, noting that while Singapore is having a May Day celebration, other countries are having May Day demonstrations.
He gave an example of the gloomy outlook: there was one day when for two shifts out of three, PSA's Tanjong Pagar did not receive a single ship.
While other workers in some industries are facing retrenchment, it's not doom and gloom for industries like ICT, finance and insurance and healthcare, which are still creating jobs.
And although growth will be slower this year, PM Lee said that we still have more jobs than job seekers in Singapore, unlike other countries, and unemployment rate remains low.
4. It's all about changes this year.
PM spoke about how we should deal with changes in three areas:
- Industries
- Jobs
- Workforce
5. "Be the disruptor. Don't just sit there and let people disrupt you."
Touching on the rise of Uber, Airbnb and Taobao, PM Lee emphasised that Singapore shouldn't stop this phenomenon as these new businesses have improved lives of consumers and made existing companies up their game. For example, traditional taxi companies now have more user-friendly taxi booking apps.
And that's why this year's Budget focuses heavily on R&D and technology to help industries find new models and processes to outcompete the newcomers.
As what PM said: "Be the disruptor. Don't just sit there and let people disrupt you."
6. Jobs, they are a'changing.
He also emphasised that Singapore's problem is not a lack of jobs but the match of workers' skills and expectations to what is needed in the market.
And thus, upgrading one's skills is vital, especially for mid-career PMETs and retrenched workers.
The Ministry of Manpower have come up with the Career Support Programme which provides employers with wage support for one year so as to encourage businesses to try out PMETs who have been retrenched mid career.
7. Workforce, it is a'changing too.
Currently, PMETs make up slightly more than half of the workforce. By 2030, it will be two-thirds. And thus, the Labour Movement needs to reinvent itself to stay relevant.
It's no longer about collective bargaining as workers' needs has shifted to career counselling, networking and upgrading.
NTUC has made the switch to help more PMETs with the U Associates Programme, which has grown from 12 partners to 31.
Quotable Quote of the day
On the injection of funds to the NETF, PM Lee said: "If you can raise $50 million, I will write the cheque for $150 million!"
Top photo by Lim Weixiang
If you like what you read, follow us on Facebook and Twitter to get the latest updates.
If you like what you read, follow us on Facebook, Instagram, Twitter and Telegram to get the latest updates.