On Friday evening, Singapore Democratic Party (SDP) chief Chee Soon Juan announced four proposed social initiatives as part of his plan for residents in Bukit Batok SMC.
Chee, who earlier declared his candidacy for the soon-upon-us Bukit Batok by-election, also unveiled a four-man advisory transition team for the transfer of management responsibilities for its town council, should he be elected.
His proposals are essentially election promises, to show residents the experience his party plans to bring both to Parliament and their estate ahead of the by-election, which will be held on May 7.
Here's a rundown of his plans for Bukit Batok residents:
1) Chee will have an advisory team of four to oversee the transition of management for Bukit Batok's Town Council. These include:
- Wong Hong Koon, a private practice chartered accountant,
- Yeo Yeu Hong, who runs a company that provided estate management services to various PAP-run town councils,
- K Siva Sankaran, who owns a company that trades in building material, metals and textiles, and who has experience with internal auditing and accountancy, and
- Peter Low, a senior counsel and human rights lawyer.
These folks will oversee the taking over of the town council office, the existing town council's balance sheet, accounts, funds, grants, contracts and databases.
2) Chee will have a team of people to run four key social programmes: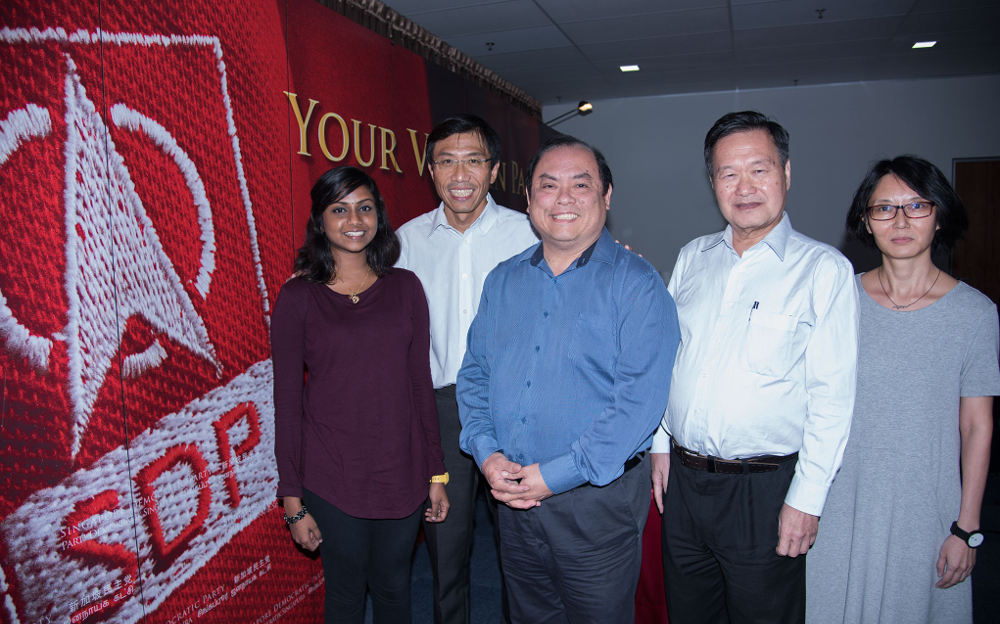 - Hearts for Bukit Batok: a programme with two aspects — one, a trust fund that will raise money for stipends or food vouchers to be given to the elderly poor in the community; two, a family-pairing programme where a household adopts a needy family and contributes time/resources to better their well-being. It will be run by private tutor Wong Hwee Lin.
- Pathfinder: a programme to provide subsidised private tuition for students from lower-income families. This will be run by allied educator Rajakumari Ashukumar.
- Dollars and Sense: a programme that will provide financial advice and assistance in planning to residents in need of it. This will be run by ex-Presidential candidate Tan Kin Lian.
- Legal Lifeline: a legal clinic for low-income residents in need of advice. Seven lawyers have volunteered to work on this, according to the party.
Now there are two pluses and minuses we see:
Plus: The plans are comprehensive enough to match current existing programmes the People's Association (PA) runs for Bukit Batok.
Believe it or not, the four programmes mentioned above essentially mirror the plans and proposals former MP David Ong had for residents when he was MP — initiatives like activities for the elderly:
Tuition for kids:
Financial literacy:
and legal clinics.
The SDP can now frame the choice for residents in Bukit Batok — whether residents want to choose their voice in Parliament, or another PAP MP.
This would help Chee maintain his by-election advantage and it was demonstrated in Chee's comment on his ruling party rival Murali Pillai:
[video width="1920" height="1080" mp4="https://static.mothership.sg/1/2016/04/MVI_7538_CLIPCHAMP_keep.mp4"][/video]
"Mr Murali will always have his party bosses to answer to. I have the people — the residents of Bukit Batok to answer to… I'm going to be able to bring up some of this issues in a wider context, to be able to take it to Parliament and have a robust debate."
Former presidential candidate Tan, who will front the SDP's Dollars and Sense program also stressed the importance of having an opposition voice.
"I call (on) the people of Bukit Batok, when you go for the by-election, think beyond just the needs of Bukit Batok, think in terms of what Singapore needs," Tan said. "We do need a much more active Parliament."
Plus: The plans are backed by independents, a 'ground-up' initiative of sorts.
Chee's plans, the party says, came from feedback he received from the ground of what residents wanted. When asked how confident he was in conveying his plans to residents effectively, he said:
"To be very honest, these have been things that have been feedback to us, by the residents... It really is not a matter of us persuading them. We've been putting our ears to the ground, and basically looking and assessing what their needs are. These are things we've stitched together and it's a comprehensive package that we want to put forward, and I think it will serve the residents very well."
The three coordinators unveiled yesterday stressed that they were not party members, although they were affiliated in various ways with the party. Wong, for instance, had volunteered with the party since last year, while Rajakumari's father is an SDP member.
Tan said that he agreed to help coordinate SDP's proposed Dollars and Sense programme because he believed that Chee was passionate in serving the people.
"We need people in Parliament who can discuss these issues so that we can find better solutions... It is not the job of the MP to solve all the problems. Because we do have a government, collecting all the taxes, with the money to address those problems. The job of an MP is to know what the problems are, and you do that when you get in touch with residents very regularly."
Minus: The SDP remains unproven, even with a plan.
The last time the SDP ran a town council in Bukit Batok was in 1991, when Ling How Doong was elected MP of Bukit Gombak SMC during that year's general election.
The party has not had an elected representative for nearly 20 years since — and this may be a concern for residents.
But it has clearly done groundwork, and its campaign season effectively began a day after David Ong resigned from office. It would be unfair, too, to say that its alternative town council plan has only just been materialised out of thin air — the party has had it since the last GE.
The party has had its slew of social programmes and initiatives, but these have been aimed nationally. It has an education award for needy children, and previously ran health screenings:
and grocery distribution programmes:
Yet, it remains to be seen if residents will be convinced that a party that has only come back into the political mainstream after 19 years will do a competent job.
The last time Singaporeans voted big for SDP (3 seats), they kicked them out after one term.
The exception? Veteran Oppostion MP Chiam See Tong who was already not with the SDP.
Minus: The costs of SDP plans hinge on Chee's MP allowance.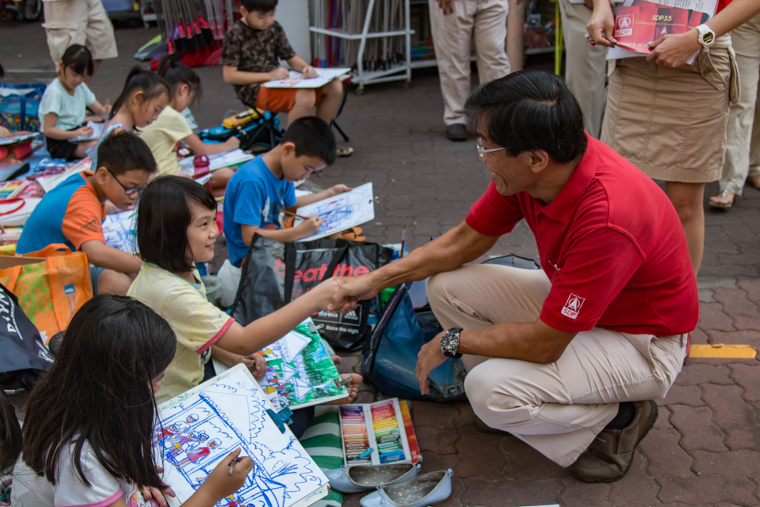 Chee's plans will be partly funded by a contribution from his parliamentary allowance, which would likely count in the thousands. An MP is paid $192,500 annually, or approximately $16,000 a month.
We don't know if the SDP would abandon these plans should they lose the election, but we must bear in mind the fact that the ability of these programmes to get off the ground hinges on him being elected in the first place.
This means that there will be a time lag before some of the programmes can take off.
Other programmes are manpower intensive and require mindset changes among the residents.
Part of the plans to help the needy as outlined in the Hearts for Bukit Batok plan involves encouraging households in the SMC to "adopt" needy families.
While the aim to bring the Bukit Batok community closer is a noble one, the idea that well-to-do households would adopt one in need may not be easily implemented.
In a sense, the SDP's plans can be seen as a tool to communicate to residents the liberal ideologies that it believes in. When asked whether the plans SDP has had would detract from its liberal message, Chee said:
"For so many years, the decades through, because of the control of the media, the people have been... have come to think, somehow, that human rights and their economic well-being are separate. They're not. But in order for people to come to understand, sometimes you just need to be able to communicate these ideas to them in ways that Singaporeans can understand and are willing to listen."
Chee has pledged to use his MP's allowance to assist 10 low-income families. He also (quite idealistically) said this:
"(I want) to be that spark, that catalyst the brings out the best in the people of Bukit Batok to inspire them to reach for the best, to appeal to their better angels and to discover that side of the Bukit Batok community that we didn't know that we had, so we can build a compassionate town. A town that will, dare I dream, become the model and one day spread throughout Singapore."
We'll have to see if Bukit Batok's residents agree with Chee's vision in the coming two weeks.
Top photo by Ng Yi Shu.
If you like what you read, follow us on Facebook and Twitter to get the latest updates.
If you like what you read, follow us on Facebook, Instagram, Twitter and Telegram to get the latest updates.