Couchsurfing is what you'd do if you're young and free. Or broke and adventurous enough.
And a great way to torment your parents into thinking you're going to get kidnapped and murdered in a foreign country, never to be seen again.
However, if done right, couchsurfing can be a great way to mingle with the people in the country you're visiting or simply living like a local for a while and trying not to be a complete hindrance to the people who are putting up with you.
Here are five things I wished I had known beforehand, as it would have come in handy for anyone trying couchsurfing for the very first time:
1. Your host can bail out on you without obligations.
This happened in France.
A host I was supposed to stay with told me, all of a sudden, she would be out of town. And left me with her housemates, whom I later found out were all guys.
In situations like this, I had to rely on blind faith since I had little choice -- and not like you can do anything about it, since the alternative was to be left without accommodation if I didn't acquiesce.
So, a little mental preparation would have helped knowing something like this could have happened.
2. Your host will pay the price if you're a dunderhead
What came out of this experience, though, was realising that for all the bad vibes a couchsurfer might have had, your hosts can still be kind and sincere even when you accidentally intrude into their lives.
For example, with these French bunch of dudes I had been put up with, one of the guys had to give up his bed and take the couch.
Because as I was getting into my designated bed for the night, I stepped on the house cat's poop and smeared it all over.
Though he wasn't meant to give up his bed for anyone, he still offered his bed.
Not only did his kindness not end there, he would Google translate French words into English to convey stories to me so that he was at least conversant.
It would have helped if I actually picked up some French before thinking the rest of the world were English speakers.
3. I should have thought twice before staying with a solo male host -- twice.
On hindsight, not a very wise choice.
Through this experience, I learned how to better screen hosts on Couchsurfing.
The dangers of Couchsurfing have been written about before, such as how it is also known as a "Hook-Up App".
On the two separate occasions that I was hosted by solo male hosts, they weren't very pleasant experiences as I felt cornered and vulnerable.
Still, in Couchsurfing's defence, I would like to reiterate that it is very much your own choice as it is the host.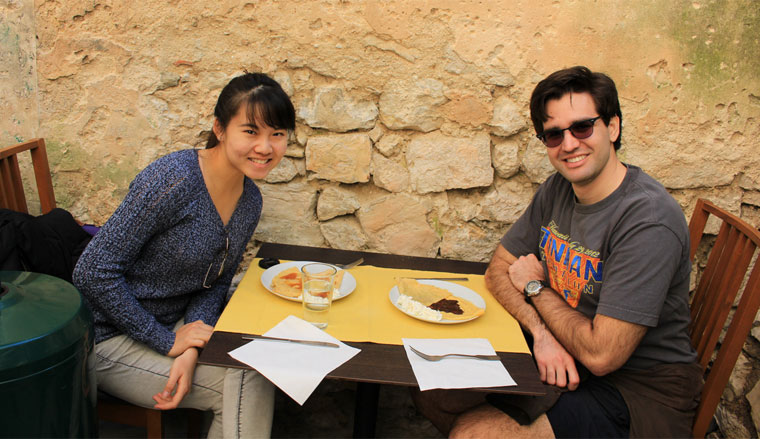 4. I should have looked for families as hosts.
To avoid any kind of unsavoury experiences, it is a good idea to couchsurf with hosts that are families.
In Cologne, I was adopted by a German family.
Although it might be rare for mums to be on Couchsurfing, but not uncommon. I was extremely fortunate to be hosted by one, who not only drove all the way to the train station to pick me, but also got her daughter to go shopping with me. She even specially prepared local German dishes and sat down with me by the fireplace with a beer in hand to chat about politics, parenting, and adventures.
Her family owns a campervan and once a year, they would take spontaneous trips together. The last they went was to a Moroccan dessert. Without internet nor a map, they would manoeuvre their way simply by using their gut feel.
We still keep in touch these days even when I'm back in Singapore.
5. Staying in the countryside away from civilisation was the best.
In England, I had the greatest countryside experience ever.
This was one of my most fulfilling yet as I wanted an escape from urbanisation.
The host, a couple born and bred in the UK and both nature-lovers, very kindly picked me up from the bus station in Stroud, drove me around the best of England's green pastures, and got me to try some of their local foods, including Cornish pastry and pancakes that families usually make on Pancake Day.
6. Be very comfortable travelling without an itinerary.
Once, I spontaneously agreed to be driven to a "crepe party" by my host, who was over 30, drove a branded car and was in the medical industry. But never mind that.
He said he was driving me to his friend's place to have crepes, -- sure, why not? -- and the road was getting darker, quieter and deeper. I resisted against letting my imagination run wild, and focused on keeping light conversation. I couldn't help but notice he brought a bottle of red wine along.
Sure enough, I didn't die and there were crepes and a whole melting pot of culture as I sat and ate and talked to his friends who came from America, Italy and France.
So Couchsurfing, yay or nay? Yay!
Top photo of me, far left, in Nice, France, via
If you like what you read, follow us on Facebook and Twitter to get the latest updates.
If you like what you read, follow us on Facebook, Instagram, Twitter and Telegram to get the latest updates.