It's a straight fight between the ruling People's Action Party (PAP) and the Singapore Democratic Party (SDP) for the Bukit Batok single-member constituency (SMC).
On April 27, the 25,727 voters of Bukit Batok SMC learnt that they can choose either the PAP's Murali Pillai, 48, or the SDP's Chee Soon Juan, 53, as their next Member of Parliament (MP).
Given one minute to address their supporters at Keming Primary School, Murali asked voters to help make Bukit Batok "a beautiful place for all of us".
On the other hand, Chee promised to serve as a full-time MP and aimed to "make Bukit Batok the envy of Singapore".
Bukit Batok residents will have nine days to decide as they go to the polls on May 7.
Here are five observations made during this rather uneventful Nomination Day:
1. Chee ran a strong pre-nomination campaign. Will his campaign reach yet another peak now that the contest has officially begun?
After the SDP chief announced on March 20 that he would be the SDP's candidate for the by-election, he dove straight into campaign mode, working hard to meet and know the residents.
An emotive video was subsequently shared, with a catchy slogan #NowIsTheTime.
Chee's supporters were heard chanting the slogan as he arrived at the nomination centre. It reminded one of a very successful political campaign in Australia.
Titled "It's Time", the Australian Labor Party (ALP) campaigned on the need for change after 23 years of conservative (Liberal-Country Party coalition) government and won in the 1972 GE.
Bukit Batok existed as an SMC from 1972 to 1997 (25 years) and from 2015 to 2016 (1 year). In other words, the SDP is reminding the voters that now is the time for Bukit Batok residents to seek change after 26 years with the PAP.
During this pre-nomination day campaign period, one cannot help but notice how adept Chee and his SDP team are at using new technologies to communicate with Singaporeans.
For instance, Chee used Facebook Live videos to respond to Murali's 1.9 million neighbourhood renewal plans on the same day.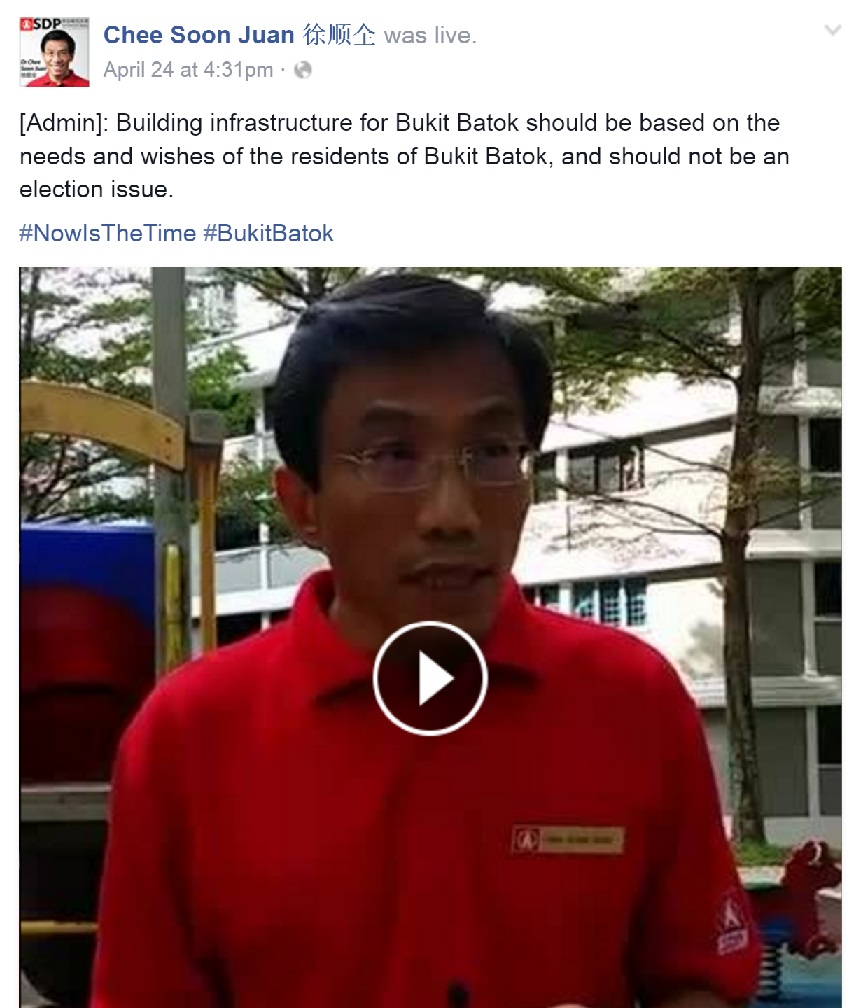 2. It's PAP Team Jurong vs the SDP.
It's the Jurong way versus the SDP and its slick media campaign.
Eight months ago, Deputy Prime Minister (DPM) Tharman Shanmugaratnam told reporters during his General Election press conference that "we (the Jurong GRC team) are not soundbite people".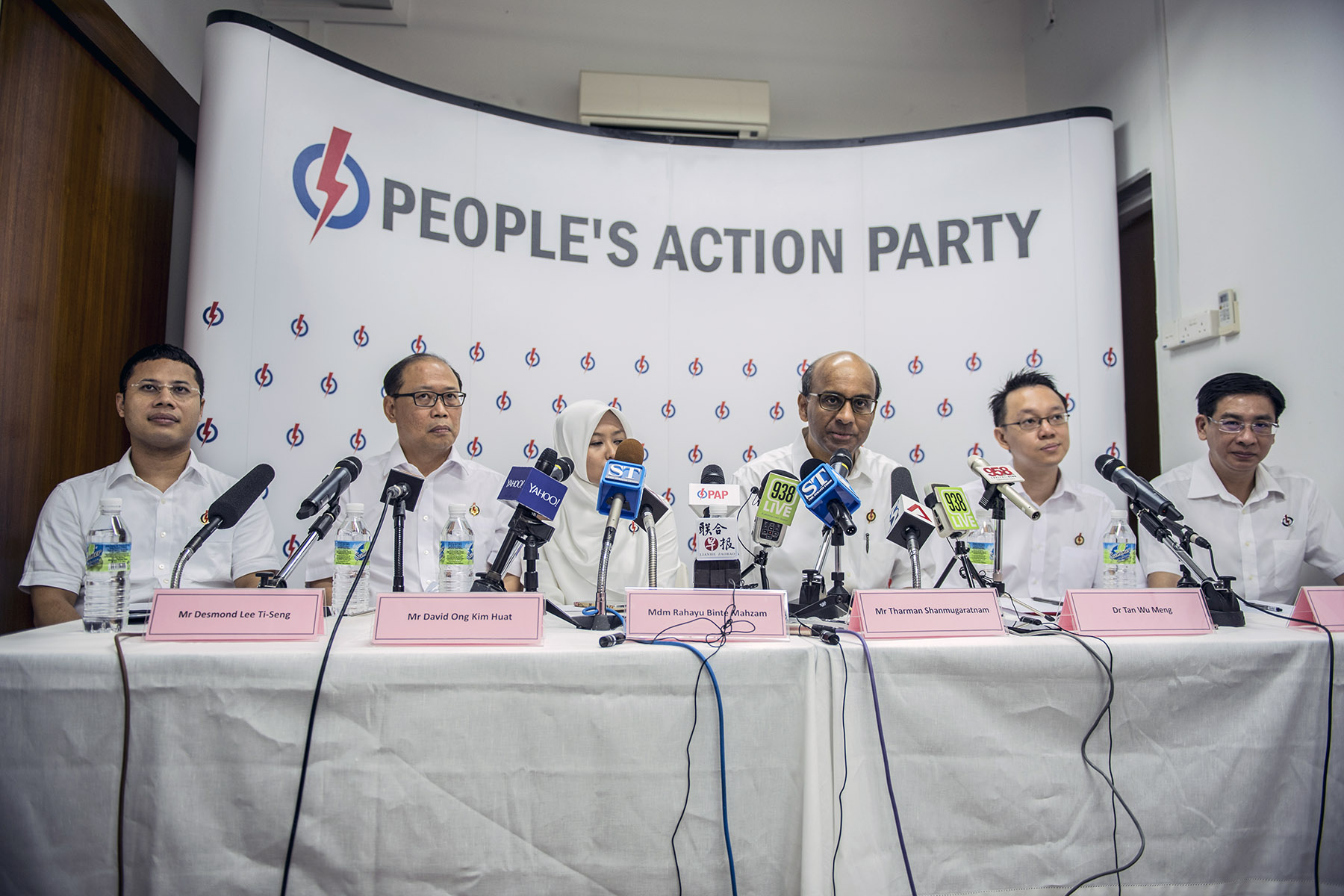 Tharman said that he has a team of doers, whose "style in Jurong is to be on the ground all the time and to serve with our hearts".
He added,
"The way we do it is that we do it. Do things on the ground. Do it quietly, do it without show, do it without cameras. Do it with a heart. That's our stance."
Nearly the whole Jurong GRC team - DPM Tharman, Senior Minister of State Desmond Lee, MPs Ang Wei Neng Rahayu Mazam - was there to support Murali.
In fact, DPM Tharman, MPs Ang Wei Neng and Rahayu Mazam accompanied Murali as he appeared at the Nomination Centre at 10.15am.
Chinese bilingual MPs in neighbouring constituencies - Minister and Yuhua SMC MP Grace Fu and Parliamentary Secretary and Choa Chu Kang GRC MP Low Yen Ling - were also present to lend support.
The presence of the Jurong GRC team also offers a subtle hint to the Bukit Batok SMC voters - do the voters want to break up the colossus that is Jurong-Clementi Town Council - one that has served them well?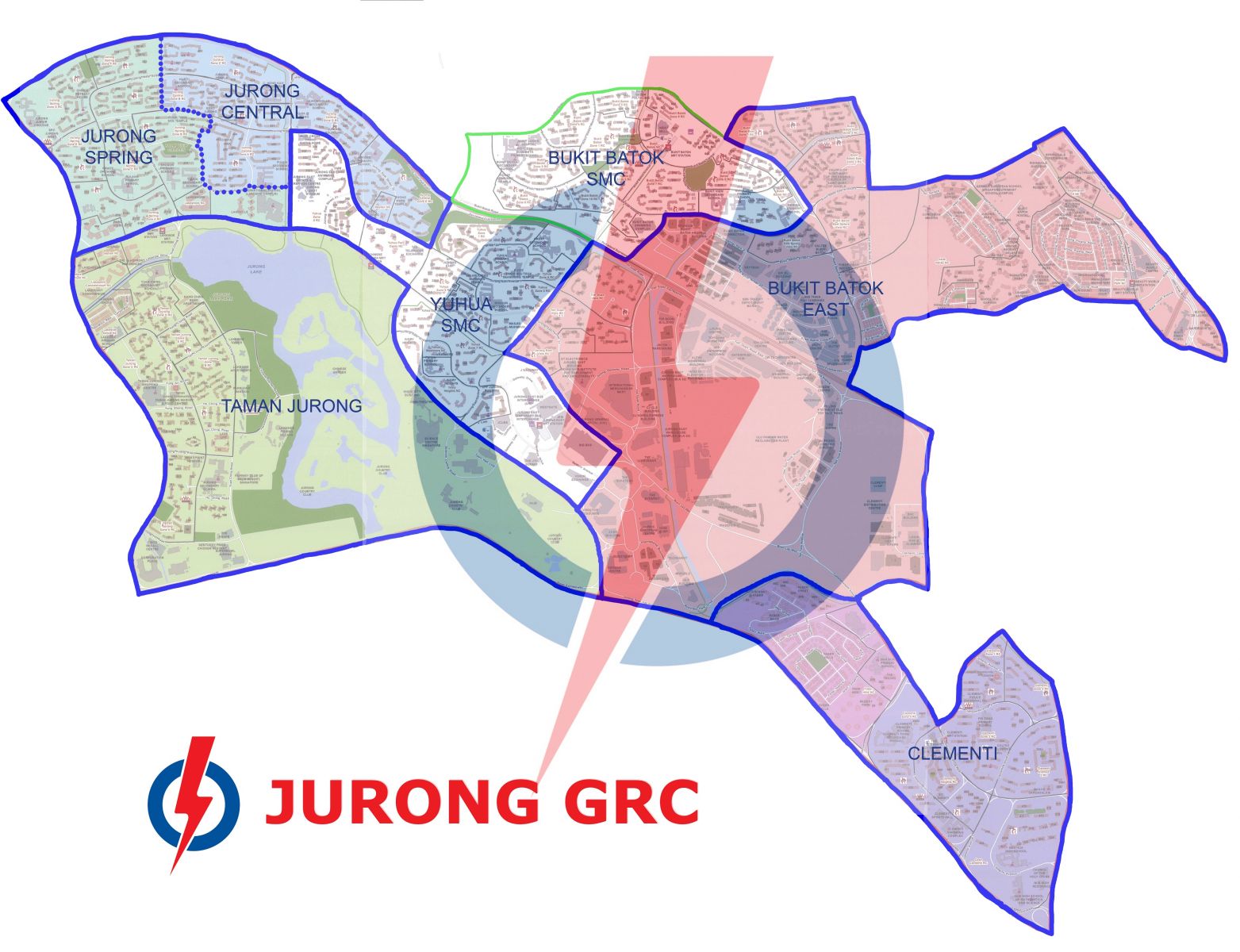 3. The media were the largest "third party" today.
Unlike the 2015 General Election with many nomination centres across the island, all the nation's media and online news platforms descended upon the Nomination Centre in Keming Primary School.
With about eight to ten journalists representing each of the major newspapers and news channels, there were probably up to eighty news people kaypohing in the school.
Potential newsworthy moments (a casual chat between DPM Tharman and SDP GE 2015 candidate Paul Tambyah, the arrival of Han Hui Hui, and the discovery of the SDP's standby candidate Kwan Yue Keng) created several media scrums in a matter of seconds.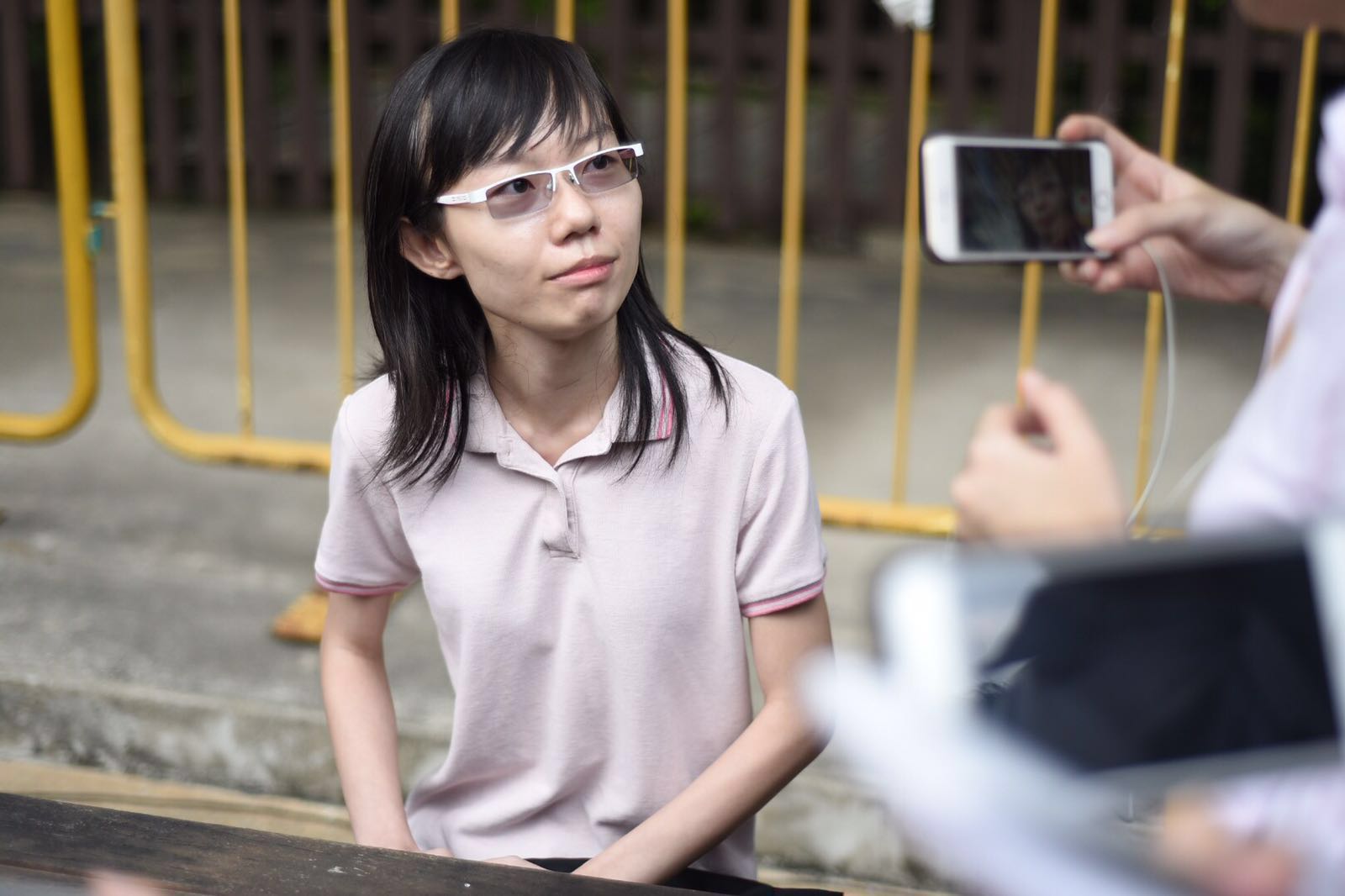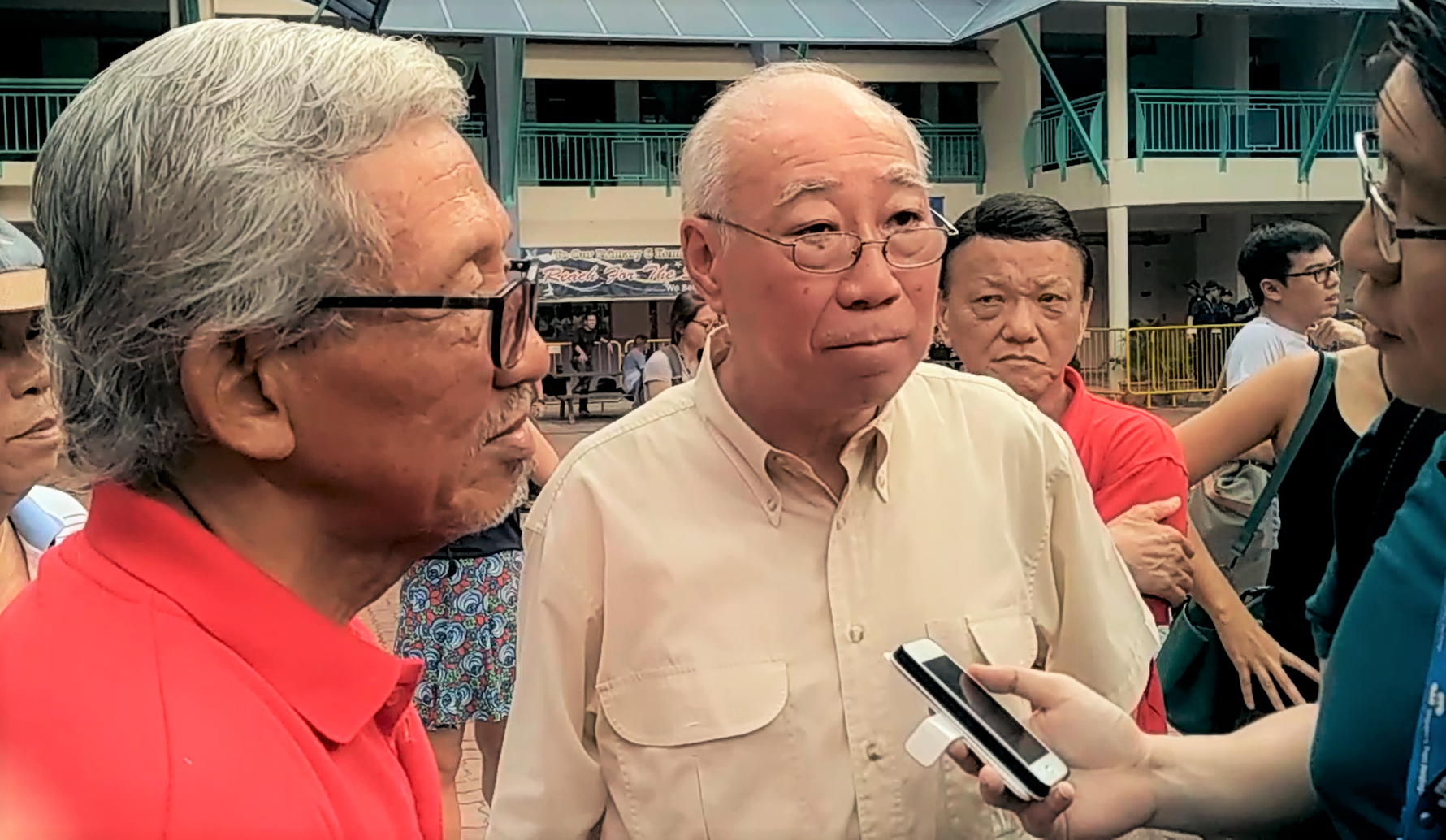 In fact, there were so many journalists present that by midday some looked quite spent from having to jostle repeatedly for the best possible interview and photo spots.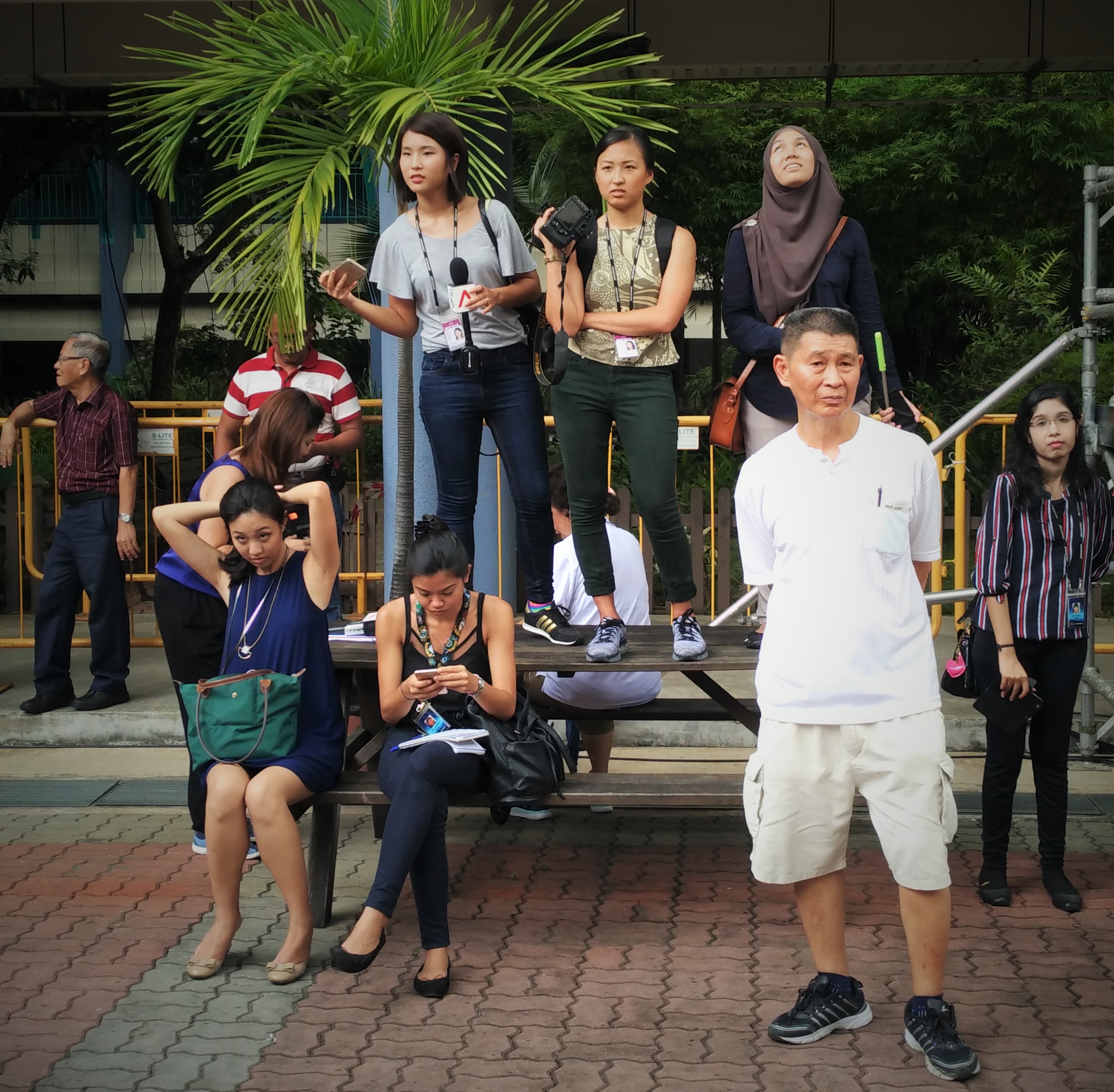 4. There was a stark disparity in ground support between the contesting parties.
One can easily assess each party's social media campaign from their online activities and efforts. But how organised are their ground campaigns?
From the looks of it, the PAP certainly have the numerical advantage in terms of volunteers. A rough estimate at the nomination centre indicates that PAP supporters probably outnumbered the SDP supporters three to one.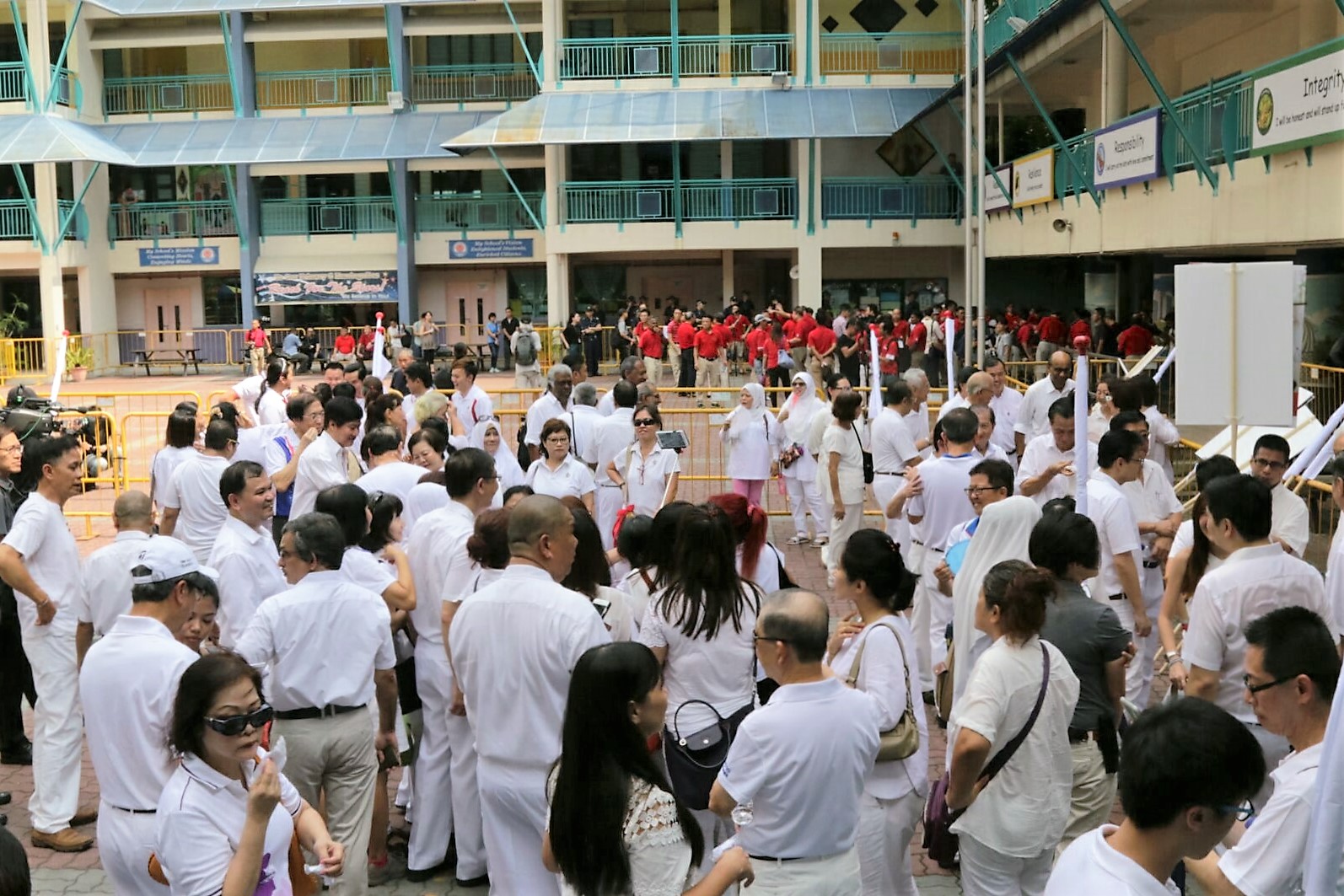 Shortly after the candidates had cleared from the nomination centre, members and supporters of both parties had already begun putting up campaign posters on lampposts. In just a short span of half an hour, posters of the SDP's Chee had already become significantly outnumbered by those of the PAP's Murali.
One wonders how much of an impact this disparity will have in mobilising the support of Bukit Batok's residents.
5. Both candidates attracted very different types of supporters.
Visitors to nomination day would have observed that both sets of supporters were relatively docile compared to nomination day for GE 2015. Save the rehearsed cheers and chants as the candidates got ready to step out to the balcony to deliver their speeches, there wasn't much buzz among the crowd.
Yet, one cannot help but notice a distinct difference in demographies: Chee's supporters were largely middle-aged to older "commonfolk", while Murali's supporters appeared to be younger PMETs (professionals, managers, executives and technicians).
Perhaps this has to do with Chee's narrower focus on the elderly and lower-income, compared to Murali's approach of addressing a broader range of issues including those affecting children and professionals.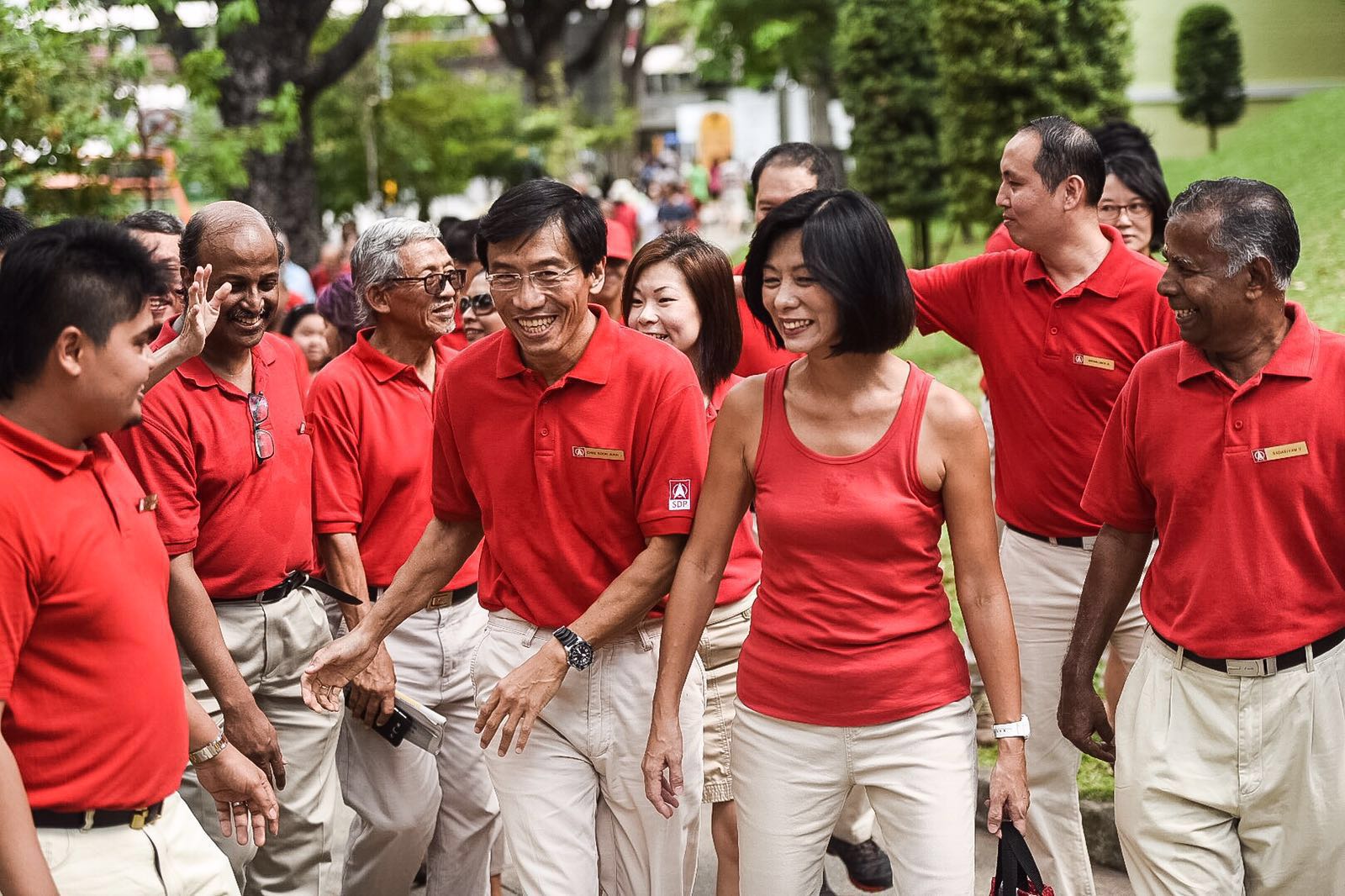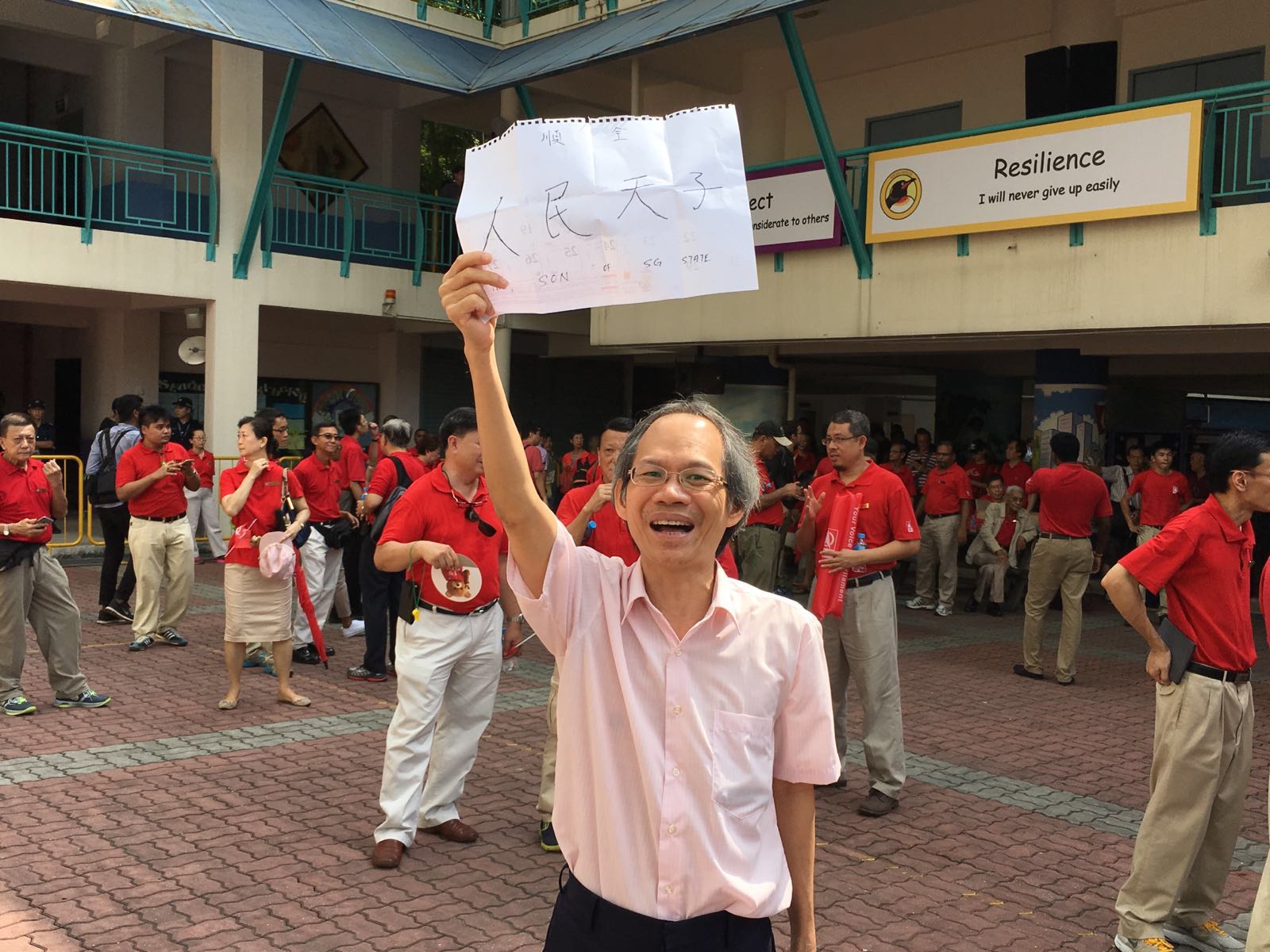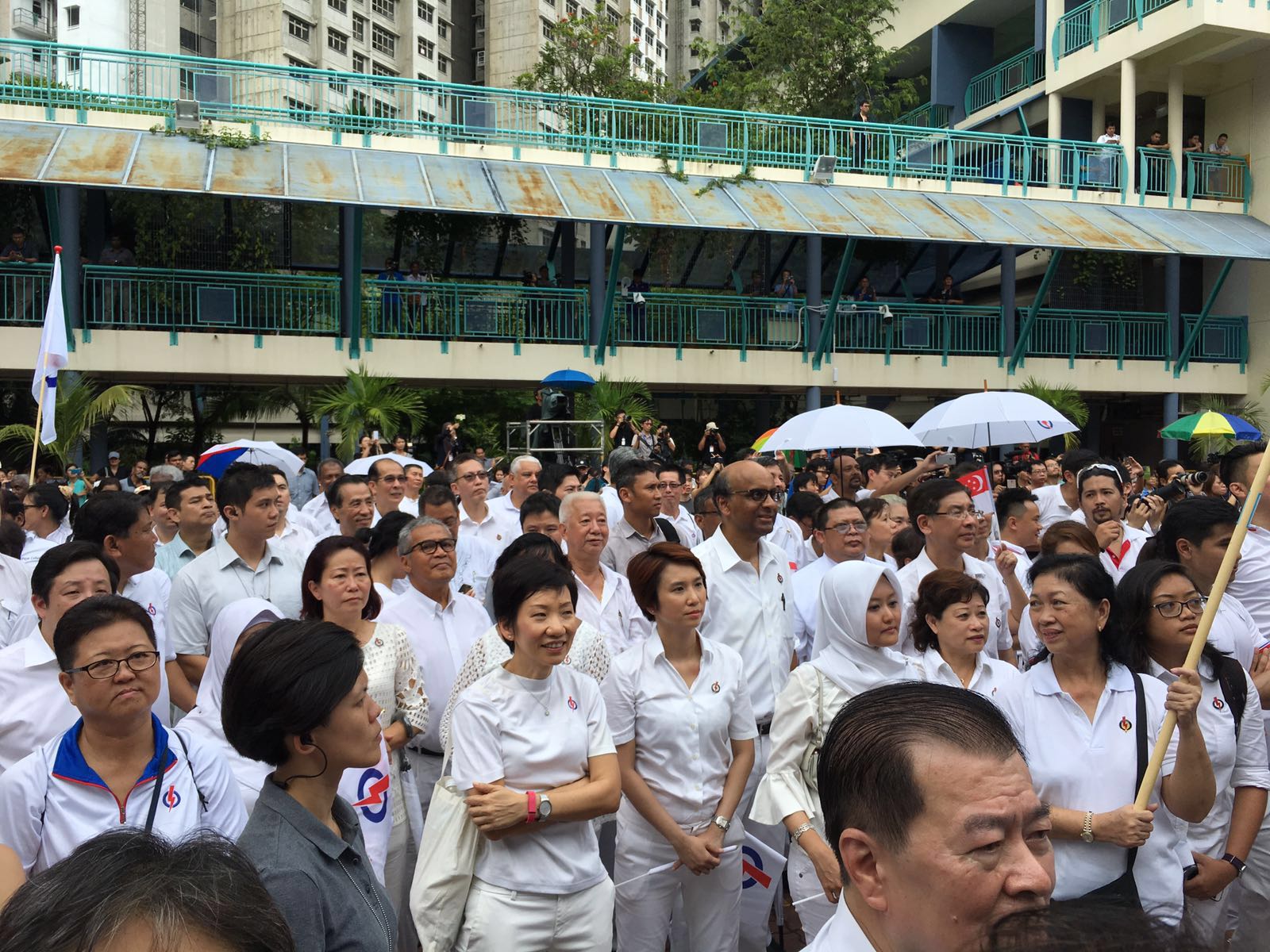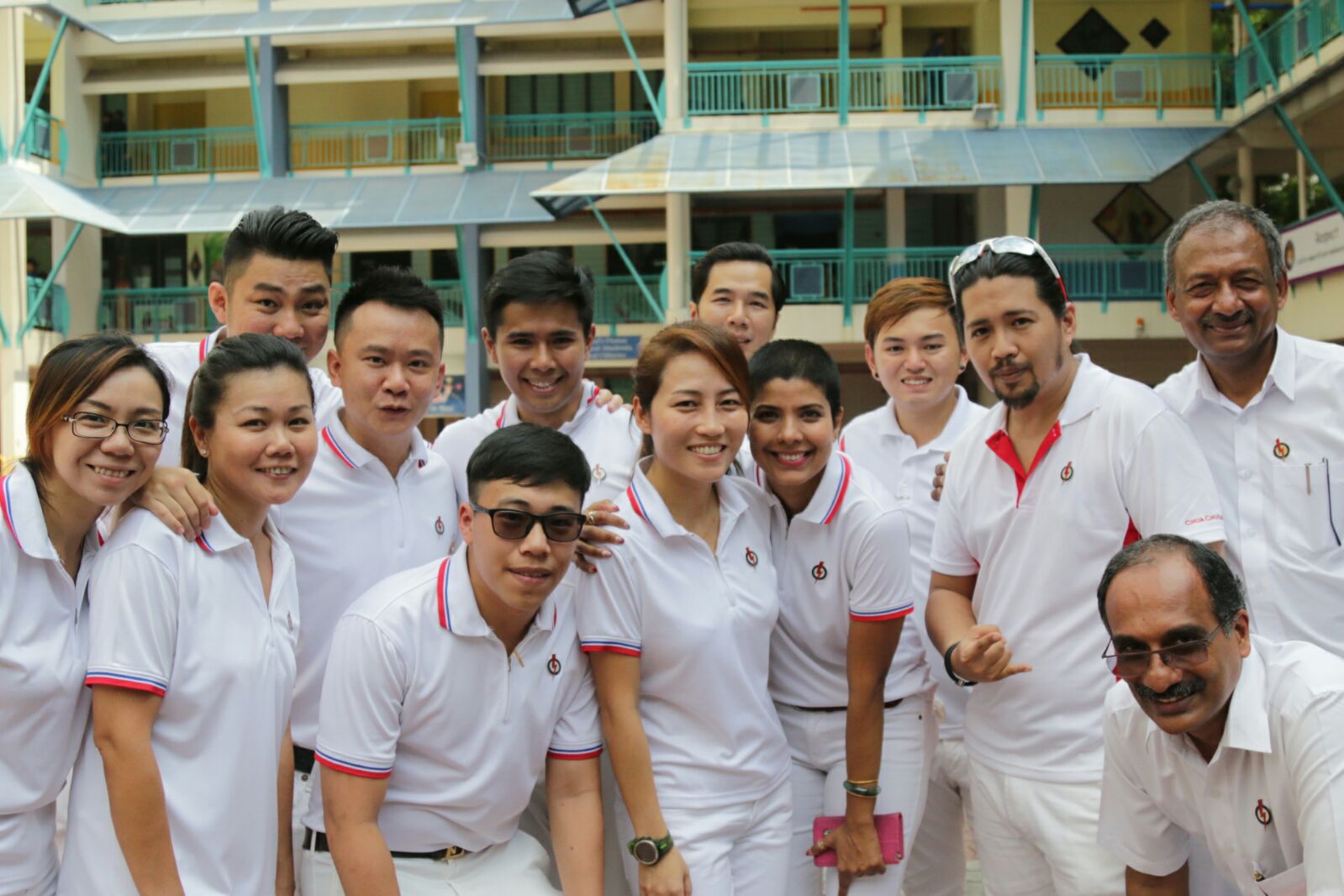 Related articles:
When is Chee Soon Juan? What is Murali? Your guide to the Bukit Batok by-election candidates
Uber driver Shirwin Eu unsurprisingly cannot contest in Bukit Batok by-election
Top photo by Edwin Koo.
If you like what you read, follow us on Facebook and Twitter to get the latest updates.
If you like what you read, follow us on Facebook, Instagram, Twitter and Telegram to get the latest updates.