After a badly PicsArt-edited photograph won a Nikon photo competition and left photography equipment giant Nikon red-faced, we thought an apology from the guy behind the whole thing would let all of us move on from this sorry story that has since made both international news and 9gag.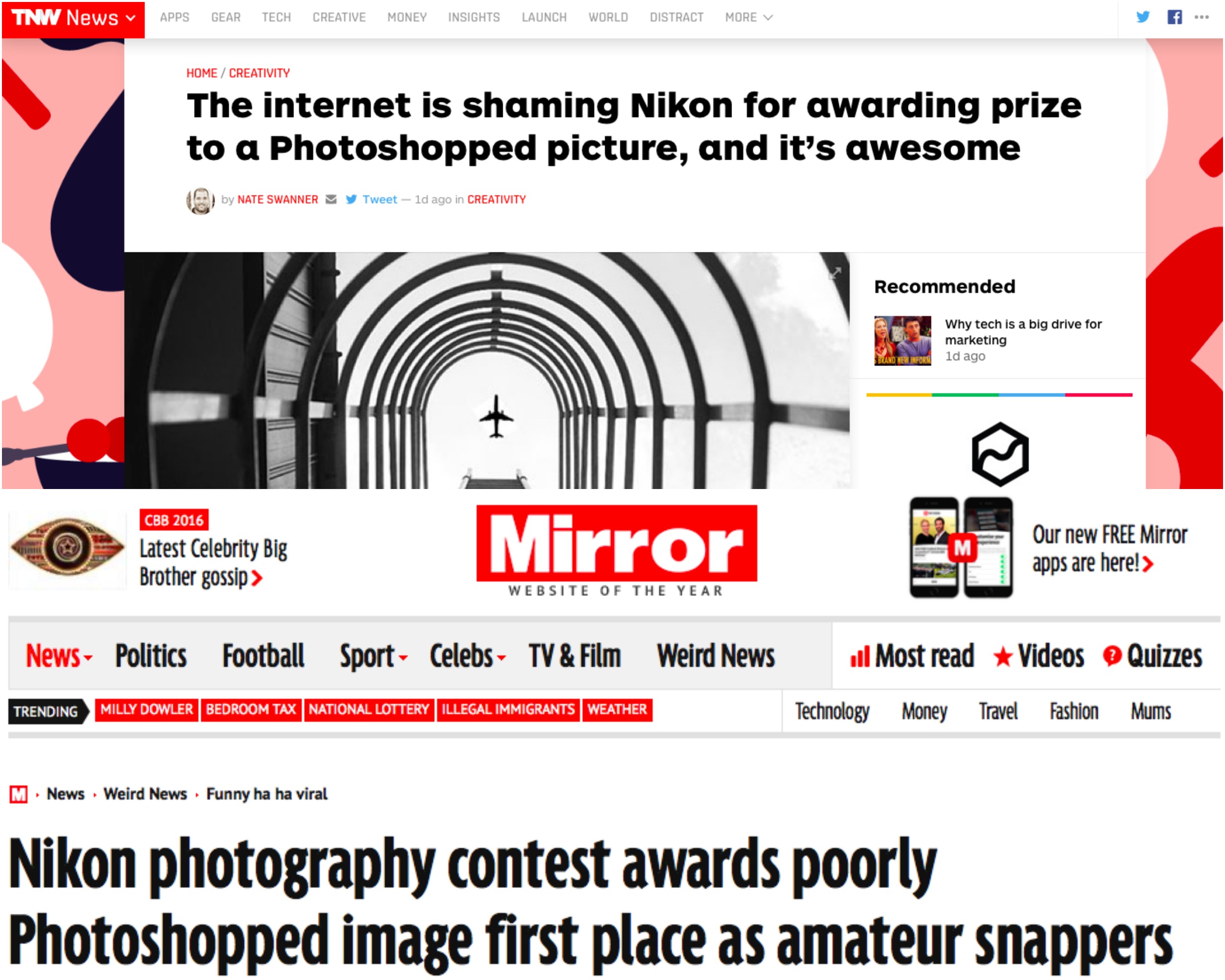 Except that local "photographer" Chay Yu Wei's apology, posted on Saturday evening (and also emailed to us), was this: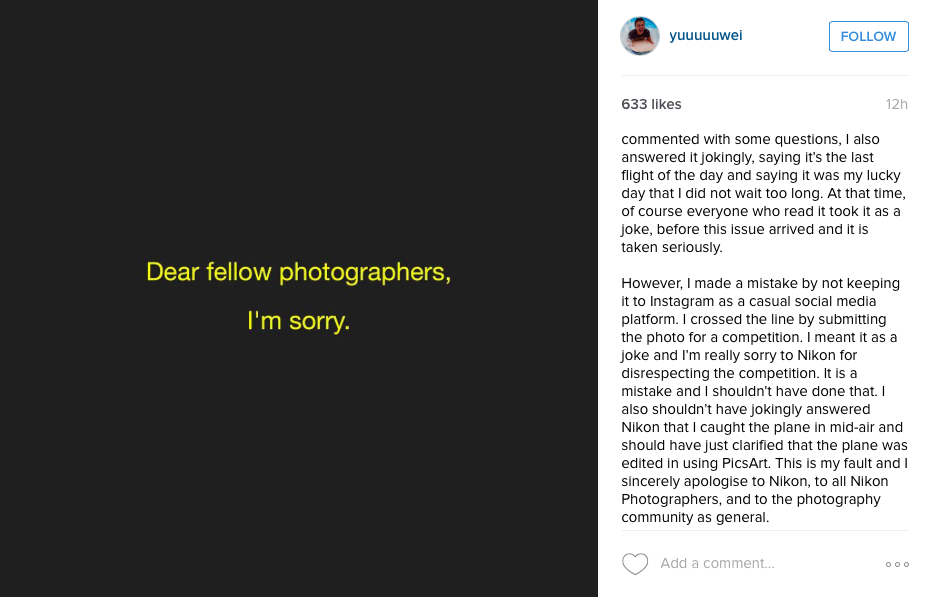 Here are the key paragraphs where he explains his actions:
"Like one user commented, I was on a photo walk in Chinatown and I chanced upon that set of ladders. I snapped a picture of it, and subsequently felt that a plane at that spot would make for an interesting point of view. Hence, I inserted the plane with PicsArt and uploaded it to Instagram. That's how I use Instagram, sometime it's to showcase the work I'm proud of, sometimes just to have fun. This case, that small plane was just for fun and it was not meant to bluff anyone. I would have done it with photoshop if I really meant to lie about it, but no, it was a playful edit using the PicsArt app and uploaded to Instagram. When my friends commented with some questions, I also answered it jokingly, saying it's the last flight of the day and saying it was my lucky day that I did not wait too long. At that time, of course everyone who read it took it as a joke, before this issue arrived and it is taken seriously.

However, I made a mistake by not keeping it to Instagram as a casual social media platform. I crossed the line by submitting the photo for a competition. I meant it as a joke and I'm really sorry to Nikon for disrespecting the competition. It is a mistake and I shouldn't have done that. I also shouldn't have jokingly answered Nikon that I caught the plane in mid-air and should have just clarified that the plane was edited in using PicsArt. This is my fault and I sincerely apologise to Nikon, to all Nikon Photographers, and to the photography community as general.
Never mind what he said in his apology, which we bolded for your convenience — users have already taken issue with his treatise on his erring ways, which we feel are quite succinctly summed up in this comment:

Nikon themselves also followed up from their initial apology on Saturday with another one:
have heard your comments and feedback on this, and you are right – we should not compromise standards even for a...
Posted by Nikon on Saturday, 30 January 2016
Right now, there's still no sign of whether or not they plan to rescind the award and prize from Chay, who had since said in comments to his last Instagram post that he "already contacted Nikon to apologise and withdraw from the competition", adding, "May they choose another winner who is deserving of the recognition".
But you know, never mind all that. What we're really here to tell you is that Chay's photo isn't even an original idea.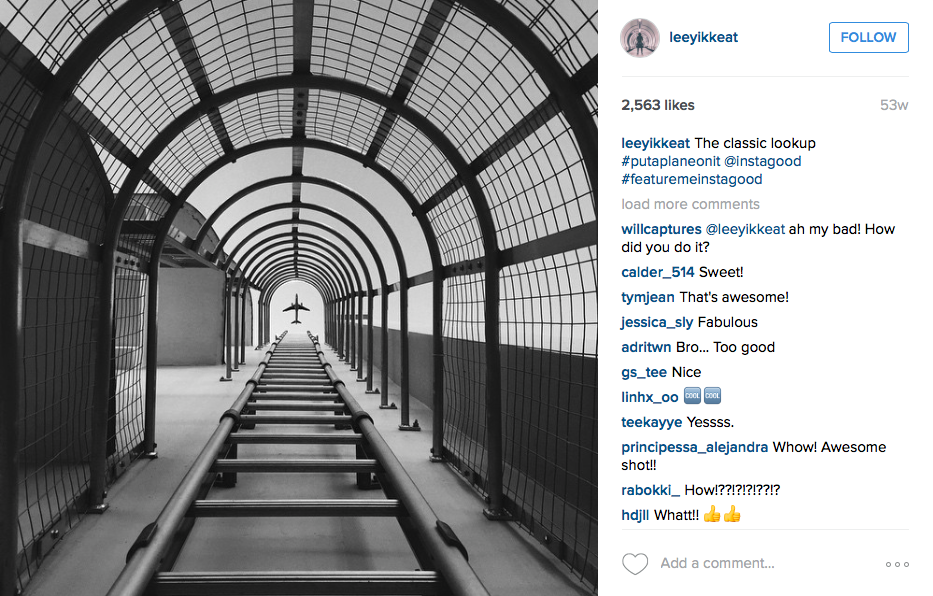 The photo above was posted some 53 weeks ago, by a 20-year-old street photographer named Lee Yik Keat.
And look what he immediately said, also 53 weeks ago, as soon as he was asked if he waited a long time for the plane by another user, @willcaptures: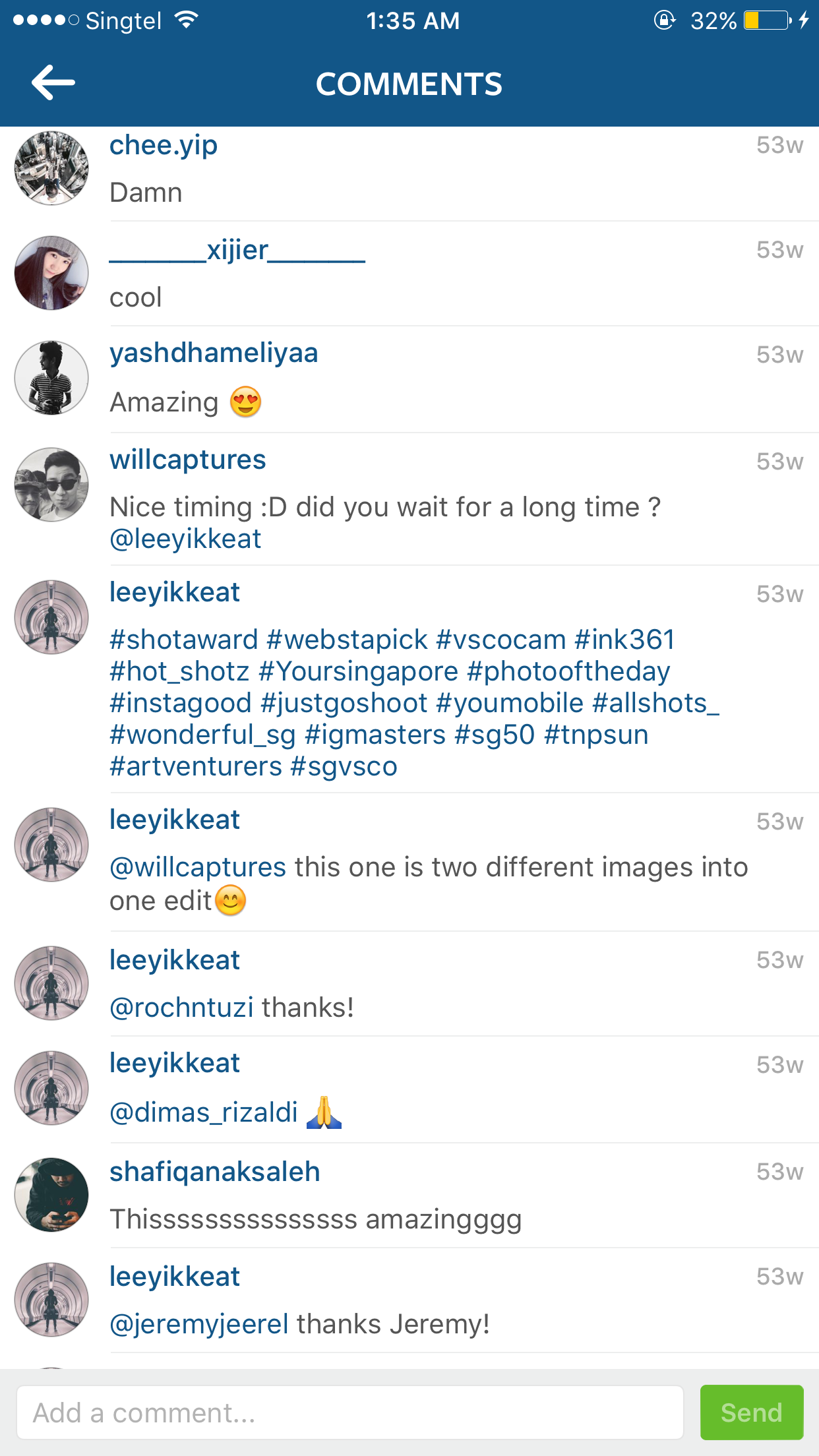 This was also helpfully raised to Nikon in its latest Facebook post by a Facebook user naming herself "Jelly Angel":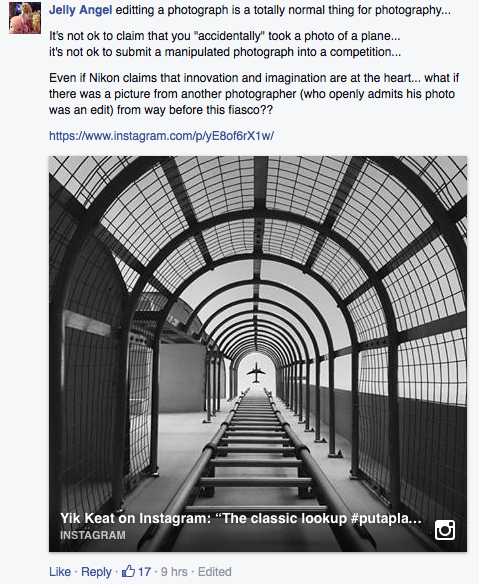 So... not only did Chay do a poorly-edited job of adding a pixellated stock plane into his photo, he also accepted compliments paid to him, lied about "getting lucky" and also sent his poorly-edited excuse for a picture to Nikon for a competition, which he won. And the idea isn't even an original one.
Still accept his apology?
Related articles:
Nikon S'pore responds to photoshopped airplane boo-boo, urges 'everyone to keep the imagination alive'
Nikon S'pore Facebook awards prize to badly photoshopped perfect shot of an airplane in Chinatown
Top photo: Screenshots from Instagram users @leeyikkeat and @yuuuuuwei
If you like what you read, follow us on Facebook and Twitter to get the latest updates.