Transport Minister Khaw Boon Wan has written a blog post published on Monday, Nov. 9, 2015, seeking a better understanding and moral support from the people of Singapore regarding the state of the country's MRT transport system.
This comes two weeks after a two-hour train service disruption along the North East Line on Oct. 26 affected thousands of commuters and caused some students to be late for their O and A level examinations.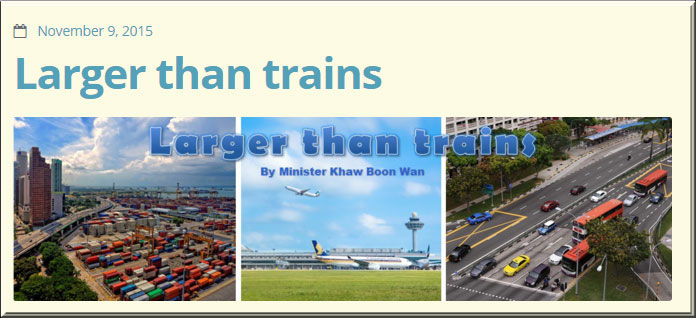 Prefacing his plea was his emphasis on how his role in the Ministry of National Development was more than just overseeing public HDB issues, Khaw said that his new role in Ministry of Transport includes public transportation and the aviation and maritime sectors as well.
Khaw, who is also the coordinating minister for infrastructure, wrote:
For example, the aviation industry accounts directly for about 6% of our economy and more than 160,000 jobs. It also enhances Singapore's proposition as a business and financial centre. But passenger traffic growth at Changi Airport has slowed down in the last two years, even as some of our competitors continue to grow. We have to help it get back on the path of growth.

[...]

Likewise, the maritime industry contributes some 7% to our GDP and provides more than 170,000 jobs. Our sea port faces competition from neighbouring ports all the time. Alternative trade routes such as the Arctic Route and the proposed Kra Canal could also result in ships bypassing Singapore.
Emphasising that these are significant sectors of Singapore's economy which can impact hundreds of thousands of jobs given the foreseeable turbulence ahead, Khaw also wrote:
We do not say a lot about such challenges in public, and Singaporeans may not be fully aware. But we spend a lot of our management time and bandwidth on these critical issues.

This is not an excuse for the next train disruption. We are doing our best to make our rail system even more reliable. I just hope to get Singaporeans' better understanding and moral support.
The key takeaway from this blog post is this point though: "A little red dot in an unfriendly, fiercely competitive world, requires us to be highly focused on these strategic issues, or many Singaporeans will get hurt."
Related article:
Brace yourself, UberX. Transport Minister Khaw Boon Wan is coming for you
What Khaw Boon Wan said about becoming Transport Minister after he "readily said Yes"
Khaw Boon Wan: Staying in HDB flat for 5 years is like males serving NS for 2 years
If you like what you read, follow us on Facebook and Twitter to get the latest updates.
If you like what you read, follow us on Facebook, Instagram, Twitter and Telegram to get the latest updates.