On Friday, the third night of rally campaigning, the ruling People's Action Party's "underdog" (suicide squad) team of candidates for Aljunied and Hougang held their maiden rally between Defu and Tampines, as well as in Bedok for Fengshan SMC, widely seen as one of the toughest battlegrounds in this election.
Joining the suicide squad Aljunied team of Yeo Guat Kwang, Victor Lye, Chua Eng Leong (the one who reminds us of a certain North Korean leader), Kahar Hassan replacement Shamsul Kamar and lawyer K Muralidharan Pillai, all of a sudden, was Prime Minister Lee Hsien Loong, whose presence promptly upped the rally's overall interest factor.
Here are our picks of the key things that were said at the two rallies (so you don't have to watch the videos that will be uploaded much later on):
1. The lone soundbite from Fengshan comes from Manpower Minister Lim Swee Say:
Lim Swee Say at Fengshan rally: "every extra passenger means one less driver for you" in Parliament #GE2015 pic.twitter.com/ylaHBVumsa

— Mothership (@MothershipSG) September 4, 2015
2. Retired minister Lim Boon Heng talks about white hair: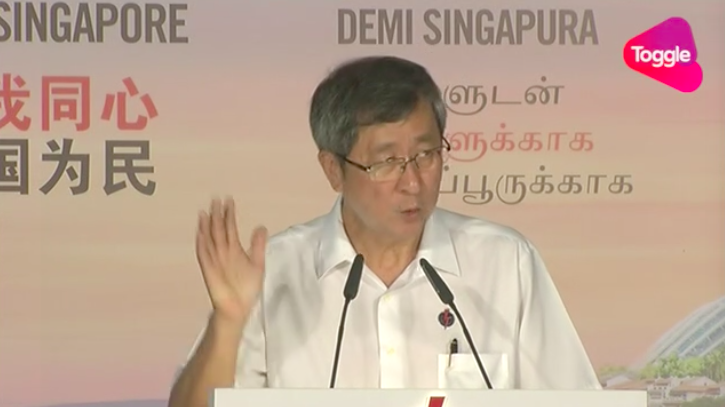 - "Take a photo of (the new generation of leaders you pick at this election) now, and five years from now, and compare. (You'll see that they will grow) a lot of white hair worrying for you."
- "The grey hair that Mr Lee Kuan Yew had, the grey hair that Mr Goh Chok Tong had, the grey hair that Mr Lee Hsien Loong has today, is all for you."
3. He also responds to the question, "Why no heavyweights?"
- "Among the five (candidates) — I don't want to talk about all five — among the five, we have one lawyer, Murali. And you know, he works for one of the big law firms in Singapore called Rajah & Tann. He heads the litigation department... 100 lawyers report to him.
(On the Workers' Party team of incumbents), there are also lawyers, three of them, on the other side. Ask them, how many lawyers report to you? Can they compare with Murali? So, voters of Aljunied, we have a good team here."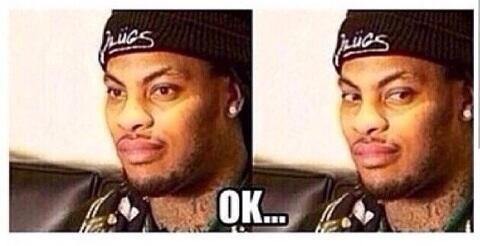 4. Aljunied candidate Chua Eng Leong hints that the Workers' Party is a "Wayang Party":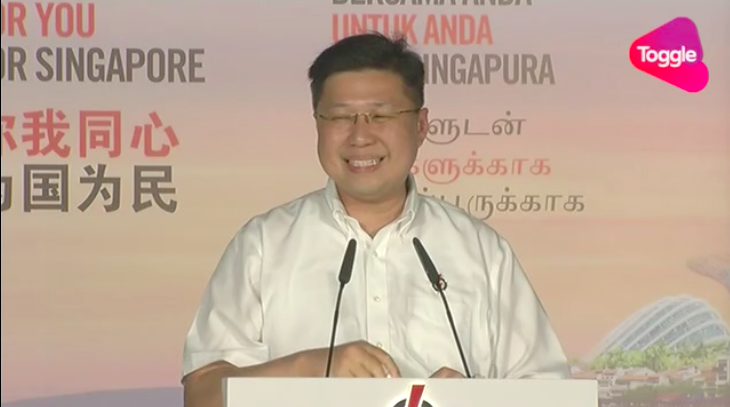 - "At the PAP we are not a wayang party. We are an action party!"
5. Hougang suicide mission candidate Lee Hong Chuang wants to "rebuild Hougang".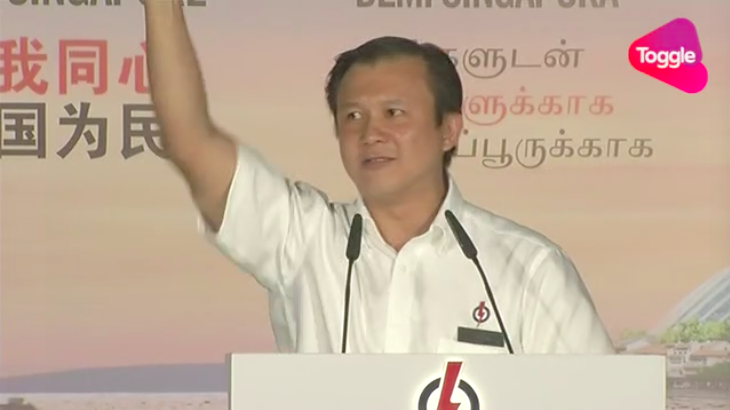 - "We need to rebuild Hougang. We need to develop Hougang. I hope you will not wait. Make this election count."
- "For a better future, you need a better choice. I, Lee Hong Chuang, will be your choice."
6. Newly parachuted New team joiner Shamsul Kamar asks you to look "deep down inside", while hinting that AHPETC has not looked after Aljunied.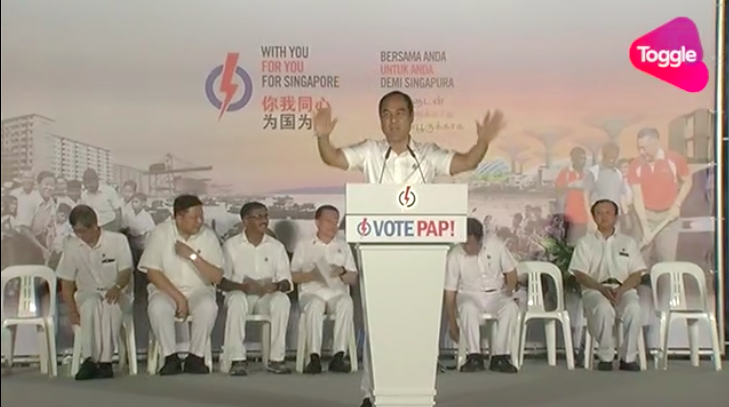 - "Many (residents I spoke to) shared they have not been taken care of since they last voted in 2011... Visually, I saw the difference. Deeper down inside, some shared, especially those needing assistance... that they weren't given support."
- "In 2011, the Workers' Party came to you asking for your vote. You gave it to them. Segments of you gave it to them. They wanted your trust, some of us gave it to them. They wanted the voice of a first world parliament; some of us gave it to them.
In 2015 they're asking you again. Will we give it to them? I say to all of you, look deep. Look into the eyes of your family members, your children, and ask yourself the hard questions, consider the hard truths."
And a hint of irony, given that he had only just returned to the constituency slightly more than a month ago after replacing Kahar Hassan:
- "Most importantly you need to know that the team and the PAP have not abandoned you since 2011. We have been here all along. We have a plan for Aljunied that will make Aljunied the place where you aspire to live in a safe, caring and vibrant environment."
7. Aljunied candidate Murali Pillai said serving Aljunied residents has made him "more humble" and "better at listening". And also chips into the Town Council stuff.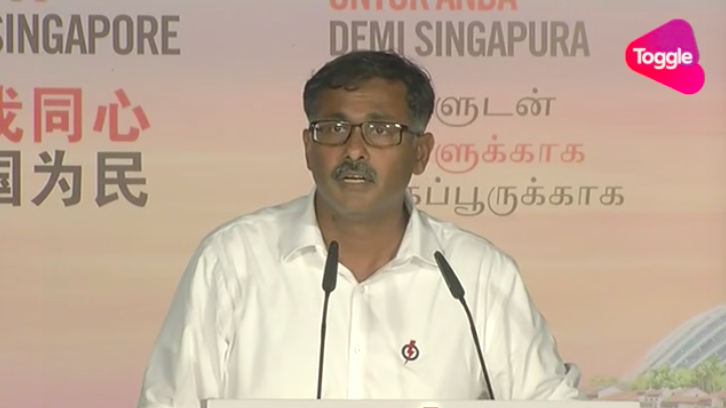 - "I did a lot of soul searching, I became more humble, I became better at listening. My wife also told me I became a better person. So Aljunied residents, thank you for that."
- "Dear residents, I know estate management is a very important thing for you.... we are confident we can do a better job. We will safeguard your monies. Above all, we will be accountable to you always. We will have more engagement with you, more dialogues, to make sure what you expect is what we deliver... We will also explain our town council decisions."
8. He also throws shade at the AHPETC move of changing the block signs in 2011:
- "I'm also going to tell you what my colleagues and I won't do... (Gestures to a nearby block) If we get elected, we will not change the yellow and red signages for the car parks to signages having the PAP colours; we will not do that. Why? It's a no-brainer, it's simply a waste of money. There are 500 blocks in Aljunied. More than $600,000 for this exercise, it's a waste of money."
9. And of course, from PM Lee: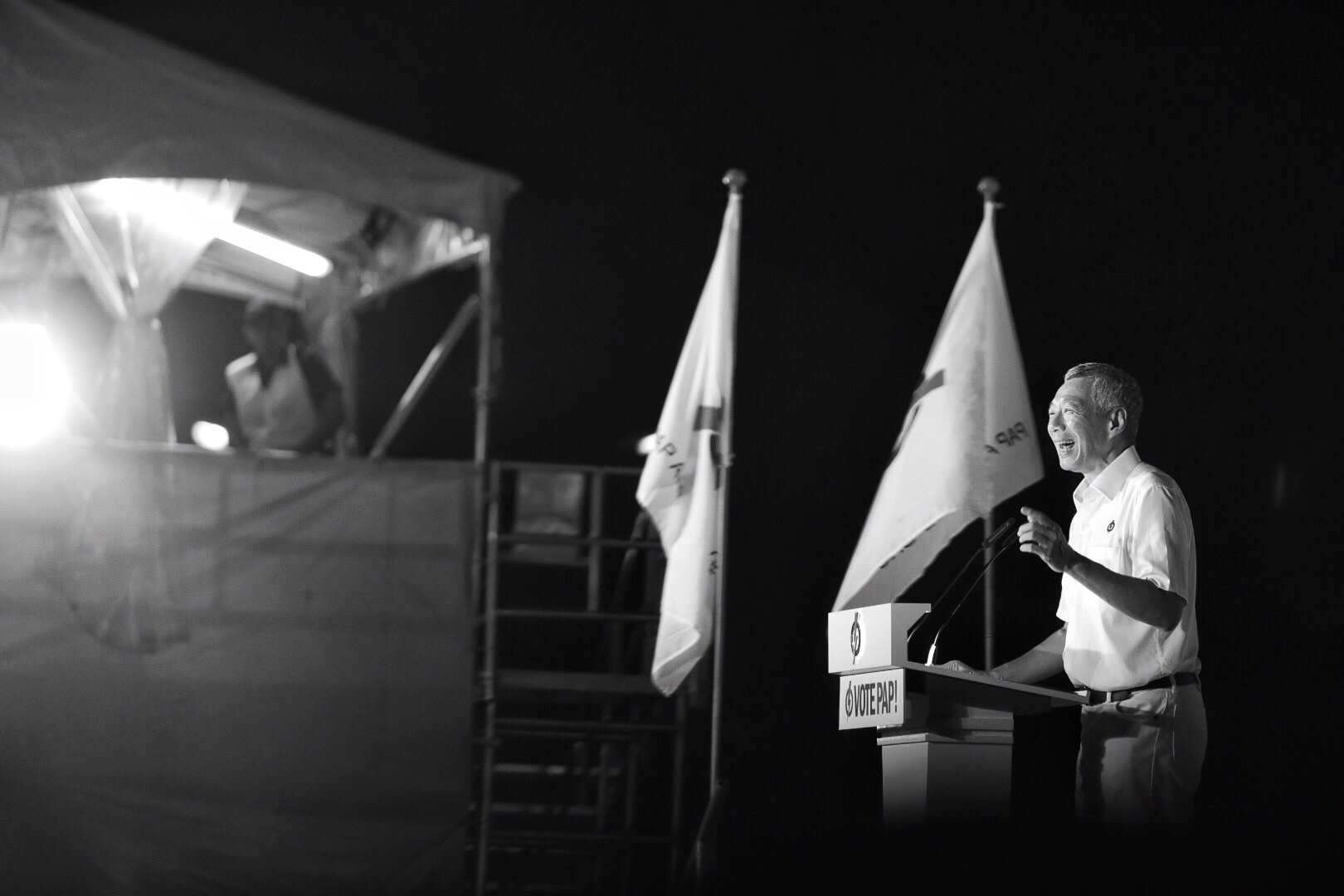 - "So we are sending a good team to Aljunied to convince you that the PAP is the right choice... You vote for my team. Vote for them, they will stop things from going wrong and they will put things right. And things will work again."
- "So when you are voting, you are voting for the team that will look after your town council, but you are also voting for the team that will form the government."
- "We have been doing this for 50 years, we have shown you what we can do — I've been doing this for 30 years; you know me, you know my personality. If I say can, can; if I say cannot, sorry, buay sai. And I'm telling you if the PAP comes back to Aljunied I'm telling you "Eh sai ah!" "Eh sai simi?" We can work in Aljunied, we can work around Aljunied."
Top photo by Jamie Chan.
Click here to go to our GE2015 microsite for the juiciest election-related news on Mothership.sg.
If you like what you read, follow us on Facebook, Instagram, Twitter and Telegram to get the latest updates.