By Matthias Ang and Noorul Raaha
With East Coast GRC shaping up to be one of the climactic battlegrounds this election, the PAP candidates geared up for battle by killing the opposition with kindness.
Yes, they morphed into Care Bears at their East Coast rally last night. Here are six reasons why they are actually more Care Bears than politicians.
1. Lee Yi Shyan serenades the crowd with previously-banned song
As the first candidate to speak, Lee Yi Shyan decided that it was his duty to get the care hype going.
He serenaded the crowd with a pleasant performance of  Liang Wern Fook's 麻雀衔竹枝, which was banned for 23 years for containing some dialect lyrics. It was later unbanned in 2013.
Regardless, he succeeded in getting the crowd hyped up and horns blaring in approval (with perhaps a touch of nostalgia).
2. Boring Soothing speeches from Jessica Tan and Maliki Osman in English
Opting for an extremely formal tone ­­like calling Tampines Bus Interchange a "key transport node"­­Jessica Tan spoke at length (emphasis on length) in a slow even beat, telling the people of promises fulfilled and of promises to come.
Her speech worked like a charm and the crowd gradually quietened, reassured that she was indeed caring for them, this lovely care bear in white.
Wait, what was that? She also announced that POSB is returning to Eastpoint! Yay! The crowd cheered to a sweet dream come true.
Meanwhile, Maliki Osman managed to rouse the crowd from their slumber with a rousing opening in Hokkien (getting all the cheers), before segueing into his fiery Malay speech by telling the crowd of his family's version of The Singapore Story ­that provided them all with the opportunities needed to succeed.
As he moved into his English speech though, he modulated his voice such that we could almost hear our beds calling out to us.
Perhaps mass meditation is now a new weapon in the PAP's election arsenal?
3. Pioneers, we care!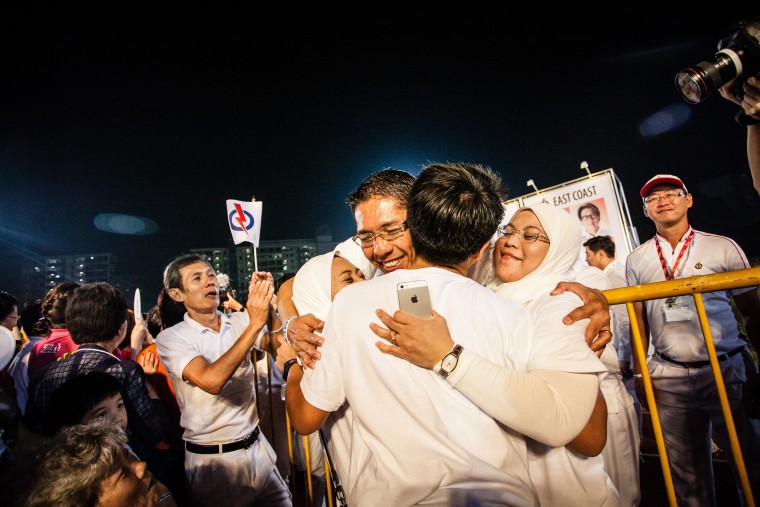 Those of the pioneer generation, have no fear. The East Coast Care Bears are here and they made you their top priority in their abundant care. As Care Bear Maliki said: "The pioneers are people who we honour, who we must care for."
Maliki Osman: "Pioneer generation package shows we care regardless of whether they are in HDBs, condominiums or landed property." #GE2015

— Mothership (@MothershipSG) September 3, 2015
Maliki Osman: "The pioneers are people who we honour, who we must care for." #GE2015 #eastcoastgrc

— Mothership (@MothershipSG) September 3, 2015
In fact, so great has been their care that 9000 pioneers have been cared for were briefed about the Pioneer Generation Package in 9 months.
Given the precision and the constant rate of a thousand per month, that's actually some pretty impressive Care.
4. In fact, we care so much, we shall not attack the opposition
Swee Say takes the stage. But our view kenna block by MSM photographer. #GE2015
Posted by Mothership.sg on Thursday, 3 September 2015
"In most rallies you attend, you see the contesting parties, they scold each other, they shout at each other, they fire at each other. Not in East Coast. You noticed, all my fellow candidates, we never say anything about our opponents because as far as we are concerned, this general election is about we serving you. We care for you." So began Chief Care Bear Lim Swee Say.
Later, Lim proceeded to spell out one of the opposition unCaring schemes of "suggesting a complete freeze, no more increase of foreign manpower" by stating how these schemes would hurt many SMEs.
5. Chief Care Bear Lim Swee Say lays out the Medishield LIFE
Explaining the Medishield Life, Chief Care Bear Lim Swee Say laid out in the simplest laymen terms possible the precise conditions and various degrees of Medishield LIFE's Care. One shining example of this was:
"One best way of lowering your cost of burden is, don't go to A­class (for hospital wards). No subsidies. Don't go to B1. Only 20% subsidies. Better go for B2. Two-­third subsidies. C­-class even better. 80% subsidies. So therefore for someone who go to B2, your twenty thousand to thirty thousand (hospital bill), after government subsidies, will drop to about eight thousand to ten thousand."
C­-class, 80% subsidy. C is for Caring indeed.
6. Singapore is the Land of Protection from China and Malaysia Care
In Mandarin, Lim Swee Say proceeded to emulate the Singapore Success Story rhetoric of
Maliki on how his father succeeded in Singapore after fleeing from China.
"When we celebrated SG50 this year, I was thinking, if my father hadn't taken the boat to Singapore, I could be a PRC today. Heng ah."
He then continued onto the separation of Singapore from Malaysia (translated from Mandarin again):
"As Lee Kuan Yew wanted a society that did not differentiate on race or religion, but a fair society for all, we couldn't exist any more in Malaysia. Because Malaysia's stance is Malaysia for the Malays. So we separated. Now I think back, if we hadn't separated that year (1965), you and I would be Malaysian right now. Heng ah."
Having cared for us by preventing us from becoming PRC and Malaysian, it is now important that care for this country too!
You care, I care, everybody care.
Top photo by Christopher Wong
Click here to go to our GE2015 microsite for the juiciest election-related news on Mothership.sg.