All photos by Edwin Koo.
Editor's note: Mothership.sg called for young Singaporeans to step up and give their perspective for GE2015. The aim of such an endeavour is to provide our readers a means to view GE2015 through the lens of young Singaporeans, warts, sparkles and all.
Friday (Sep 4) was a busy night for many political parties in Singapore.
While the People's Action Party (PAP)'s underdogs were rallying to take back Workers' Party (WP)-held Aljunied, the WP was conducting an offense into Nee Soon GRC, a PAP stronghold led by Minister for Foreign Affairs and Law, K Shanmugam.
The WP rally - like most of its other rallies - saw both its Nee Soon team - consisting of Kenneth Foo, Ron Tan, Luke Koh, Gurmit Singh and Cheryl Loh - and other WP heavyweights - like WP secretary-general Low Thia Khiang - speak to its almost full house crowd at Yishun stadium.
Here are four observations over what went down at Yishun Stadium yesterday:
1. You can gauge who managed to enrapture the crowd among WP candidates:
Everyone on the WP's slate for Nee Soon GRC had a chance to speak at Yishun Stadium yesterday - each on a different aspect of a basket of bread and butter issues.
Gurmit and Foo spoke on jobs and employment, and later, population; Koh focused on past population policies; Tan spoke on education and youth, and Loh spoke about 'compassionate growth'.
Most, however, ended up just delivering what they thought would be "soundbites" for the media.
Koh, who spoke on past population policies, said that despite the PAP's recent policy U-turns with regards to immigration, "there is much more to be done", for "the driver is not on the right path."
Koh had learnt from the earlier online criticisms about his introduction speech at the WP press conference and had wisely avoided making a reference to abortion in his criticism of the Stop at Two policy. He added that the PAP took many years - years without an opposition party in Parliament - to realise that it had made a mistake.
Gurmit had his soundbite when he started his Hokkien speech - clearing the possible misunderstanding that might come about from his name:
"I'm not Phua Chu Kang, the guy who says he's best in Singapore, JB and Batam… I can be best in Nee Soon GRC, enough liao," Singh said, to laughter from the audience.
Tan and Loh both had soundbites about the current political system.
"We are not deterred by the supposed 'fixing'," said Tan, in a reference to Prime Minister Lee Hsien Loong's old quote on 'fixing the opposition' two General Elections ago.
He ended his speech by rousing the crowd: "Exercise the power to empower yourselves!"
Loh also tried to rouse the crowd:
"(The PAP has) gone out of its way to make it look like it's in touch with the common man," Loh said, referencing the various locations where PAP candidates were previously unveiled. "Changing the outside doesn't really change what they really think on the inside… The PAP tries very hard to be one of us. The WP doesn't have to try - we are one of you!"
Of course, none of them could rouse the crowd the same way WP's incumbent MPs have - especially with the welcome given to WP chief Low:
2. There were several quotable quotes from soundbites from the others:
i) Png Eng Huat, WP's candidate for Hougang SMC:
(On number of opposition in Parliament) "We are outnumbered 80 to 9 in Parliament (7 elected MPs, 2 NCMPs) - (the PAP) can pass bills even with half their MPs on holiday or eating orhluak in Fengshan!"
(On Singapore failing because the PAP is voted out) "Well, I'd like to assure the DPM (Teo Chee Hean) if the PAP were to lose power one day, he can go home and take a hot bath because the water will still be running; he can read the newspaper and surf the Internet because the electricity will still be running… (but) the birds will sing a new song… a song of freedom."
ii) WP chief Low Thia Khiang:
(On Singapore's success) "Our success was built on our sacrifices, not just the PAP's!"
"During the election, the PAP is as tame as a cat. But once it's over, it becomes a lion with its mouth wide open".
iii) WP Chairwoman Sylvia Lim:
(Recounting a story from a resident) "If you ask me whether I prefer the lue sky or the white clouds, I would vote for the blue sky… The white clouds can be blown here or blown there; they can change their shape - white clouds can turn grey, and even black - but the blue sky will always be there!"
3. Low Thia Khiang decided to take matters into his own hands and move on from AHPETC
At the start of his English speech, Low told the rally crowd that the WP has already accounted for its town council issues - and that the party wanted to move on to discuss the national issues.
The party did not want to 'go around in circles', he said, but instead moved on to housing issues - proposing that housing prices be linked to household income, and a 20-year term in mortgages.
Of course, the PAP might just repeat the words 'town council' again.
4. Election rallies on nine sites meant that fewer people were attending rallies - so Yishun Stadium took a hit too
The fourth day of campaigning - and a Friday with over nine election rallies nonetheless - meant that a visibly smaller crowd was noticed at the WP rallies.
However, the small crowd on a Friday night, when many professionals are more free, may mean that Nee Soon GRC remains Minister Shanmugam's "den" - a PAP stronghold.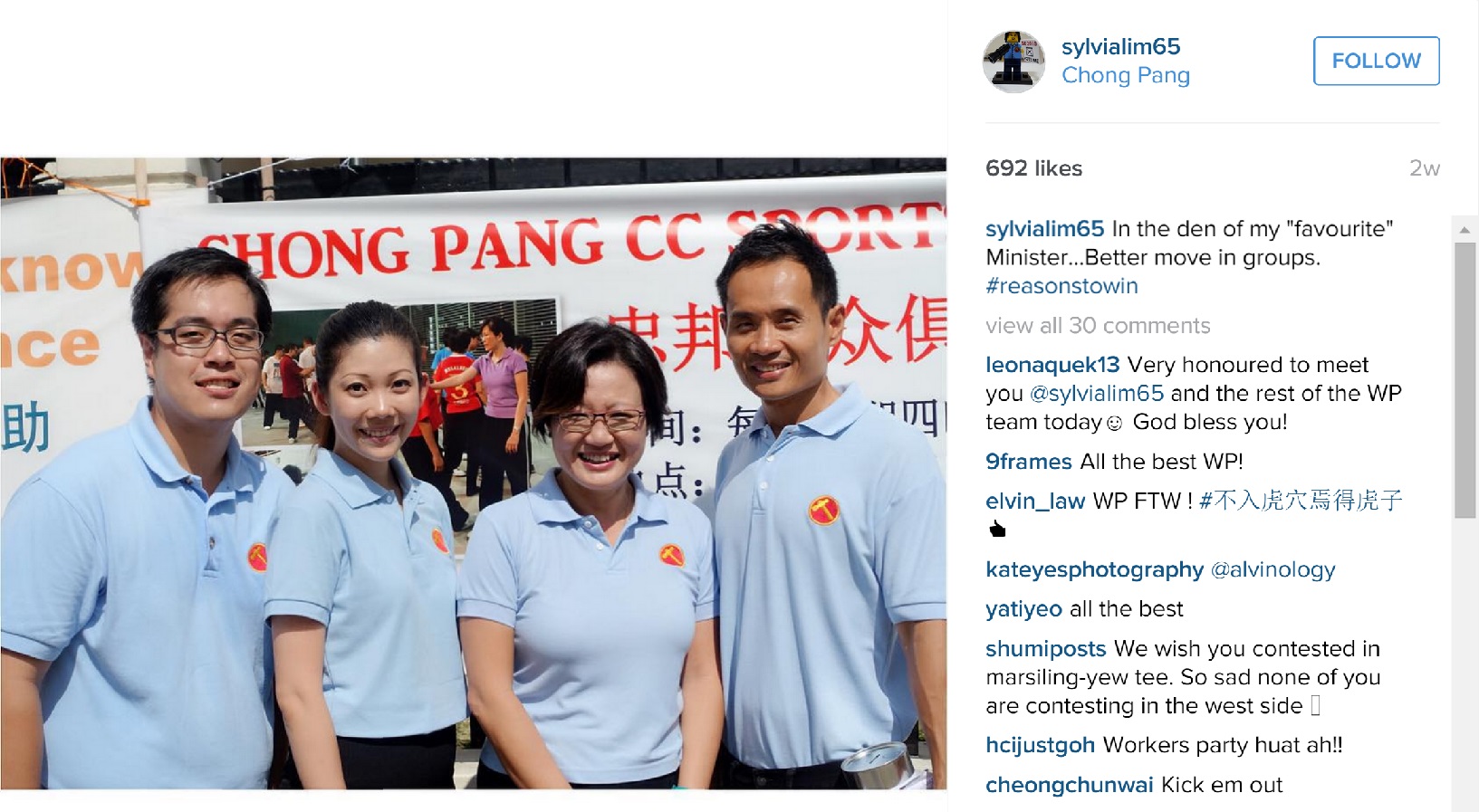 But, as is characteristic of WP's rallies, Yishun Stadium remained well attended.
Perhaps everyone is holding their breath for the big bash at Aljunied GRC.
Click here to go to our GE2015 microsite for the juiciest election-related news on Mothership.sg.