The People's Action Party (PAP) has found a voice to represent them in parliament.
As many of us are aware, the Nominated Member of Parliaments (NMP) are selected to provide more independent and diverse voices in the House.
They are chosen from functional groups, such as (a) business and industry; (b) labour; (c) the professions; (d) social and community service organisations; (e) tertiary educational institutions; and (f) media, the arts and the sports organisations.
The PAP is not represented as one of the functional groups, especially since there are already 80 of them.
Enter the NMP, with no constituency and no residents to represent.
In other words, he/she can deliver PAP's hard truths without suffering from the electoral backlash.
Below are three reasons why you may have mistaken NMP Chia Yong Yong as a PAP MP:
1. Chia was singled out for praise by Prime Minister Lee Hsien Loong
She was praised by the Sec-Gen of the PAP for her speech. How many NMPs were ever singled out for praise by the PM?
She also had a direct communication line to PM*:
"Yong Yong had asked me earlier whether we had settled the CPF policy, and if so was it worth her while to speak. I said we had worked out the main changes, but strongly encouraged her to express her view and contribute to the public debate. I am glad that she did, and to such good effect", Lee Hsien Loong Facebook, Mar.4.
*Editor's note - A reader has informed us that Chia mentioned her views on CPF to PM during a tea break between parliamentary sessions. In other words, Chia did not contact PM personally or directly on the matter.
2. Even the Gov.sg portal gave her more air-time than the PAP MPs
Check out the last 12 Gov.sg videos about the Budge debate.
Apart of Minister Lim Swee Say, the government did not feature the full speeches of any of the political office-holders or PAP MPs.
Except NMP Chia.
All 18 minutes of it.
3. Being more conservative than the PAP MPs
Almost half of the 25 MPs who spoke in the first day of the Budget debate expressed reservations about the potential consequences of excess social spending.
But Chia went even further.
"I fear that if we lean too far to the left, we will have nothing left", she said.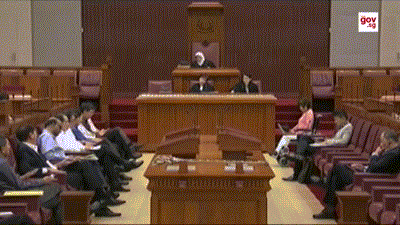 And her views on the Central Provident Fund (CPF)?
"Is it our money? Our CPF savings are enhanced and forced CPF savings which are accumulated through our own deferred consumption, through co-payment by our employers and through top-ups from public funds. Is it really my private money? Do I have the right to spend it the way I would spend my own salary? I'm not entirely sure."
In other words, Chia opposes greater flexibility in the withdrawal of CPF savings, when the government has recently agreed with the 13-member CPF Advisory Panel's recommendations to introduce greater flexibility and choice for CPF members.
CPF is (not) your money
It is perhaps unfair to criticise Chia for saying whether it is right to think of the CPF as "our money" - that was not her speech's real intent.
Chia of course was trying to cast the CPF question in a broader perspective, reminding all Singaporeans that the personal choice of spending the CPF money comes with responsibility and obligations.
But such statements are disconcerting to the general public, especially since Minister Tan Chuan-Jin had to reassure S'poreans that "Money in CPF account is your money" last year.
And I don't think Singaporeans would appreciate an NMP putting doubt into the idea that CPF is not our money, and therefore concluding that we should not be given the option to choose and decide.
In a new normal where the world is moving towards greater openness, choices, and diversity, we have a parliamentarian who does not think like one of us.
But these are the words one has to earn the right to say, perhaps from his/her interaction with his/her own residents or analysis based on facts and research (like the CPF advisory panel).
Anyway, we will leave you with the words of a union NMP K. Karthikeyan, who expressed the opposite sentiment: "If we lean too much to the right, too, then we are not doing the right thing."
Top photo from here. 
If you like what you read, follow us on Facebook and Twitter to get the latest updates.
If you like what you read, follow us on Facebook, Instagram, Twitter and Telegram to get the latest updates.